The Best Portable Air Conditioner for Seniors -Reviews & Buying Guide explores the features and pros and cons of 5 portable air conditioners; Coairi, Ontel Arctic Air, Wildyak, Torras Coolify, and Whynter Elite
The price range is from under $25 to over $200. If you need a personal portable air conditioner meant for a desk or end table, a neck fan, or a larger room air conditioner, all are covered here.
Something to be aware of is with the mini air conditioner/humidifier works better in a dry climate. They do tend to bring up the humidity in a room.
With all products, features can change, so before purchasing, be sure the features that attracted you to the product are still the same.
Under $25
Features
USB Powered
3 Fan Speeds
LED Light
7 Color Modes
Add Water To Cool
Personal Size
Specifications
Weight
Approximate Dimensions

6.93 x 6.93 x 5.98 Inches

Manufacturer: Coairi
ASIN: B096FFW4KL
Cons
Personal Use – Will Not Cool A Room
Small Size
Review
The Coairi has a price coming in under $25.00. It's lightweight, portable, and small, making it perfect for personal cooling in dorms, on desks, and even cars (however, do be aware there is a danger of the water spilling when used in a car).
It works by filling the container with clean, purified water. Adding ice allows for a more cooling effect than you will get from just water.
The Coairi is suitable for personal use, say on a desk or bedside. It acts more like a fan or humidifier. It comes with a great price tag, but if you are looking for something to cool a room, this is not the portable air conditioner fan for you.
---
$25 to $50
Features
2- Size Options
3-Speeds
Up To 6 – 8 Hours Use
6 LED Lights
Lightweight
Portable
Multi-directional Air Vents
Filter – Change every 3-6 Months Depending on Use
Specifications
Weight
Dimensions

Approximately 7.95″ x 7.95″ x 10.00″

Cools Approximately 45 sq ft.
Manufacturer – Ontel
ASIN – B08SGFJ2PL
Pros
2 Size Options
Multi-Directional Air Vents
6 – 8 Hours of Use
Cons
Filter Expense
Plug-In
Small
Review
The Ontel Arctic Air personal evaporative cooler comes in at under $50, a small appliance for personal use. It does have two options for purchase, the Pure Chill and the Ultra, so if you decide to go with this personal air evaporative cooler, be sure to choose the option you are interested in.
Being a personal cooler, it will not be large enough to cool a room but will cool you somewhat if the cooler is close by. Perfect for use on a desk or end table. For better results, Ontel suggests running the filter under cold water and, for more cooling placing the filter in the freezer.
When filled, it is expected to run for 6 – 8 hours but keep an eye on it until you can determine the usage time in your particular geographical area.
---
$50 to $100
Features
3 Speeds
2 Mist Modes
90° Wind Guide
Water Shortage Reminder
Timer
Color
7 Colored Lights
4000 MAH Rechargeable Battery
Suitable for Close Range Use
Specifications
Weight
Package Dimensions
Brand: Wildyak
ASIN: B08YRW53FC
Pros
3 Speeds
2 Mist Modes
90° Wind Guide
Cons
Cannot Cool Whole Room
Must Be In Close Proximity
Review
The Wildyak Evaporative Air Cooler comes with 3 speeds and 2 mist modes. Be aware like the previous portable air conditioners this is for personal use. You are not able to cool a room. Many people report needing to be within 6 inches to feel the air.
Portable and small this is ideal for a desk, end table, or night table.
---
$100 to $200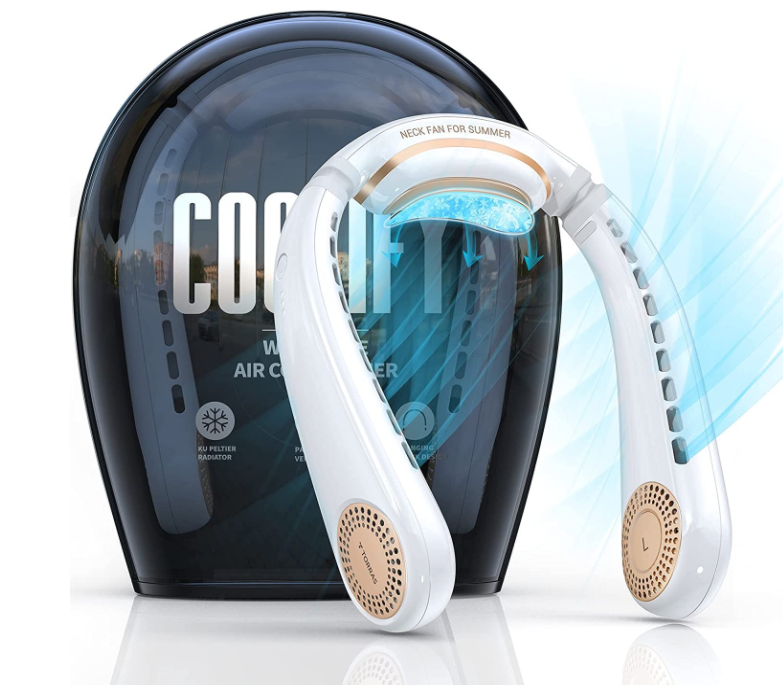 Features
Colors
Sweatproof/Waterproof
Bladeless
Automatic Turn Off At 30 Minutes
USB Charging
6-month Warranty
Specifications
Fully Charge in 3 Hours
Weight
Manufacturer: TORRAS
ASIN: B08X4X74GR
Pros
Bladeless
Sweatproof/Waterproof
Warranty
Cons
Only The Back Fan Cools
Short Battery Life
Price Point
What a great idea. The TORRAS Coolify is worn behind the neck which allows for hand-free cooling. Great for outside or in the house to cool off.
Being bladeless, there is no risk of hair getting caught in any blades. Also, being bladeless makes it safer for children.
There are three speeds. The higher the speed mode, the less the charge lasts. On medium, it should last about 4 hours.
This great little accessory with so many uses – do you work outside, exercise, run warm this could be an excellent investment.
---
$200 & Above
Features
Three Operational Modes

Air conditioner
Fan
Dehumidifier

Cools Up To 400 sf
Full Thermostatic Control
Digital Readout
24 Hour Programmable Timer
Washable Pre-Filter & Activated Carbon Filter
Remote
Specifications
Weight
Dimensions
Full Installation Set Includes Extendable Exhaust And Intake Hose (Up To 60″) And Window Kit: 6.5″ W X 20″ (Min)/ 46″ (Max) L
Manufacturer: Whynter LLC
ASIN: B01AA8WOAK
Pros
Cools Effectively
Great Customer Service Experience
Washable Filters
Cons
Leaks Water
Pay For Return Shipping
Installation Can Be Difficult
Review
The Whynter Elite has won awards from Good Housekeeping 2019 as the Best Overall Portable Air Conditioner to Buy and The New York Times Wirecutter as the best cooling and comfort portable AC. The Whynter Elite was also recognized by Consumer Reports as one of the top two highest scores in 2019.
With those types of recognitions, it isn't surprising that it comes with great reviews.
Unlike the other reviews in this post, the Whynter Elite is a room-size portable air conditioner having the ability to cool up to 400 square feet.
When initially setting up the Whynter it requires a 4-hour delay before starting. Be sure to follow this step or you may have trouble with its cooling.
---
Final Thoughts
If you are thinking about or would like more information about air purifiers I wrote a post that reviews and explores home air purifiers:
With all products, features can change, so before purchasing, be sure the features that attracted you to the product are still the same.
In reading The Best Portable Air Conditioner for Seniors -Reviews & Buying Guide, I hope you were able to gather information to help your purchasing decision.
If you have any stories or experience purchasing a personal air conditioner, I would love to hear about it. Please comment below.