Best Rated Home Air Purifiers – Review and Buying Guide explores the features and pros and cons of 5 Home Air Purifiers; Hauea, ToLife, Levoit, Coway, and Honeywell. The price range is from under $35 to over $200. If you need a personal air purifier meant for a desk or end table or a larger room air purifier, all are covered here.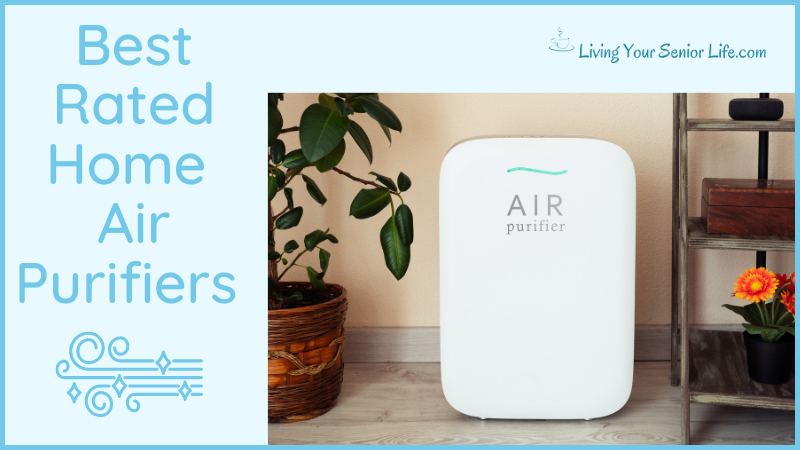 For an easy side-by-side comparison of the purifiers discussed, there is a table at the bottom of this post. With all products, features can change, so before purchasing, be sure the qualities that attracted you to the product are still the same.
What Is The Purpose Of An Air Purifier?
The purpose of an air purifier is to eliminate contaminants in the air, such as, but not limited to, dust, smoke, pollen, mold, and dander.
Air purifiers come in various sizes and with the ability to cover a certain amount of square footage. The more extensive the coverage, the larger space it can purify.
---
Top Rated Home Purifers
Features
Color
3 Stage Filtration System
Removes 99.07% Harmful Particles
HEPA Filter
3 Speed Fans
Sleep Mode
Child Lock
Timer
Specifications
HEPA Rating – 13
Coverage
Weight
Dimensions
1-year Warranty
30 day Money Back Guarantee
Brand: Arovec
ASIN: B09SKQ5CMM
Package Includes
1 – Air Purifier
1 – True HEPA Filter (Pre-Installed)
1 – User Manual
Pros
3 Fan Options
Timer
Quiet
Review
Cons
Only Effective For Small Spaces
For the budget-minded consumer, the AROVEC comes in under $25.00. Small in size, it won't take up much space, but with that compact size, it is only effective for 183 square feet.
Designed in a sleek white finish, this purifier boasts a 3-stage filtration system that effectively eliminates up to 99.07% of harmful particles, including air dust, molds, and smoke odors. With a HEPA 13 rating, it ensures the tiniest of pollutants are trapped, making your environment safer, especially for those with allergies or asthma.
The device is user-friendly, featuring a check filter indicator, three adjustable fan speeds, a sleep mode for silent nighttime operation, and a child lock to prevent unintended changes. Its compact design, weighing just 5.2 lbs and covering up to 183 sq. ft., makes it a versatile choice for any room.
Backed by a 1-year warranty and a 30-day money-back guarantee, the AROVEC Aropure-200 is a testament to quality and customer satisfaction.
---
Features
Color
3 Fan Settings
HEPA Filter
Filters
Neutralize
Traps
Essential Oils Compatible (not included)
Timer: 2/4/6/8/10/12 hours 
Filter Cartridge

Replace Every 3 – 6 Months
Specifications
Weight
Dimensions
Coverage
Brand: ToLife
ASIN: B0BR8Z4PSM
Pros
3 Fan Settings
Essential Oils Compatible
Review
Next up is the ToLife Home Purifier. The ToLife covers up to 215 sq. ft. for use as a personal space air purifier. As the previous model, this will not cover an entire room.
The ToLife has three fan settings and you can use essential oils purchased separately to add aroma.
Expected replacement time for the filter cartridge is every 3 – 6 months.
---
Features
Color
WiFi

Schedule, Adjust Fan Speeds, and More Via Smart Phone

Compatible With
3 Fan Speeds
Three-Stage Filtration System

Pre-Filter
HEPA Filter
Activate Carbon Filter

Sleep Mode
Filter Change Indicator
Pre-Filter
Timer
Set Schedules
Removes

Allergies
Pet Dander
Smoke
Dust
Lint
Pollen
Specifications
Weight
Dimensions

8.07 x 8.07 x 12.6 inches

Coverage
Connects with Power Plug
Manufacturer: Levoit
ASIN: B08FJ678YK
Included In Package
1* Smart WiFi Air Purifier
1*Pre-installed Filter
1*QSG
1*User Manual
Pros
WiFi
Turn Off Display Light
Quiet On Lower Speed
Cons
Initial Odor
Loud On High Setting
Does Not Monitor Air Quality
Review
The LEVOIT Smart WiFi Air Purifier comes in at under $100, and though more expensive, you do get some added features not available on the other two models above.
First off, it comes with WiFI compatibility and can be voiced and controlled through Alexa or Google Assistant. You are also able to schedule and control fan speed remotely through a smartphone.
Another feature it has is that you can turn the display off entirely. Those people who find it difficult to sleep with any light on will find this a useful feature.
The coverage is approximately 183 sf – which is more than the above two models.
It does run quietly at a lower speed, but as the speed increases, so does the noise.
There is an initial odor that was reported but does dissipate over time.
While the pre-filter can be cleaned every 2-4 weeks to maintain its effectiveness, the other two filters cannot be cleaned. It is recommended to replace the filters every 6-8 months. There is a filter change indicator.
---
Features
Color
4 Stage Filtration System

Pre-filter
Deodorization Filter
True HEPA Filter
Vital Ion

Removes

Allergens
Cigarette Fumes
Dust
Mold
Pollen
Pollutants
Reduces Odor

Communicates Indoor Air Quality
3 Fan Speed
3 Timer Settings
Filter Indicator
5 Stage Air Flow Control
Limited Manufacturer's Warranty Covers Any Internal/Functional Parts For 1 Year And Motor And Electronic Parts For 3 Years. Filters Are Excluded.
Specifications
Weight
Dimensions
Coverage
Connects with Power Plug
Manufacturer: Conway
ASIN: B01728NLRG
Pros
4 Stage Filtration
Communicates Indoor Air Quality
Warranty
Cons
Initial Odor
Loud On Higher Speeds
No Sleep Mode
Review
The Coway HEPA Air Purifier is an entire room purifier. It will cover 361 square feet and has a 4-stage filtration system.
There are reports of an initial odor, but the smell does go away over time.
The Conway Air Purifier communicates the air quality by a color-coded light ( clean, medium, and high polluted) adjusting the fan speed accordingly.
You can set the timer for 1, 4, or 8 hours. A feature we didn't see in the models above is there is an Eco Mode. If the filter doesn't detect pollution for 30 minutes, it will stop the fan and go into the Eco mode to save energy.
As seen in a few of the models above, the Coway also has a filter replacement indicator.
Wirecutter voted the Coway Hepa Air Purifier the Best Air Purifier of 2015-2021, and it ranked 1st place at the TopTenReviews.
---
Features
Color
Reduces

Airborn Viruses
Bacteria
Dust
Mold Spores
Pet Dander
Pollen
Smoke

2 Stage Filtration
3 Cleaning Levels + Turbo
5-year Warranty
Timer
Light Dimmer
Filter Check Reminder
Energy Star Qualified
Specifications
Weight
Dimensions

10.83″ D x 20.08″ W x 22.32″ H

Coverage
Connects with Power Plug
Manufacturer: Honeywell
ASIN: B00BWYO53G
Pros
Larger Coverage
Light Control
5-year Warranty
Cons
Cost Of Replacement Filters
Loud
No Remote
Review
Honeywell is a well-known brand for many of its products, and the Honeywell HEPA Large Room Air Purifier is just one of them. Though the highest-end air purifier reviewed here, Honeywell hasn't disappointed with this product finding for many; the price is well worth the features and ratings.
This purifier coverage is 465 square feet, enough for a large-sized room.
A two-level filtration system with three cleaning levels plus the extra turbo clean contributes to filtering and circulating the air in the room up to 5 times an hour.
The timer allows for auto shut off after 2, 4, and 8 hours.
There are indicator lights for both filters to remind you to change the filters.
Honeywell does recommend, for best performance, using only Genuine Honeywell air purifier filters. Compatible air purifier filter replacements are not guaranteed to offer the same performance or efficiency.
Honeywell backs this purifier with a five-year warranty.
---
COMPARISON TABLE
Features
AROVEC 
ToLife

Levoit

Coway

Honeywell

Color
White
Black or White
White
Black or White
Black or White
Effective
99.07%
99.97%
99.97%
99.97%
99.97%
Coverage
183 Sq. Ft.
215 Sq. Ft.
183 Sq. Ft.
361 Sq. Ft.
465 Sq. Ft.
# Fan Settings
3
3
3
3
4
Filters
3-Stage
1
3-Stage
4-Stage
2-Stage
Change Filter Indicator
Yes
Yes
Yes
Yes
Yes
Timer
Yes
6 options
3-Modes
3-Modes
3-Modes
Night Light
Yes
No
Yes
Air Quality Light
Yes
Essential Oil Compatible
No
Yes
No
No
No
Wifi
No
No
Yes
No
No
Weight
5.2 lbs
3.4 lbs
6.6 lbs
12.76 lbs
17.26 lbs
Dimensions
7.9 x 7.9 x 12.9 inches
6.3 x 6.3 x 11 inches
8.07 x 8.07 x 12.6 inches
9.6 x 16.8 x 18.3 inches
10.83 x 20.08 x 22.32 inches
Warranty
1-year Warranty;
30 day Money Back Guarantee
Not Stated
Not Stated
Limited 1 and 3 year
5 year

Price

Price
Price

Price

Price

Price
---
FAQs
What are the benefits of buying a home purifier?
Some of the primary benefits of owning a home purifier include:
Improved respiratory health due to reduced exposure to asthma triggers, such as pollen, dust mites, pets, and other allergens;
Reduced risk of illness from contaminated indoor environments;
An overall sense of well-being due to improved concentration and mental clarity;
Protection against environmental toxins (such as chemical fumes and mold);
Rnd relief from unsightly aromas or allergies.
How do I choose a good home purifier?
Some key factors that you should consider when selecting a home purifier include:
How much space is required.
What type of air quality do you want to maintain.
Type of filter – Whether or not you have asthma or other allergies.
How often the filter will need to be replaced.
Price range.
After doing your research, choose a model that fits your needs and expectations.
Make sure to read the reviews online to get an idea of what others think about this particular product.
Is there a downside to air purifiers?
While an air purifier can be beneficial for your health, there is always a small risk of contaminants entering the environment.
Remember to replace filters regularly so the chance of microbial growth within the device is decreased.
Make sure to read the manufacturer's instructions and follow all safety guidelines before using an air purifier.
If you experience any adverse effects from using an air purifier, consult your health care professional immediately.
What is the purpose of a HEPA filter?
HEPA filters reliably removes indoor air pollution such as smoke (including cigarette smoke and smoke from wildfires), pollen, spores, dust mites, and other particulate matter that pollutes home environments. 
Popular Posts
---
Final Thoughts
There is a wide variety of air purifiers available. Whether you're looking for a desktop model or one that provides a more extensive full room coverage, I hope that in reading Best Rated Home Air Purifiers – Review and Buying Guide, you were able to find the information you needed to help you make your purchasing decision.
Again, with all products, features can change, so before purchasing, be sure the qualities that attracted you to the product are still the same.
I would love to hear about any experience you have in shopping or purchasing an air purifier. Please comment below.