An upright walker is a great product to give you flexibility in terms of movement and help you perform physical activities such as walking and remaining social and more independent. You can use an upright walker for all kinds of activities, ranging from simple physical work to brief walks. There are plenty of different models from various brands, and in Best Upright Walkers – Choosing The Right One, we discuss 3 of the best upright walkers, their features and pros can cons.
Preview Table
Why You Should Get An Upright Walker
The basic functions of the upright walker are to provide aid in assisting people with restricted movement to reach places of their interest.
Upright walking aids, commonly referred to as 'walkers', enable people with limited strength and agility or those who just have difficulty getting from place to place the ability to do so.
For those who require assistance with walking, getting an upright walker helps them maintain their mobility.
These types of walkers are good for people who are suffering from knee pain or joint issues. They allow for better movement and more freedom of movement than wheelchairs. They can be used for both indoor and outdoor activities.
An upright walker allows the user to stand and walk upright with good posture, which isn't the case with traditional walkers.
What to Look for When Buying An Upright Walker
If you have been thinking of buying an upright walker, there are a few things that you should look for. There are many options available in the market, and choosing the right one can be confusing.
Everyone has different preferences on what is important when deciding on an upright walker. Still, I want to offer my opinion on the most important things that a good walker should have.
Comfort
When using a walker of any type, comfort should be a priority. Are the armrests padded? Is there a padded seat? Is any storage bag out of the way of my knees? These are just a few options to explore when looking for comfort.
Fit
Having a good fit is essential. Most walker products will include a height recommendation. You will get a better fit with a walker that has adjustable legs and armrests. You'll also want to be sure that the seat width will be comfortable for the user.
Stability
Having a good solid and stable frame is essential. If the structure is too weak or wobbling, you risk tripping or even falling. Most uprights have a steel/metal or lightweight aluminum frame.
Budget
You always want to stay within your budget when considering your purchase. Make a list of your wants and needs regarding a walker, and then prioritize them. Try to get the most for your money.
---
Upright Walkers Product Reviews
---
(Best For Movement and Neurological Disorders)
Features:
Armrests
Wheels
Resistance Braking

Helps Control Speed and Acceleration

Backup Prevention
Bag With Air Vents For Oxygen
Activated Lights
Sit To Stand Handles
Backrest Support
Bridge Accessory Attachment
Upper Frame Forarm Stabilization
Cup Holder
Personal Item Bag
Specifications
Dimensions: 36″ (L) x 25.5″ (W)
Dimensions When Folded: 36″ (L) x 10.5″ x (W) 43.4″ (H)
Armrest Height: 39.4 to 53.3 Inches
Seat: 20″ (W) x 15″ Deep x 21″ (H)
Sit to Stand Handle Height: 32″
Wheel Diameter: 8″
Materials: 

Wheels: High-quality TPR rubber wheels
Armrests: Foam Polyurethane
Handles: Foam Polyurethane
Seat: Fabric

User Height Range: 5″ 3″ to 6′ 10″
Weight Limit: 400 lbs
Product Weight: 29.7 lbs
Pros
Adjustable & Rotating Armrests
Resistance Braking
Sit To Stand Handles
Cons
Heavier Than Some Other Uprights
Fabric Seat
Review
If you're looking for an upright walking aid that is both safe and efficient, the UP Walker Neuro Upright Posture Walker could be it. Made with enhanced safety designs and functions, this device helps users with movement and neurological disorders to walk with ease and confidence. With an ergonomic comfortable carriage and easy-to-use controls, it provides support for users of all ages.
This walking aid is designed to help users with movement and neurological disorders by providing them with an ergonomic and comfortable experience.
The armrests are adjustable and can be rotated inward to better support users with limited arm movement or muscle tone. 
The unique braking system can add resistance that helps control acceleration and speed.
---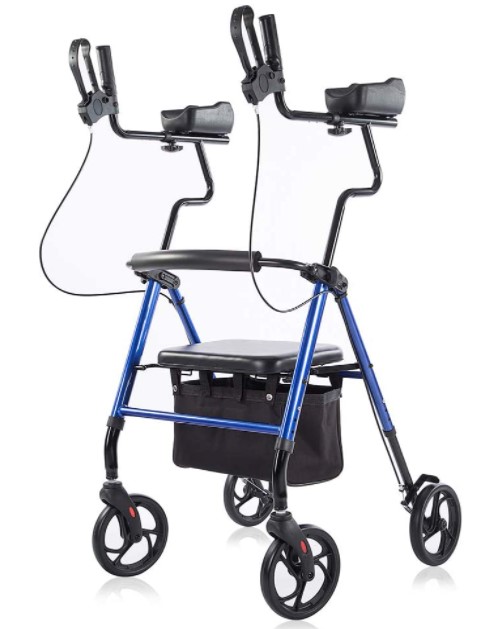 Features
Colors Available
3 Height Levels
Seat
Adjustable Armrest
Recommended User Height
Anti-tip Over Frame
8" Solid PVC Wheels
Loop Hand Brakes
Dual Braking System
Obstacle Assist Pedal
Folds Flat
Storage Bag – Underseat
Cane or Umbrella Holder
30 Day Return
LIFETIME For Defects In Material
Specifications
Overall Dimensions: 29"(L)x25"(W)x39"-45"(H)
Seat Dimensions: 19"(L)x14"(D)x21"-24"(H-From Ground)
Adjustable Armrest Height: 39"-45"
Material: Aluminum
Weight 22 lbs
Weight Limit: 300 lbs

Video: Elenker
Pros
Backrest
Folds Flat
Lifetime Warranty For Defects
Cons
Too Narrow To Sit For Some Users
Reports of Armrests Cracking
Review
The Elenker Upright Walker Comes In Three Height Levels And Has Easy-To-Use Adjustable Armrests. The 8″ Solid Pvc Wheels Help You Navigate Easily Through Tight Spaces, While The Loop Hand Brakes Offer A Safe And Secure Grip.
Included Is A Storage Bag That Conveniently Stores Your Personal Items And A Cane Or an Umbrella Holder.
It Folds Flat For Easy Storage And Transport.
If You're Dissatisfied With Your Purchase For Any Reason, You Can Make A Return Within 30 Days Without Any Questions Asked. 
---
3. OasisSpace
(Best Heavy Duty)
Features
Heavy Duty
Ergonomic Hand Brakes
Arm Rest
Backrest
Weight Limit: 450 lbs
Wheels:

10" Front Wheels
8" Rear Wheels

Foldable
Specifications
Dimensions: 33.7″ x 16.5″ x 9.6″
Product Weight: 27.95 lbs
Seat Dimensions: 22″(L) x 11″ (W)
Armrest Height Range: 39″ – 48″
Item Width – 27.8″
Weight Capacity: 450 lbs
Manufacturer: OasisSpace
Video: OasisSpace
Pros
Heavy Duty Bariatric
10″ Front Wheels
Folds
Cons
Not For Standard Doorways
Slide Forward On Seat
Taller Users (Over 6ft) Felt They Were Slouching
Review
The OasisSpace Upright Walker is designed with a 450 lbs weight capacity keeping bariatric users in mind.
This walker enables you to stand upright and look ahead with better support, greater dignity, and greater confidence to walk farther.
Perfect for those looking for an upgrade from their standard walker, this device is ideal for those striving to maintain their active lifestyle.
Though advertised for heights ranging from 4'10" to 6'5″, users over 6′ felt a need to slouch while walking.
Also, be aware that this is wider than many walkers and will not fit through a standard doorway. If you intend this for inside use, be sure to measure your door openings to ensure you will be able to get through.
---
FAQs About Upright Walkers
What Is The Difference Between A Traditional Walker And An Upright Walker?
A traditional walker is one that has a lower height causing the user to walk in a hunched-over position. This position can cause back and wrist discomfort because of the need to lean forward. Because of this position, the user is looking at the ground while walking.
An upright walker, the user is standing without slouching and walking in a much more upright way. With better posture, the user is able to look straight ahead, reducing the risk of falls and having a more comfortable experience.
Another difference between conventional and upright walkers is that a traditional walker does not have wheels, whereas an upright walker usually has 4 wheels making it easier to move.
Are Upright Walkers More Expensive Than Traditional Walkers?
On average, an upright walker will cost more than a traditional walker. You can get a conventional walker for about $50.00, whereas an upright walker tends to start at about $150.00
What Is A Rollator Walker?
A rollator walker is more like a traditional walker but with wheels. Their heights are about the same, and both tend to make you slouch and look at the ground while walking.
---
Related Articles
Read Next: Best Rated Walkers
You Might Also Be Interested In: Best Adjustable Bed Frames
---
Conclusion
This concludes our list of some of the best upright walkers on the market today. With all products, features can change, so be sure the qualities that attract you to the product are still the same before purchasing.
When it comes to finding the best upright walker, you have to keep in mind that this is a highly personal decision. The reason is that each of us has different needs and wants when it comes to mobility.
What's more, there are many types of walkers available on the market today, and deciding which one will work best for you can be quite challenging.
In reading Best Upright Walkers – Choosing The Right One, I hope you were able to narrow down the upright walker that best fits your needs.
Do you have any experience with upright walkers? Please comment below.