If you're looking for wireless headphones that will let you watch your favorite shows without being plugged into a TV or audio system, you're in for a treat! In 5 Best Wireless Headphones For TV Listening – Ultimate Guide, we will look at some of the best wireless headphones for TV listening and provide you with the information you need to make an informed decision. We will also help you find the best headphones for your needs based on price, features, and overall ratings. So read on and let us show you how to get the most out of your TV watching experience!
Best Wireless Headphones For TV Listening – Preview Table
Why You Should Get Wireless Headphones
A great set of wireless tv headphones is a fantastic way to immerse yourself in your favorite programming if you live in an apartment and don't want complaints because of loud volume, if you want to watch the game without disturbing your spouse or if your hearing isn't what it once was. TV headphones will allow you to hear your program without turning up the volume on your tv so others can watch with a volume comfortable for them.
What to Look for When Buying Wireless Headphones
Nothing beats a good wireless headphone for TV listening when it comes to enjoying your favorite shows. To ensure that you get the best possible experience, it is important to consider the features that should be included in good wireless headphones for TV listening.
Battery Life
Ensure that it has a battery life long enough so that you don't have to plug and unplug your headphones constantly. Some models come with a battery life of around 4-5 hours. More expensive wireless headphones have batteries that require charging every few days. Others can be charged as you are using them by being plugged into the charger.
Bypass Mode
Bypass Mode allows playing audio through the headphones and tv speakers simultaneously. If you live alone, this probably isn't something you'll need. If you live with others, this might be important to you to allow for multiple tv watchers to hear the program.
Connectivity
Since it determines the type of devices you can connect your headphones to, pay attention to connectivity when purchasing them. 
Two types of headphone connections for TV are Bluetooth and RF-style wireless. 
Unless you have a Bluetooth receiver linked, Bluetooth headphones will not work out of the box or with most TVs.
RF-style headphones use a receiver base to transmit audio wirelessly.
Ease of Use
Nothing is quite as frustrating as buying a product and finding it too hard to use. The same goes for headphones; it will be frustrating if you can't figure out how to use them. What can happen then is that you'll put them away and end up not using them, throwing your money away.
Wireless Headphones For TV Listening Product Reviews
Features:
Wireless
Surround Sound
4 Sound Modes

Movies, Dialog, Games, and Sport

Range:
Usage: 17 hours
Specifications:
Color: Black
Dimensions:

8.81 x 8.5 x 12.69 inches

Weight: 1 lb
Power Source Type: AC & Battery
Battery: Lithium Polymer Included
Manufacturer: Sony
Brand: Sony
In The Box
Headphone
Charging Stand
Optical Cable 1.5M
AC Adaptor
Pros
Surround
4 Sound Modes
Easy To Set Up
A Few Words About Sony L600
The Sony L600 Wireless Digital Surround Dolby Audio Sound Overhead Headphones bring you immersive surround sound with theater mode, letting you experience movies and tv shows like never before.
With up to 98.43-Ft wireless range, you can enjoy listening and not having to be in front of your TV. With 17 hours of listening ability on one charge, you won't be scrambling to recharge it in the middle of your show or movie.
---
Features:
Wireless
Over-Ear
Universally Compatible
Usage: 35 hours
Extended Range:
5.0 Bluetooth
3 EQ Presets
Charging Stand
Adjustable Head Band
Swiveling Earcups
Plug and Play
1-Click Mute
Earpads: Soft Memory Foam
Lightweight
Specifications:
Color: Black
Dimensions: 9.25 x 4.72 x 3.54 inches
Weight – 6.9 oz
Battery – 1 Lithium-ion Included
In The Box
Transmitter /Charging dock
Headphone
Power Cable (Contact Avantree Support if you need an extra power adapter)
Optical Audio Cable
3.5mm Audio Cable
3.5mm to RCA Audio Cable
Wired Microphone
User Guide
Video: Avantree Opera
Pros
Universally Compatible
Long Range
Usage: 35 hours
Cons
Low-End Bass Quality
Tiny Switches
No AC Adapter
A Few Words About Avantree Opera
With Avantree Opera, you'll get hours of entertainment in a lightweight, sweat-proof design. With a 164 ft range and 5.0 Bluetooth compatibility, you can enjoy your favorite shows wirelessly from anywhere in the room.
The adjustable headband and swiveling ear cups ensure a snug fit that won't fatigue your ears after prolonged use.
You might have difficulty with the switches as some people found them small.
Whether lying in bed or lounging on the couch, these headphones will keep the sound flowing without any trouble. And with the battery life of 35 hours, there won't be any interruption in your TV watching, well, not by the headphones anyway.
---
Features:
2.4GHz wireless RF technology
Wireless
Over-Ear
Range:
Battery Life: Up to 12 Hours
Plug and Play
Charging Stand
Adjustable Head Band
Earpads: Soft Padding
Specifications:
Color: Black
Dimensions: 11.4 x 6.1 x 9.1 inches
Weight: 1.1 lb
Batteries: 2 AAA Batteries Included
Manufacturer: ARKON ELECTRONICS(HUIZHOU)CO., LIMITED
Brand: ANSTEN
In The Box:
D1 Wireless TV Headphone
2.4GHz Transmitter/Charging base
3.5mm-3.5mm Audio Cable
RCA Cable
Optical Cable
Coaxial Cable
Rechargeable Batteries
3.5MM-6.3MM Rotary Union
Power Adapter
User Guide
Video: Ansten Wireless Headphones for TV – D1
Pros
Plug and Play
Comfortable
A Few Words About Ansten
With Ansten Wireless Headphones, you can enjoy your favorite show without any disruptions.
The wireless RF technology allows you to watch your show without any delays or interference, giving you a seamless viewing experience.
Plus, the charging stand enables you to conveniently charge your headphones when you're done watching. And for added convenience, the headphones come with adjustable headbands and soft padding for a comfortable fit.
---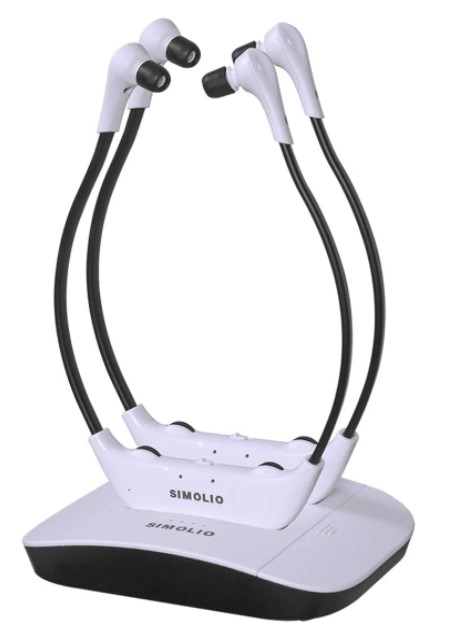 Features:
Dual 2.4GHz DIGITAL Earbuds
Wireless
In-Ear
Noise Cancellation
Range: Up To 100 ft
Balance Control
Mono/Stereo Optional
Spare Battery
Personal Sound Amplifier
Memory Foam Eartips 
Ear Loops
No Pairing Required
Specifications:
Dimensions: 9.88 x 6.65 x 2.72 inches
Weight: 2.04 oz
Batteries: 3 Lithium Polymer Batteries Required
Manufacturer: Simolio
Brand: Simolio
Video: Simolio Dual Wireless TV Headsets SM-824D2- Info You Need To Know Before Purchasing
Pros
Balance Control
Dual Set
Noise Cancellation
Cons
Some Find Earbuds Uncomfortable
A Few Words About Simolio Wireless Headphones
SIMOLIO Digital 2.4GHz Dual Wireless TV headphones are perfect for the hearing impaired and Seniors with their tone and balance control and personal sound amplifier.
This comes with a set of two in-ear headphones.
With a range of up to 100 feet, you won't have to worry about missing a single moment of your favorite show. The ear loops and spare battery make it easy to take your headphones with you wherever you go.
Coming with two pairs of in-ear headphones, each person can set their own controls. These headphones could be the perfect match for you, featuring noise cancellation technology to keep external noise blocked out, personal sound amplification to make your music louder, and ear loops to keep them firmly in place.
And, if you ever run out of battery, the headphones come with a spare battery so that you can continue enjoying your show uninterrupted.
---
Features:
Color: Black and White
Dual 2.4GHz DIGITAL
Wireless
Over Ear:

Ear Muffs
Ergonomic Designed
Retractable Headband
12 Levels Adjustable

In-Ear

Soft Foam Ear Tips
Ear Hooks

Noise Cancellation
Balance Control
Mono/Stereo Optional
Personal Sound Amplifier
Range: Up to 100 ft
Spare Battery
No Pairing Required
Specifications:
Package Dimensions: 10.2 x 7.91 x 4.88 inches
Weight: 2.09 lbs
Batteries: 1 Lithium-Ion Battery Required (Included)
Manufacturer: Simolio
Brand: Simolio
Pros
Combo – Over-Ear and In-Ear
Balance Control
Personal Sound Amplifier
Cons
Doesn't Support Dolby Surround Sound
A Few Words About Simolio Combo
Watch your favorite show or movie without worrying about disturbing everyone in the room with the loud volume you need to hear your tv. The SIMOLIO Digital TV Headphones keep the peace by providing high-quality audio that is both immersive and adjustable to your individual needs.
This two-headphone combo comes with the best of both worlds. One headphone is over the ear and the other in-ear.
The Over the Ear set come with ear muffs and is ergonomically designed. The retractable headband has 12 adjustable levels for the perfect fit.
The Over the Ear set comes with earmuffs and is ergonomically designed. The retractable headband has 12 adjustable levels for the perfect fit.
The in-ear headphone comes with soft foam ear tips and ear tips.
With a range of up to 100 ft, you can enjoy your entertainment in peace, without bothering those around you. Plus, the soft foam ear tips and ear hooks make them comfortable to wear for long periods of time. And don't forget the built-in personal sound amplifier that ensures every word is crystal clear.
---
FAQ's for Wireless Headphones
Here are some commonly asked questions about Wireless Headphones
Which Is Better: Over-Ear Or On-Ear Headphone For TV Watching?
Because it is dependent on individual preferences, this is a tough question to answer. Some individuals choose over-ear headphones because they offer a more encompassing experience, while others choose on-ear headphones because they are more comfortable.
Is There Any Difference Between Bluetooth And Wi-Fi When It Comes To Wireless Headphones For TV Listening?
When it comes to wireless headphones for TV listening, Bluetooth and Wi-Fi have a significant difference. While Bluetooth headsets are more cost-effective and simple to use, they don't offer the same level of audio quality as Wi-Fi headsets. Wi-Fi headphones are more costly than Bluetooth headphones, but they provide superior sound quality and operate via a wireless connection to send audio wirelessly.
Since they offer a better audio quality and surround sound experience, Wi-Fi headphones are also better for watching videos. They can also be used to listen to music, although they lack the same bass as Bluetooth headphones.
Can You Tell Me More About The Benefits Of Using Wireless Headphones For TV Watching And How It Works?
Wireless headphones are becoming increasingly popular for two main reasons: convenience and sound quality. Wireless headphones let you watch your favorite shows without worrying about cords getting in the way or getting tangled.
The main difference between wireless headphones and traditional headphones is that wireless headphones transmit the audio signal directly to your ears without going through a wire. This means that they are able to create a better sound quality because they are not subjected to interference and can deliver superior audio quality. Additionally, since they are wireless, you can move around and take them wherever you go.
---
Related Articles:
---
Conclusion
So that concludes our list of some of the best wireless headphones for TV listening today. With all products, features can change, so be sure the qualities that attract you to the product are still the same before purchasing.
TV listening is a great way to relax and unwind after a long day, but finding the perfect listening environment can be challenging. Thanks to wireless headphones, you can now enjoy your favorite shows in much more comfort.
Before making a purchase, it's important to consider your needs and preferences. Thanks for reading, and we hope you found Best Wireless Headphones For TV Listening – Ultimate Guide helpful in making the perfect headphone purchasing decision.
What has your experience been with wireless headphones? Good or bad? Please comment below.