Have you ever found yourself in a store, arms laden with items, wishing for a convenient way to transport your purchases? Or perhaps you're concerned about the germs on store carts and are looking for a personal, hygienic alternative? If so, you're not alone. Many of us, especially seniors, face these challenges during our shopping trips. That's why I've embarked on a mission to find the best solution: folding shopping carts with wheels.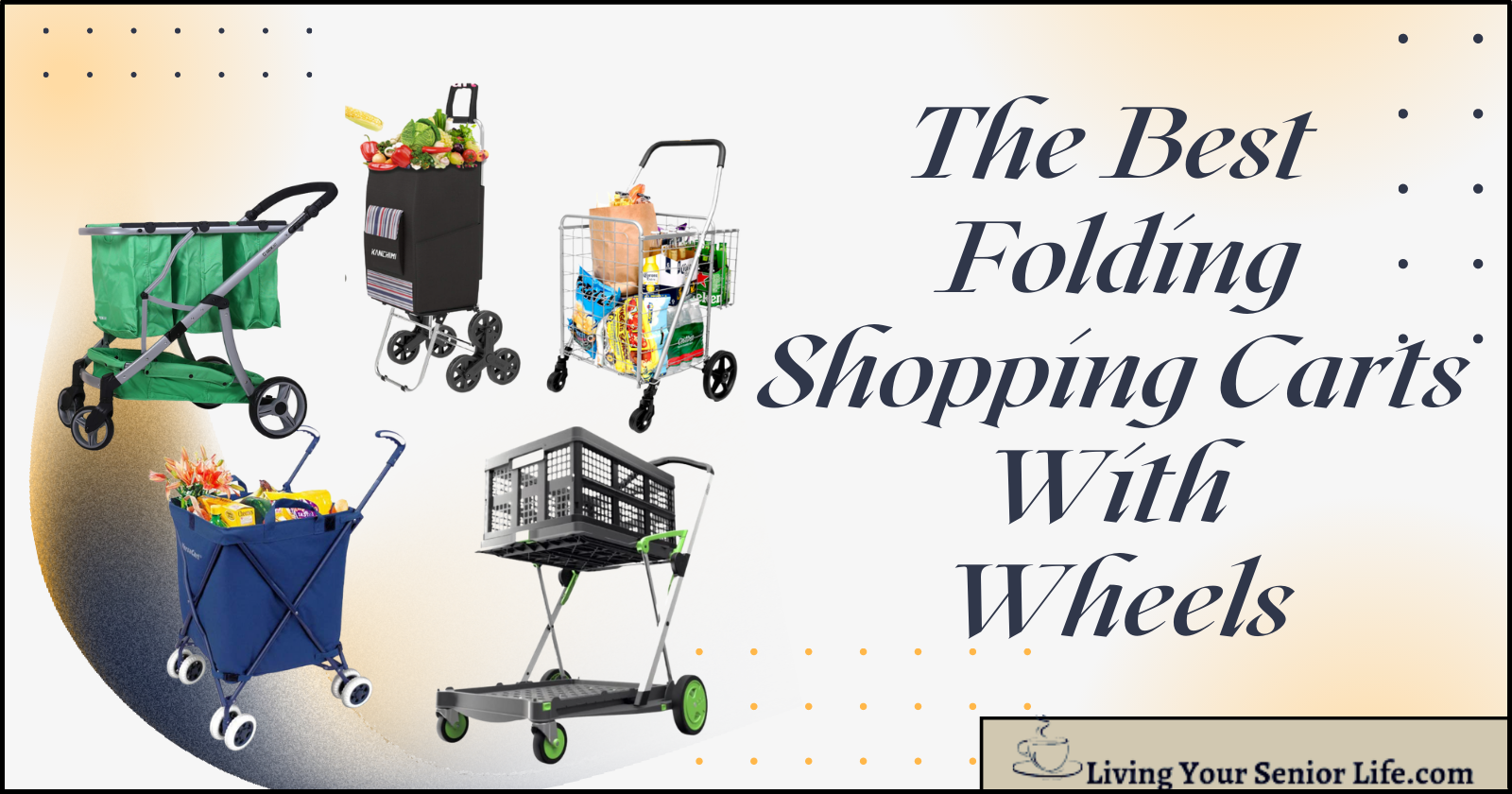 As a senior myself, I understand the unique needs and concerns we have when it comes to shopping. We need a cart that's lightweight, easy to maneuver, and most importantly, reliable. That's why I've spent countless hours researching and testing different models to bring you this comprehensive guide.
In this article, I'll be reviewing five of the best folding shopping carts available: Supenice, VersaCart Transit, Clax, dBest, and Wadabuggy. I'll delve into their unique features, discuss their pros and cons. Whether you're shopping for yourself or a loved one, this guide is designed to help you make an informed decision. So, let's embark on this journey together and find the perfect folding shopping cart that will make your shopping trips easier and more enjoyable.
Preview Table
Why You Should Get A Folding Shopping Cart
If you've ever needed to carry groceries home from the store, you'll know the importance of a folding shopping cart. Their compact size and weight make them easier to maneuver than full-size grocery carts. And, if you need to maneuver a narrow aisle or are eager to save space in your home, a folding shopping cart is the way to go.
Having your own folding shopping cart with wheels allows you to shop without putting your hands or purchases on what could be a germ-laden store cart. This is especially true when using a cart for carrying groceries when many people and children are using the same carts.
What about a day at a swap meet or a community garage sale, a local hardware store, and having the convenience of a cart to put your purchases in? Some people use their cart as garden carts to conveniently transport their gardening supplies.
There are so many uses for a portable shopping cart with wheels, and I'm sure you will think of more benefits once you have one.
What to Look for When Buying A Folding Shopping Cart
There are a number of different folding shopping carts available on the market. It is important to select the one that is best suited to your needs. 
Everyone has different preferences on what is essential or not when deciding on a foldable shopping cart, but I want to offer my thoughts on what I find to be the most important features that a folding shopping cart with wheels should have.
Durability
Is it a sturdy shopping cart? Is the cart well-made? Are the materials that were used to make the cart meant to last, and are the parts replaceable if they should break?
Size
When using a folding shopping cart, you want to be sure it is large enough for what you need. Even if the weight capacity is a lot, the storage area might be small.
Weight
The weight may not seem important when you think of pushing a cart; however, remember if you plan to transport your cart in a car, you need to be able to lift it. The carts in this guide weigh anywhere from 10 – 21 lbs.
Price
An important consideration in all products your purchase is price. You don't want to go outside your budget when buying a folding cart. It's a good idea to make a list of the features you would like and prioritize them.
Prioritize your list from the most important feature to the least. For instance, a cart with oversized wheels or one that folds flat is important; put those at the top of your list. If a beverage holder is nice but not essential, put it toward the bottom of your list.
Then if a potential cart is outside your budget, choose another one with the most features you find important.
---
Folding Shopping Carts With Wheels Product Reviews
Here are the reviews of the Best Folding Shopping Carts With Wheels
The Supenice is my choice for the best folding shopping cart having double baskets. Having two baskets comes in handy when you have smaller purchases or somewhere to put your personal items like a purse, sweater, or umbrella.
The Supenice comes in two sizes, medium and jumbo. The medium weighs 10 lbs and can carry up to 66 lbs. The jumbo weighs about 20 lbs and has a weight capacity of 160 lbs.
Keep in mind your strength, as you will have to be able to maneuver the larger cart.
Even though the jumbo size has a weight capacity of 160 lbs, it doesn't mean you'll have to use that much weight every time you use it, but it is available if need be.
The front wheels on both models are 360-degree swivels making it easier to steer through store aisles or at home.
The handrail has a foam cover that is non-slip and is made to absorb sweat.
The Supenice being foldable allows for easy transport and small space, easy, convenient storage.
Easy installation of putting on the wheels and axles takes only a few minutes, and then your new double basket Supenice rolling shopping basket will be ready to go.
Pros
Easy Assembly
Swivel Wheels
Two Baskets
Cons
Small Wheels
No Liner Included
---
The VersaCart Transit, available in two colors, blue and black, is my choice for the best canvas folding shopping cart.
The VersaCart Transit has double front swivel wheels that allow for easier handling and double rear wheels that help with stability.
The canvas comes with an attachable cover, and the entire canvas is detachable for easy cleaning.
VersaCart Transit is lightweight at 9 lbs and has a weight capacity of 120 lbs.
I found one con; if you are tall, the handles are not adjustable and might be on the low side for you. Depending on your height and arm length, you may have to slouch over to push the cart.
The Versa shopping cart is easy to fold for transport or store away.
With only having to pop on the wheels, assembly is simple.
With only having to pop on the wheels assembly is simple.
Pros
Cover
Double Front and Rear Wheels
Easy Assembly
Cons
Initial Odor
Non Adjustable Handles
---
The Clax Folding Shopping Cart is my choice for a trolly-type cart. It has a multitude of uses, from using it as a grocery cart; a utility shopping cart; to use transporting supplies and more. The added functionality comes with a higher price point than the other models reviewed in this post.
This collapsible shopping cart on wheels collapses simply by pushing two buttons.
The two front wheels are swiveled for easier steering. Also, to prevent accidental roll-away, there is a wheel brake that can be activated.
The Clax Folding Cart is heavier than the other models reviewed, coming in at 21 lbs. This can be a consideration if loading and unloading in a car – be sure you have the needed strength.
Additional baskets are available for purchase if needed.
Video: Clax Cart
Pros
Button Collapse
Swivel Front Wheels
Wheel Brake
---
The dbestg Shopping Cart is my favorite for stair use. This cart is equipped with unique large wheels that allow for going both up and downstairs as well as on regular terrain.
This cart is different from the others in that it is able to climb stairs more easily.
The dbest Folding Shopping Cart is a heavy-duty cart that has a stair-climbing weight capacity of 60 lbs.
The bag can be removed, and the cart can then be used as a utility cart. When you take the bag off for use as a dolly, it has a weight capacity of 150 lbs.
The bag comes in 5 colors and contains eight compartments, which include a beverage holder and an umbrella holder.
The bag is made of a weatherproof material that keeps contents dry from the rain and snow and can be wiped down to clean.
Video: dbest Products Stair Climber Bigger Trolley Dolly
Pros
Can Be Used Without Bag
Navigates Stairs
Weatherproof
---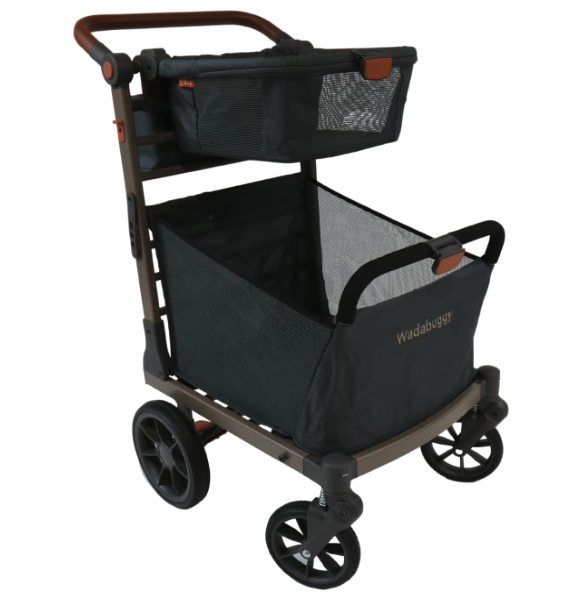 The Wadabuggy Shop folding shopping cart is a versatile and convenient solution for those who frequently shop or need to transport items without the hassle of carrying them.
This cart comes with two baskets and a zippered pouch for more storage. The lower larger basket has a weight capacity of 75 lbs, whereas the smaller upper basket has a weight capacity of 20lbs and is ideal for more fragile items. There is also a zippered pouch with a 5 lbs capacity that can carry personal items.
The 4 rubber tires are foam filled. The two front wheels swivel making for easier maneuverability.
The construction is made of aluminum making this a lighter-weight choice coming in at 21 lbs.
Some users have found the baskets to be a bit smaller than expected. It's essential to check the dimensions before purchasing.
The Wadabuggy Shop folding shopping cart is a reliable and efficient choice for those looking for a compact yet spacious cart. Its features are designed keeping user convenience in mind, and it offers excellent value for its price. However, like all products, it has its set of cons, but they are minor when compared to the benefits it offers. If you're in the market for a folding shopping cart, the Wadabuggy Shop is worth considering.
Pros
Adjustable Foam Handle
Multiple Bags
Easy Collapse
Cons
Baskets May Be Too Small For Your Circumstances
---
FAQs About Folding Shopping Carts with Wheels
Here are some commonly asked questions about Folding Shopping Carts with Wheels.
Can Folding Shopping Carts be Used as a Walker?
No, folding shopping carts are not designed to be leaned on, used to balance, or as a walker. The cart could easily tip, and serious injury or worse could occur.
What Are Some Uses of Folding Shopping Carts With Wheels?
Some may think of folding shopping carts for seniors; which is actually only one part of the population that uses them.
Though the name implies using the cart for shopping, folding carts are versatile, allowing for many functions.
For example, depending on the cart type, it can be used as a utility cart, transporting laundry, moving equipment, garden supplies, and more.
What's the Difference Between Rigid and Swivel Wheels?
Rigid wheels go in two directions following a straight line; forward and backward. As they only go in a straight line, they cannot be steered to turn. Wheels that swivel rotate 360 degrees and can be steered to turn in different directions.
Wheels that swivel makes it easier to maneuver the cart. If the cart has swivel wheels, the placement most times is in the front and rigid wheels in the back of the cart.
Read Next: Is There A Senior Discount for Amazon Prime? Do You Qualify?
Conclusion
So this concludes my list of some of the best folding shopping carts with wheels on the market today. With all products, features can change, so be sure the qualities that attract you to the product are still the same before purchasing.
I hope you are now able to better decide on the best rolling shopping cart for your needs.
Would you please comment on your experience with Folding Shopping Carts with Wheels? If you have any questions, please click on the product link for more information.