Adult folding tricycles are perfect for those who want to stay active and mobile but maybe have balance issues making it difficult and even dangerous to ride a two-wheeler. They're great for riding around the neighborhood, commuting, and doing errands. But which folding adult tricycle is the best for you? To help you choose the perfect one for your needs, continue reading the 5 Best Folding Adult Tricycles!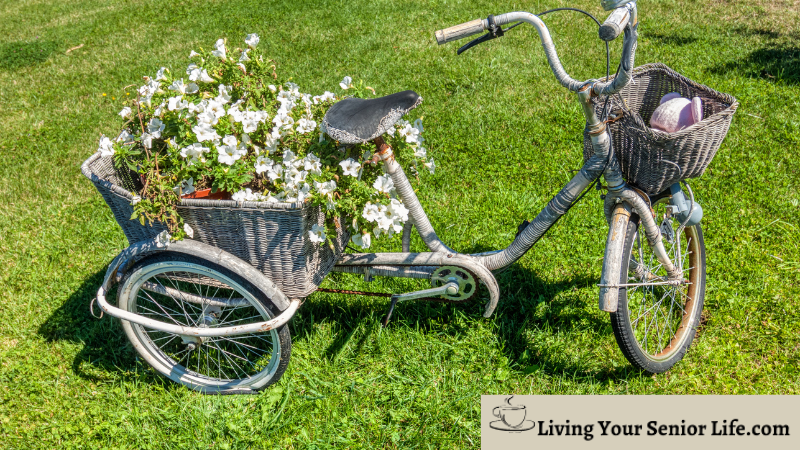 Why You Should Get A Folding Adult Trike?
Adult tricycles are a great way to stay active and get some exercise. They're portable, so you can take them wherever you go. Plus, they're easy to store and transport – perfect for small spaces or busy lifestyles. You can also use them for recreational purposes like riding around your neighborhood or the park.
What to Look for When Buying A Folding Adult Tricycle
Adult tricycles are a great way to stay active and have some fun. It's important to select the right one for you, as not all tricycles are designed for adult riders.
When buying an adult tricycle, consider the following factors:
– Is the tricycle comfortable and easy to ride?
– Can it handle the weight and size of the rider?
Shorter adults should look for a smaller wheel size, while taller people will want to look for a larger wheel size.
– Is the tricycle durable?
Once you've determined these factors, you're ready to ride! Make sure to wear a helmet when riding an adult tricycle, and have fun!
---
Folding Tricycle Product Reviews
Mophoto
Features
Foldable
3 Sizes

20 " – Suitable for riders 4'8″ – 5'5″
24″ – Suitable for riders 4'11" – 5'9″
26″ – Suitable for riders 5'3″ – 6'2″

Variety of Colors
7 Speeds
Steel Frame
Low Step Through
Adjustable Seat
Large Basket
Quick Release Folding
Load Capacity (Including Rider and Cargo) 350 lbs
Reflector
Specs:
Assembly Tools Included
Rear Suspension
Brand: MOPHOTO
Pros
Variety of Colors
Low Step Through
7 Speeds
A Few Words
If you're looking for a foldable trike that is both stylish and durable, Mophoto could be it.
The frame is made from durable steel, and the bike has a weight capacity of 350 pounds.
With seven speeds and three different sizes, there's a perfect option for just about everyone.
Plus, it comes with a large basket, making it great for trips out or errands around town.
All Mophotos are equipped with a reflector to make them more visible in low light conditions.
Best of all? It comes in various colors; you're sure to find one that suits your style!
The one complaint that came up over and over is it is very difficult to put together. If you're not a person who excels in assembly, you might want to hire someone to do it for you.
---
DoCred
Features:
Foldable
3 Sizes

20 " – Suitable for riders 4'8″ – 5'4″
24″ – Suitable for riders 4'11" – 5'9″
26″ – Suitable for riders 5'3″ – 6'2″

Variety of Colors
7 Speeds
Steel Frame
Front and Rear Brakes
Low Step Through
Adjustable Handlebars
Adjustable Seat
Basket
Weight Capacity 300 lbs (Rider and cargo)
Specs:
Front and Rear Suspension
Manufacturer: DoCred
Brand: DoCred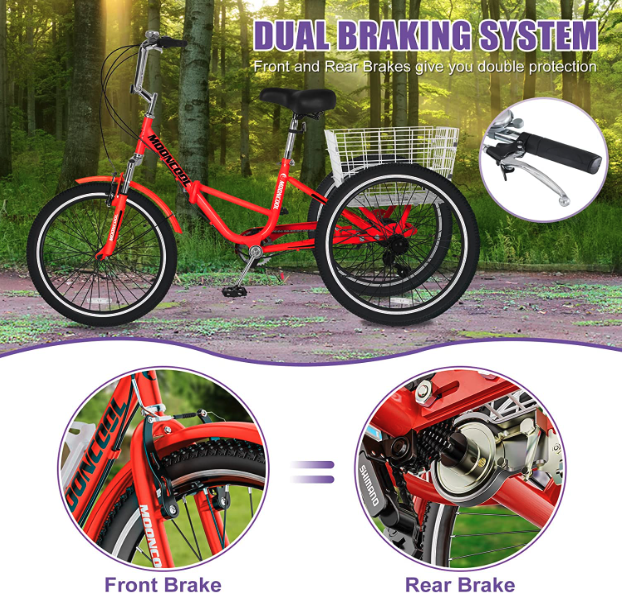 Pros
Steel Frame
Large Basket
Front and Rear Suspension
A Few Words
DoCred Folding Adult Tricycle is the perfect choice for people looking for a lightweight tricycle that can fold up and be stored away.
The DoCred foldable tricycle features seven speeds, a sturdy steel frame, and front and rear brakes.
The adjustable seat and handlebars ensure a comfortable ride for riders of all heights, and the low step-through makes it easy for riders of all sizes to get on and off the bike.
The tricycle comes in three sizes, 20″, 24″, and 26″, with a weight capacity of 300 pounds.
Again, like the other tricycles reviewed, the biggest complaint was the difficulty in assembling the trike.
---
Slsy
Features
Foldable
3 Sizes

20 " – Suitable for riders 4'8″ – 5'5″
24″ – Suitable for riders 4'11" – 5'9″
26″ – Suitable for riders 5'3″ – 6'2″

Variety of Colors
7 Speeds
Steel Frame
Low Step Through
Basket
Weight Capacity 320 lbs (Rider and Cargo)
100% Satisfaction Guarantee: One-year warranty on all defective or damaged parts.
30-day return & money-back guarantee.
Specs:
Assembly Tools Included
Manufacturer: Slsy
Brand: Slsy
Pros
1-Year Warranty on Defective Parts
Seller Offers Assembly Video
320 lbs Weight Capacity
Cons
Difficult Assembly
Some Find the Bike Small
A Few Words
The Slsy trike is made of steel. Plus, it has a low step-through making it easier to maneuver getting off and on.
The Slsy, with its lightweight construction and foldable design, is ideal for all ages and fitness levels.
The basket is large enough to hold your essentials or items from a quick trip to the grocery store.
Something found in the Slsy Trike not found in other brands is a 100% satisfaction guarantee.
Coming with three size options, seven speeds, and various colors, you can choose the one that suits your personality best.
If you're not sold on a foldable tricycle and want to see what the Slsy non-foldable tricycle offers, see my review: Slsy Adult Tricycle – Review
---
Tri-Rad
Features
6 Speed and Single Speed Available
2 Sizes
Colors – 3 Available
Steel Frame
Wheels – Aluminum Rim 
Front Brake
Front Suspension
Large Saddle
Bell
Basket
2-Year Manufacturer Warranty
Specs:
Product Weight – 45 lbs
Manufacturer: Cycle Force Group
Brand: Mantis
Video: Adult Unisex Folding Tricycle
Pros
Large Saddle
Single Speed and 6 Speed Options
2-Year Manufacturer Warranty
Cons
No 26″ option
Poor Assembly Instructions
Limited Colors
A Few Words
The Mantis Tri Rad has the option of either single or six-speeds and two sizes.
With a steel frame, front brakes, aluminum rims, and a bell. The oversized saddle provides a comfortable seat, as the basket allows for convenience.
The steel frame makes it durable and sturdy, while the wheels are lightweight and robust enough to handle uneven terrain.
The large saddle will give you a comfortable riding experience.
The downside is there are limited colors available, and like the other trikes, it is challenging to assemble.
---
Barbella
Features
3 Sizes

20″ – Suitable for riders 4'8″ – 5'4″
24″ – Suitable for riders 4'11" – 5'9″
26″ – Suitable for riders 5'3″ – 6'2″

7 speeds
Various Colors
Frame: Carbon Steel
Adjustable Seat
Adjustable Handlebars
Low Stand-Over
Basket
Weight Capacity: 300 – 350 lbs
Specs:
Front and Rear Suspension
Assembly Tools
Manufacturer: Barbella
Brand: Barbella
Pros
Adjustable Seat
Adjustable Handlebars
A Few Words
While the frame of the Barbella is made from steel, this tricycle is lightweight and easy to fold down.
The Barbella folding trike comes in various sizes, so they will suit the needs of riders of different heights and weights.
The adjustable seat will comfortably fit riders of different heights, while the handlebars provide a comfortable grip for riding.
The low stand-over height makes getting off the trike easier than the standard frame.
The basket on this tricycle is large enough for essentials such as snacks or water bottles.
---
FAQs for Folding Adult Tricycles
What are the benefits of folding an adult tricycle?
One of the benefits of folding an adult tricycle is that it's easy to store. It can be folded to a smaller size and stored easily in tight spaces.
Additionally, adult trikes are easy on the joints for a low-impact option for exercise.
What is an adult tricycle, and why is it good for you?
An adult tricycle is a bike with three wheels and is typically used for leisurely rides. They come in different sizes and designs to fit the needs of riders of all heights and weights, making them an ideal exercise option for people of all ages.
Adult tricycles also have several health benefits, such as a boost in mood, weight loss, better balance, and coordination.
Though you may not think you can get injured on a tricycle, you can, so be sure to wear protective gear, including a helmet.
Tricycles do not ride the same as two-wheeler, so watch the video below for some tips.
Video: How To Ride A Tricycle
---
POPULAR ARTICLES
You Might Be Interested In Reading: Best Recumbent Bikes For Seniors and Jeekee Recumbent Exercise Bike
---
Conclusion
This concludes our list of some of the best folding adult tricycles on the market today.
Foldable tricycles allow for outside exercise for those that might not be able to ride a two-wheel traditional bicycle.
You can choose from different models and types, but select one that is sturdy, comfortable, and fits your personality.
With all products, features can change, so be sure the qualities that attract you to the product are still the same before purchasing.
Thank you for stopping by and taking a look at 5 Best Folding Adult Tricycles.
Do you have any experience with adult tricycles? Please comment below.