Schwinn Meridian Adult Tricycle Review explores the features and pros and cons that will give you some insight into whether this bike is the right choice for you.
Do you think it's time to get outside and enjoy some exercise, take in some sites, enjoy the great outdoors? Are you also thinking that the days of riding a bike are gone? Maybe you have stability issues that make riding a two-wheel bike just something you don't want to risk. Have you thought about an adult tricycle? One that gives you the stability of three wheels and is large enough for an adult. The Schwinn Meridian 3 wheel bicycle for adults is a great alternative to the traditional two-wheeled bike.
Why You Should Get a Meridian Tricycle
Schwinn Meridian 26-Inch Tricycle is a beautiful, stylish Schwinn tricycle for adults features a low step-through frame for easy on and off access. It has an adjustable seat post and handlebars that allow it to fit riders from 4'11" to 6'3″. The Schwinn Meridian is available in a variety of colors with 26" wheels and a rear basket for storage. Available in 1, 3, or 7 speeds so you can easily choose the one that suits your needs.
Features:
Available in 1, 3, and 7 Speeds – Choose at Website
Available in a Variety of Stylish Colors
Wheel Size
Aluminum Frame
Adjustable Handlebars
Adjustable Seat Post

Large Springer Cruiser Seat

Rear Folding Basket
Handbrakes
Front and Rear Fenders
Low Step-Through
Unisex
Weight Limit – Varies With Model
Limited Lifetime Warranty
Pros
Name Brand
Various Speeds Available
Limited Lifetime Warranty
Cons
Assembly Can Be Difficult (see video below for help)
Some Complaints of Damage With Shipment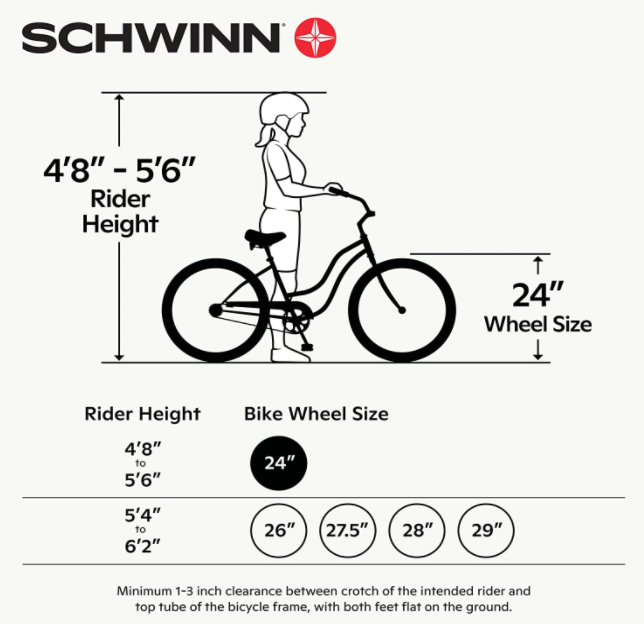 All-in-All
Schwinn is a company that has been around since 1895. The biggest drawback to this bike is the difficulty in assembling. However, Schwinn does have a video that shows the steps needed to assemble. If you are not a handy type of person, who is good at assembling products, I would suggest, if feasible, paying the extra money to have a bike shop assemble it for you and bypassing the frustration of doing it yourself.
The pros of the Schwinn Meridian tricycle for adults far outweigh its cons. With an aluminum frame, adjustable seat, and handlebars, it allows for personalizing a fit for your own body. The handlebars allow for a relaxed upright riding position putting less stress on your back than other bikes. The low step-through makes it relatively easy to get on and off.
Closing Words
Be aware that riding a three-wheel tricycle is not the same as riding a two-wheeled bike. Before riding your bike, watch a video explaining how to ride a tricycle in my post 4 Best Adult Tricycles (2021 Reviews and Comparison Guide). This is also an excellent article to read if you're not set on purchasing the Schwinn Meridian Tricycle.
Remember, with any bike, you need to ride safely and obey the laws in your particular town. To watch a brief video about the basic rules of the road, go to my article, Bicycles and Seniors – I Bet You Haven't Forgotten How.
Also, if you haven't decided on purchasing a trike two articles you might find beneficial to read is Best Adult Recumbent Trikes (Buying Guide) and What Is An Electric Trike?
Two other posts you might find interesting is What is a Recumbent Trike – Ride With Comfort – if you are also wondering about recumbent trikes. The second post if you are interested in an inside stationary recumbent bike take a look at this article: 5 Best Recumbent Exercise Bikes – Buying Guide
As with all exercise, there is a risk of injury involved while riding a bike. Be sure to consult with your doctor beforehand to ensure this is a safe and viable activity for you.
When you think of bike brands, it's likely that Schwinn comes to mind. Founded in 1895, its name is synonymous with bikes. The Schwinn Meridian Adult Trike is part of this legacy. With the variety of colors and speeds, it seems there is something for just about everyone.
schwinn 3 wheel bike for adults
Have you recently purchased an adult tricycle or have an experience you would like to share in exploring an adult tricycle? I would love to hear about it. Please comment below.