Electric trikes for adults are becoming more and more popular. They are a great way to get around town, and they are also a lot of fun. There are a lot of different electric bikes on the market, and it can be tough to decide which one is right for you. In this blog post, we will look at some of the best electric trikes for adults.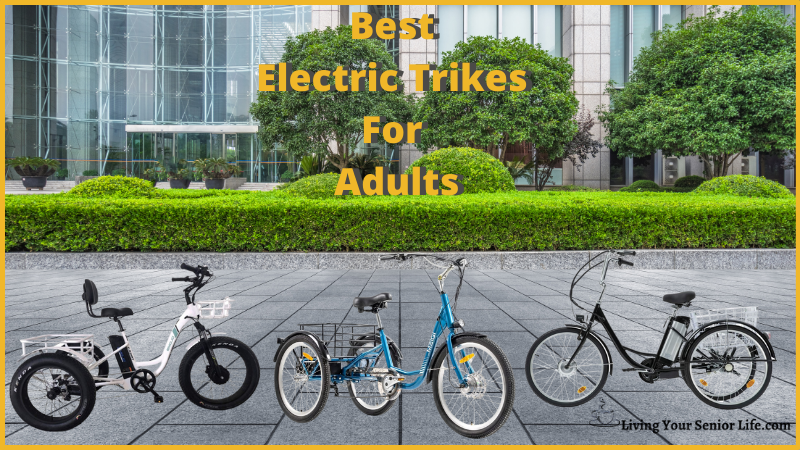 Preview Table – Best Electric Trikes For Adults
There is a more extensive easy to read side-by-side comparison table at the bottom of this post.
Why You Should Get An Electric Trike
Electric trikes are becoming more and more popular as people are looking for an eco-friendly way to get around. They're also a lot of fun and a great way to get some exercise. Here are a few reasons why you should consider getting one:
They're eco-friendly. Electric trikes are a great way to reduce your carbon footprint.
They're a lot of fun. Riding an electric trike is a blast, and it's a great way to get some exercise.
A tricycle having three wheels is usually more stable than a traditional bike providing a sense of security for those who feel uncomfortable riding a bicycle or those who are not experienced with riding a two-wheel bicycle.
They're affordable. Electric trikes are more affordable than many other forms of transportation, and they're a great way to save money on gas.
They're easy to operate. Electric trikes are easy to use, and they're perfect for people of all ages.
What to Look for When Buying An Electric Trike
Everyone has different preferences on what is important when deciding on an electric trike. Still, I want to offer my opinion on the most important features that an electric trike should have.
Size and Weight Capacity
The first thing you should consider is the size of the trike. Make sure that it is the right size and has a maximum weight corresponding to the rider's needs.
Electric trikes typically have a weight capacity of around 300 pounds, which is more than enough for most riders. This ensures that everyone can enjoy the benefits of an electric trike.  
Range
Range refers to how far you can go with your trike on one full charge. If you plan on using your trike to go long distances, this is very important. It isn't as important if you plan to ride your trike just for short trips.
The average battery capacity on a trike has a range of about 20 miles, though some models have a range of up to 40 miles. This is more than enough for most trips allowing you to leave the car at home more often.
Quality
When considering which electric trike to purchase, you want to stay within your budget. However, you also want a high quality electric trike that is well built and will last you.
You'll need to weigh the features with what your budget allows. It's a good idea to make a list of features and which ones you need before making a purchase.
Electric Trikes Product Reviews
Features
Color – Blue
Maximum Speed – 15 mph
Wheels – 24″
SHIMANO 7 Gears
Pedal Assist (PAS) – 3 Levels
Frame – Steel
Low Step-Through
Handlebars – Adjustable
Seat – Adjustable
Basket – Oversized
Suitable for People 5'3″ to 6'3″ 
Rechargeable Battery – 36V/13AH Lithium Battery Pack
Motor -350W
Range

25miles (E-Bike Mode) to 35miles (Assisted Mode)

Front and Rear Lights
Weight Capacity – 300 lbs
Lithium Battery Charger Included
Fast Charging
Manufacturer – DWMEIGI
Pros
Low Step Through
Adjustable Seat and Handlebars
Fast Charging
Cons
Assembly
Lower Range
Not Many Reviews Yet
Video – Intro To DWMEIGI Adult Electric Tricycle
Review
DWMEIGI Adult Electric Tricycle is perfect for those who are looking for a mid-speed, comfortable, and stylish ride. With a top speed of 15 mph, this electric tricycle is sure to get you where you need to go in no time.
The 24″ wheels and SHIMANO 7 gears make for a smooth and easy ride, while the adjustable seat and handlebars ensure that you're always comfortable.
The oversized basket is perfect for carrying groceries, luggage, or whatever else you need to take with you on your trip.
---
Features
Available in 4 Colors
Frame – Aluminum Alloy
Fat Tires
Gears – 7 speed
Maximum Speed – 20mph
Back Rest
Baskets – 2
Rechargeable Battery – 48V
Charger
Motor – 500W
Range – Up To 35 Miles
Weight Capacity – 320 lbs
Product Weight – 70 lbs
Manufacturer – Zoom Sports Corp
Pros
Fat Tires
Back Rest
Speed
Video: A Look At The Emojo Electric Tricycle
Review
The Emojo Electric Tricycle is a great trike and perfect for anyone who wants a stylish and eco-friendly way to get around town.
The fat tires allow for use on different terrains than just pavement, such as some trails, beaches, and even some golf courses.
The seat has a backrest adding to the comfort of the ride.
The Emojo Electric Trike has two baskets. The front basket is ideal for smaller personal items. One larger basket in the rear is perfect for carrying groceries or other items.
This electric tricycle is available in four colors and has a maximum speed of 20mph. It also has a range of up to 35 miles on a single charge and can hold up to 320 lbs.
Like most bikes, the assembly can be tricky, so you might want to get someone experienced to assemble it for you.
---
Features
Color: 4 Colors Available
Frame – Aluminum Alloy
Wheel Size –

24 Inch Front
20 Inch Rear

Maximum Speed – 26 mph
Range – Up to 50 miles
Gear – 7
Basket – Front and Back
Motor –  750W
Battery – 13AH li-ion
LCD Screen
Weight Capacity – 440 lbs
Manufacturer – Ningbo KS medical Tech co., ltd
Pros
2 Baskets
Up 50 Mile Range
440 lb Weight Capacity
Cons
Price Point But A Lot of Features
Review
The Malisa Electric Tricycle has a great price and comes in 4 colors. It has an aluminum alloy frame and a front wheel size of 24 inches and rear wheel size of 20 inches. The maximum speed is 26 mph, and it has a range of up to 50 miles on a single charge.
It has 7 gears, and there are also two baskets, one in the front and a larger one in the back.
The motor has 750W, and the battery is 13AH li-ion.
The weight capacity is 4400 lbs, a combination of rider and cargo.
---
Adult Electric Trike Comparison Table
---
You Might Also Be Interested In: Fat Tire Bikes
FAQs for Electric Trikes
Here are some commonly asked questions about Electric Trikes
How Fast Do Electric Tricycles Go?
While many factors affect the top speed of a tricycle, they typically reach speeds of 15-25 mph.
Are Electric Trikes Safe?
All bicycles have some safety concerns. This is no different with an electric trike. Some of the top safety concerns include: Tipping, driving dangerously or recklessly, not following traffic laws or signals, not wearing a helmet, and not being aware of your surroundings.
What Is An Electric Trike's Battery Life?
Electric trikes come with lead-acid or lithium-ion batteries. The battery life of an electric trike largely depends on how often it is ridden. Lead-acid batteries have a battery life of around three years with regular use, while lithium-ion batteries can last up to 10 years.
---
Related Articles
---
Conclusion
With all products, features can change, so be sure the qualities that attract you to the product are still the same before purchasing.
There are many different electric trikes for adults on the market, and it can be challenging to decide which one is right for you.
Consider your needs and preferences carefully before making a purchase. Be sure to read reviews from other consumers to understand better what each model has to offer.
Ultimately, the best electric trike for you will depend on your individual needs and preferences.
So that concludes our guide on some of the best electric trikes for adults on the market today. In reading the Best Electric Trikes For Adults – Buying Guide, I hope you came away with a better understanding of the features on each presented.
Which benefit(s) do you find most important when considering an electric trike? Please comment below.