So, you've been thinking about the security and safety of your home and loved ones. Maybe you've heard of burglaries, property theft, or car break-ins in and around your neighborhood? Now you've reached the point of considering purchasing a home security system, and rightly so. But before you click that purchase now button, there are some options to consider. This Home Security Camera (2021 Buying Guide) looks at these options and will help you decide which security camera best fits your needs.
After deciding which options are important to you, I have written other articles you might want to look at. One of the articles, Blink vs. Ring Security Cameras, compares two of the most popular security cameras, Ring and Blink. Two other articles take a more in-depth look at each of these brands individually, Blink 3rd Generation Security Camera and Ring Spotlight Cam Review.
So, let's get started looking at the options you'll want to consider.
Inside or Outside or Both?
When considering how many cameras to purchase, consider what areas of your property you want to monitor.
Do you want a system with both inside and outside cameras, or are you interested in just the outside? Maybe you want to monitor inside pets when your away from home. Perhaps you have a young child or children and want to monitor their bedroom at naptime or during the night hours. However, others of you might want just to monitor the outside of your home. Maybe you want to start with monitoring outside but want to have the option of adding on an indoor camera in the future. Will the system you are looking at allow you to add on?
How Many Cameras?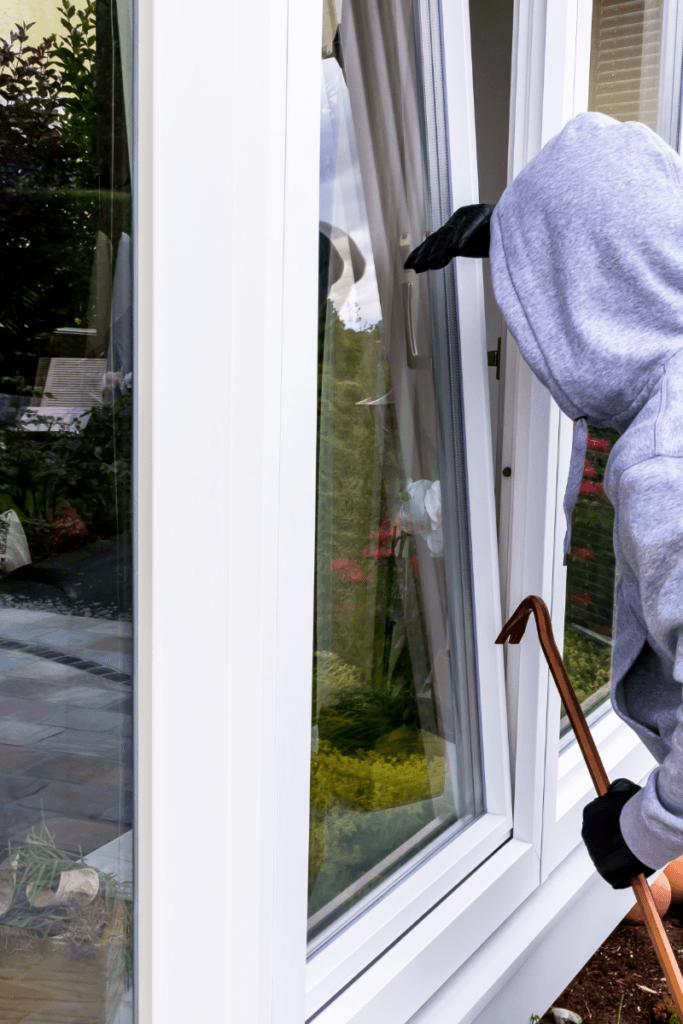 When planning the placement of security cameras inside the home – think like a burglar – what are the vulnerable spots in your home? Looking at statistics, most break-ins are done through the first floor. You'll probably want to monitor all entries into your home – both doors and windows. Don't forget your garage, especially if there is a door where someone can gain access to your home.
If you have multiple stories, the first floor is probably the best place to start. Do you need cameras monitoring second-story windows? It's probably not the first place someone will break into – most likely, they would need a ladder to gain entrance, which would be visible to someone driving by or living close to your property. Burglars don't want to draw attention. If you have an outdoor stairway to the second story, then consider a camera there as well.
Do you park your car on the street or driveway? Then you may want to monitor those spots as well. What about a shed or an out-building that houses valuable tools or work equipment?
Also, something to consider is monitoring your children's play in the yard to keep an eye on them.
Don't forget the pool area – you can monitor those swimming (there should be someone always watching children in a pool), but what about a child that has somehow wandered away from their home and made their way to your pool – it's always possible. Before home security cameras were readily available, I had a house with a backyard pool—a landscaper left without shutting the gate. I didn't have children in the home, but a neighbor child could have wandered in, and something tragic may have happened; luckily, nothing did.
You can call your local law enforcement department to see what advice they can give you regarding your particular neighborhood – maybe there are patterns of break-ins they can share with you. With that information, you can tailor your monitoring to include those patterns.
Wired or Wireless
Do you want a simple installation, or do you prefer not to worry about battery life? If you don't want to worry about replacing and recharging batteries, you might want to look at the wired version. Unless your an electrician, you will need help with the installation, but after that, you won't have to worry about recharging the batteries.
Another possibility is getting a camera that can run off an optional solar panel.
But what if you move and want to take your security camera system with you, and if battery life doesn't concern you, then the wireless option might be great for you. Installation is pretty simple, and you may be able to do it yourself. Being that you'll want to install your cameras high enough that they won't be tampered with, you will more than likely need to climb a ladder. If you're not comfortable climbing a ladder or don't have the ability to do so, then, by all means, have someone else install your cameras for you.
Monitoring Service
Do you want someone else to be monitoring your cameras? Maybe you can't monitor the cameras yourself. Most cameras will alert you when they detect movement, but perhaps you're not able to connect to your phone all the time. Maybe you want the added security of having help if you should need it – maybe if a fire breaks out. Would you like to have access to a panic button? If any of these pertain to you, then look for this option when purchasing your camera. Some do require additional sensors and fees. Be sure to research what professional monitoring includes. Also, most local municipalities need to be notified about the monitoring service and possibly pay them a registration fee.
Alarm/Spotlight
Do you want to be able to sound an alarm when suspicious activity is detected? Sounding an alarm or triggering a spotlight may not always stop the crime, but it can help in deterring one from happening – most intruders want an easy target and will move on to another home.
Night Vision – Infrared
The ability of the camera to record and detect activity at night is essential. For this, you want to be sure your camera is equipped with something called night vision or infrared ability.
Two-Way Audio
Two-way audio allows you to talk to whoever you see – maybe someone rings your doorbell, and you want to talk to them first before opening your door. Perhaps you can scare someone off by talking to them and them realizing they can be seen.
Price
How much do you want to spend? As in all commerce, security cameras come at different price points. Consider what options are available and which you want. You might have to prioritize those options to fit your budget. Price is always something most of us want to consider.
Warranty/Guarantee
What is the product's warranty/guarantee? Is it 30 days, a year, or even a lifetime? Though you might not think you will need it – it is something to be aware of if any issues arise in the future. It's best to register your product, save packaging if required, and your receipt.
Some Final Words
Buying a security camera system for your home can add peace of mind and a sense of security. However, you still want to stay vigilant and use all the safety precautions you can – some of these are locking your doors and windows. Cutting bushes that someone could use for hiding. Keep ladders locked away. Of course, arming your security system.
I hope that reading the Home Security Camera (2021 Buying Guide) Explores Some Options Available With Security Cameras; Helping You Decide Which Camera is Right For You. has given you some things to think about when considering a home security system.
Have you had any experience(s) with a security system or any experience where in hindsight, you wish you would have had a security camera? I would love to hear about them – please comment below.