Do you no longer want to spend your time vacuuming, or maybe you have limited mobility that makes the chore difficult? Are you considering purchasing a robotic vacuum cleaner? No matter your reason, you will want to consider the features available and the right vacuum for you and your lifestyle. In 5 Best Robot Vacuum Cleaners – Buying Guide, I compare and review 5 of the best robotic vacuum cleaners available to help you in your purchasing decision.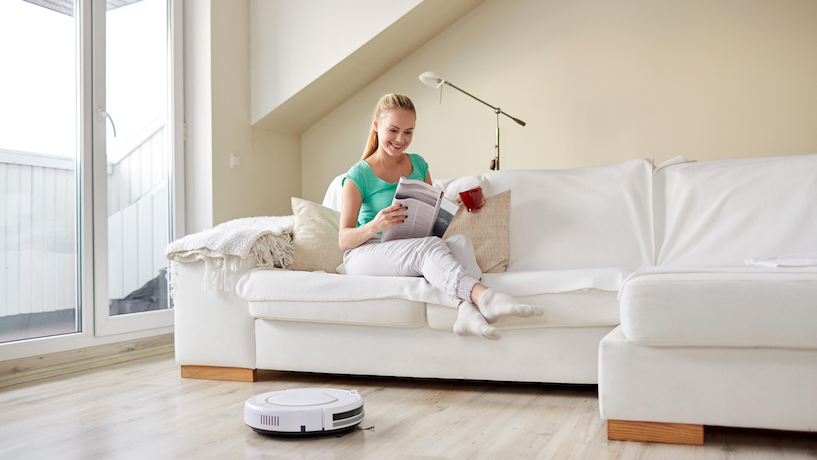 These 5 robotic vacuums include the Eufy Robovac, Roborock Q5, iRobot Roomba 980, Shark IQ, and the iRobot Roomba i7+.   However, if you're not quite sure what features are available or what to look for in a robotic vacuum, take a look at a previous post, Robotic Vacuum Cleaner ( Buying Guide), which explores various options and features of robotic vacuum cleaners.
Preview Table Guide:
Note: At the bottom of this post, there is a side-by-side comparison table that makes it easy to see the commonalities and differences between the vacuums.
---
Features
Automatically Recharges
BoostIQ Technology
Climbing Threshold – 0.63 inches
Color – Black
Infrared Sensor For Evading Obstacles
Run Time – 100 minutes bare floor
Slim Design
Suction – 2000 Pa
Asin: – B07R295MLS
The Eufy BoostIQ Robo Vac 11s (Slim) is an entry-level affordable robot vacuum but does come with some good features. Being slim at only 2.85," it can go under some furniture where larger vacuums are not. But do be aware that sometimes it gets stuck under furniture and can't find its way out. With BoostIQ Technology, when it comes to an area that needs more vacuuming strength within 1.5 seconds, it will automatically increase the suction power.
Ideal for low- to medium-pile carpets, tile, laminated, and hardwood floors. However, if you have high-pile carpet or dark-colored floors, this vacuum is probably not the one for you.
Running Time
The estimated running time on laminate and hardwood floors is up to 100 minutes. For carpet, the run time decreases. This decrease in run time, depending on the surface, is expected and common in most robot vacuums.
The path the Eufy Robo Vac 11s follows is random as it does not have mapping capability.
Warranty
It comes with a 12-month warranty that covers quality issues. There is also an extended protection plan available for an added cost.
Pros
Price Point
Customer Service
Slim Design
Cons
No WiFi or mapping
Not Suitable for Medium or High Pile Carpet
The Eufy is an entry-level vacuum with a great price point. The customer service is reported to be excellent. However, be aware that it does not have some features, like mapping or learning the layout of your home/office, and will randomly vacuum a room without knowing where it has already been. If you are looking for something with "smart" capabilities, you will most likely be disappointed in the performance. However, it is our choice for the best robot vacuum without wifi.
The Eufy works best on tile, laminate, and hardwood floors. However, saying that or the price, it's a good little robotic vacuum. If you go in knowing that the Eufy is an entry-level vacuum and doesn't have mapping capability or the many of the features the more expensive robotic vacuums have, then you won't be disappointed.
What Comes In the Box
RoboVac 11S
Remote Control (2AAA batteries included)
Charging Base
AC Power Adapter
Cleaning Tool
1 Side Brushes
User Guide
12 Month Warranty
---
Features
Color – Black
Mapping Capability
Multiple Cleaning Modes
Washable Filter
Run Time – Up to 180 Minutes
Suction – 2700Pa
No Go Zones
Hard Floor, Wood, Carpet
Customer Service Support
The Roborock
The Roborock Q5 has a lot of suction power, coming in at 2700Pa, which is more than some more expensive units. Having a battery life of up to 180 minutes, it has the ability to clean up to 3230 SF.
The Roborock also has fall sensing that helps keep the robot away from ledges and drops.
The no-go zones keeps the vacuum out of areas that you don't want it to enter. For example, a playroom or around pet bowls. You have the ability to set 10 no-go zones.
Mapping
With PreciSense LiDAR, you can virtually add furniture to the maps, and the Roborock has the ability to create and save four maps.
App
The Roborock app allows you to control the Q5 with such features as viewing the vacuuming route, creating no-go zones, adjusting the suction power, and setting schedules.
2.4Ghz Wi-Fi is required for the app connection.
Pros
2700Pa Suction
Mulit-Level Mapping
App-controlled
What Comes In the Box:
Roborock Q5 Robotic Vacuum
Charging Dock
Power Cable
User Manual
With its mapping capability and multiple cleaning modes, the Roborock Q5 will ensure that your floors are clean and dust-free. The vacuum is designed to run for up to 180 minutes on a single charge, and features a washable filter for easy maintenance.
It can map up to 4 areas and can run for up to 180 minutes on a single charge. Best of all, it features a washable filter for easy maintenance; meaning you can keep your home clean and tidy without spending a fortune on replacement filters.
---
iRobot Roomba 980 -Renewed
Features
Works with Alexa and Google Assistant
Color – Black
High-Efficiency Filter
Mapping
Run Time – up to 120 minutes
WiFi Connected
iRobot Roomba is one of the oldest brands in robotic vacuums and a little more expensive than other brands. You may be able to get a vacuum that has the same features at a smaller price point than the iRobot Roomba, but you won't get the brand name you might know and trust. Please be aware that this is a renewed model.
WiFi
The iRobot Roomba 980 is a basic model and is refurbished but does have WiFi capability and will work with both Alexa and Google Assistant. With WiFi connectivity comes the ability to map your home/office. With the aid of your smartphone, it will tell you if it is stuck, finished, or needs the dust bin to be emptied; however, it does not create no-go zones. Like other robotic vacuums, you do not need to have WiFi to vacuum; you just won't have the ability to map.
Miscellaneous
As an entry-level iRobot, there is no remote control. To start a cleaning cycle without WiFi, you press the CLEAN button. It does have the ability to return to its charging station/base when the battery is low on charge.
iRobot Roomba 980 is ideal for hard floors and carpets.
It comes with a high-efficiency filter that captures 99% of all allergens, pollen, and small particles.
Pros
Name Brand
Mapping
High-Efficiency Filter
Cons
No Remote
No Keep-Out Zones
The iRobot Roomba 980 is one of the more basic models from iRobot. It doesn't come with many of the features a less well-known brand may have. However, it does get good reviews, and the features it does have, such as the high-efficiency filter, are great and it is a reliable product.
---
Features
App or Voice – Controlled
Automatic Emptying
Color – Black
Mapping
Multiple Cleaning Modes
Can Take Up To 6 Hours To Fully Charge
Run Time – Up to 60 Minutes
Scheduled Cleanings
1-year Limited Warranty 
Asin – B07S864GPW 
Read: An In-Depth Review of the Shark Robot
Video: SharkClean App
Pros
Mapping
Scheduling 
Self Emptying
Cons
Loud On Startup And Emptying
No – No Go Zone Ability
Some Reports Of Mapping Problems
What Comes In The Box 
Shark IQ Robot
Self-Empty Base
2 Side Brushes
Filter
Boundary Strips
---
Features
Automatic Dirt Disposal
Climbing Threshold – 5/8"
Color – Black
High-Efficiency Filter
Keep-Out Zones
Mapping
Run Time – Up to 75 Minutes
Scheduling
1-year Limited Warranty
Asin – B07GNPDMRP
Pros
Automatic Emptying
Mapping
Supports both 2.4 and 5GHz networks
Cons
High Price Point
Bags Are Not Reusable
Hair Can Tangle in Wheels
What Comes In the Box
Dual Mode Virtual Wall Barrier
Extra High-Efficiency Filter,
Extra Side Brush
North American Line Cord
Roomba i7+ Robot Vacuum
Clean Base Automatic Dirt Disposal
Dirt Disposal Bags
The iRobot Roomba i7+ is a top-of-line robotic vacuum. It has many features like mapping and scheduling, but the main feature that makes it more expensive than other models is the automatic disposal of the dirt it collects. Is the extra price worth that feature – it's something you'll need to decide.
---
Robot Vacuum Comparison Chart
Features
Eufy BoostIQ RoboVac 11s
Roborock Q5
iRobot Roomba 980
Shark IQ Robot
iRobot Roomba i7+
Allergen
—-
—-
High-Efficiency Filter
High-Efficiency Filter
High-Efficiency Filter
Auto Empty
No
No
No
Yes
Yes
Auto Return To Dock
Yes
Yes
Yes
Yes
Yes
Cleaning Modes
Multiple
Multiple
Not Stated
Multiple – 3
Not Stated
Fall Avoid/Cliff Warning
Drop Sensing Technology
Yes
Not Stated
Yes
Yes
Color
Black
Black
Black
Black
Black
Flooring
Tile, Laminate, Hardwood, Low, and Medium Pile Carpet
Hard Floor, Wood, Carpet
Hard Floors and Carpet
Hardwood and Wooded Floors, Tile and Low-Pile Carpets
Carpet and Hardwood
Mapping
No
Yes
Yes
Yes
Yes
Mop
No
No
No
No
No
Keep-Out Zone
No
Yes
No
Yes
Yes
Run Time
Bare Floors – 100 Minutes
Up to 180 Minutes
Up To 120 Minutes
Up To 60 Minutes
Carpet Not Reported
Bare Floors – 150 Minutes 
Carpet Not Reported
Scheduling
Yes – Limited
Yes
Yes
Yes
Yes
Suction
2000Pa
2700Pa
Doesn't Report
Doesn't Report
Doesn't Report
Remote Control
Yes
No
No
No
No
WiFi
No
Yes – 2.4Ghz Wi-Fi
Alexa, Google Home, and Siri
Yes
Echo
Yes 2.4 GHz
Alexa or Google Voice Assistant Capability
Yes 2.4 GHz or 5 GHz 
Alexa or the Google Voice Assistant Capability
Climbing Threshold
0.63″
Not Stated
Not Stated
Not Stated
0.63″
Dimensions
12.79″L x 12.79″W x 2.85″H
13.78″x 13.78″ x 3.8″

18.9″ x 16.69″ x 5.28″
12.90″ x 12.60″ x 3.50″
13.34″ x 13.26″ x 3.63″
Weight
5.73 lbs
7.05 lbs
11.18 lbs
13.20 lbs
7.44 lbs
Warranty
1-Year
Not Mentioned
90-day
1-Year
1-Year Limited
Price
Price
Price
Price

Price

Price
---
Additional Reading
---
In Conclusion
I hope you found 5 Best Robot Vacuum Cleaners – Buying Guide helpful in your search for the robot vacuum that is right for you and your lifestyle. 
As with all reviews, the options and features may change in time, so if you are interested in purchasing a robotic vacuum cleaner, you should click the link and be sure all the features discussed are still the same as they were at the time of writing this article.
Do you have any stories or comments about robot vacs?  I would love to hear them – please comment below.