Fidget Activity Blankets, also known as sensory blankets, are designed to provide sensory stimulation for people with special needs, such as autism or dementia. A sensory blanket may help calm the person down when they are agitated. These can be used in any age group but are most commonly used by children and the elderly. While the Best Fidget Blanket For Dementia can also be use for Alzheimer's people, this post explores five such blankets and the pro and cons of each.
The name of these is a little confusing. They aren't blankets like the name implies. Instead, they are put on a table to work with or held on the lap. Perhaps, a better word would be fidget mats or fidget pillows, but nonetheless, for this article, they are one and the same.
Remember, all activities with Alzheimer's or Dementia patients should be closely supervised.
Best Fidget Blankets (Updated List)
What Are Sensory Blankets
Sensory or fidget blankets work to provide sensory stimulation for people with special needs, such as autism, Alzheimer's, or dementia. They can be used in any age group but are most commonly used by children and the elderly. Fidget blankets, or lap pads, are a simple way to provide comfort and security for people living with dementia, whether living at home or in a long-term care facility like a nursing home.
Why You Should Get A Fidget Blanket
There are many reasons why you might want a sensory fidget blanket. One of the main reasons is that it can help a loved one dealing with dementia or Alzheimer's to relax. Furthermore, they have been proven to decrease stress and anxiety. This is because it gives your loved ones something to focus on and takes their attention away from the source of their anxieties and fears.
What to Look for When Buying A Fidget Blanket
Everyone has different preferences on what is important or not when deciding on a fidget blanket, but I want to offer my opinion on the most important things that fidget blankets should have.
Look for Durability
Sensory fidget blankets for seniors should be durable enough to stand up to wear and tear. Are the objects securely attached so you won't be having to resew them on if your loved one pulls on them or does not handle them gently.
Look for Size
Size is important when it comes to transport, where it will be used, and the number of objects that the blanket can hold.
If it is going to be held, say in a chair, then you might want to look for one in the smaller size.
However, if you have a large area it will be used at, say, a table, then a larger fidget blanket may be in order.
Ease of Cleaning
Having a fidget blanket or pillow that is machine washable is ideal. That way, if something gets spilled on it, all you need to do is throw it in the washing machine.
Video: Fidget Chicks – Feel Good Story
---
Fidget Blankets Product Reviews
Here are the reviews of the best Cooling Weighted Blankets
The Fidget Apron is designed to help elderly individuals, especially those with Alzheimer's or dementia, to relax. It addresses the common issue where seniors with these conditions can become anxious or nervous when their hands are idle. The fidget apron provides a range of sensory activities to keep restless hands engaged.
The apron is not only beneficial for Alzheimer's patients but also offers sensory activities and games for those suffering from memory loss, dementia, autism, Asperger's, ADHD, anxiety, and more.
The product has received positive feedback and some of the reviews highlight its effectiveness for memory loss patients and its soft, comforting texture.
One advantage to the apron is with the adjustable strap to wear around the neck the apron doesn't fall to the floor.
Objects Included:
Zipper
Fur
Sequins
Crinkle Cushion
---
Objects Included:
Beads
Buckle
Laces
Pocket
Ribbons
Sensory Patches
Taggle Button
The Healthy Seniors Fidget Sensory Blanket is a great way for elderly adults to relieve anxiety and keep restless hands occupied.
The different textures and activities help calm anxiety by engaging the hands and mind for healthful mental stimulation.
This innovative blanket is perfect for seniors who want to improve their hand dexterity.
The lacing, buttoning, buckling, and zipping activities replicate common dressing skills and help keep fingers, hands, and joints mobile.
The blanket is made of soft and comfortable fabric and measures 22.4″ x 11.81″, making it an excellent choice for relaxing time at home or on the go.
---
Objects Included:
10 Pages
Zipper
Fur
Sequins
Felt
Photo Holder
Dimensions: 8.7″ (W) x 9.5″ (L) x 2.7 (D)
This Fidget Book is a one-of-a-kind book explicitly designed for adults who have Dementia and Alzheimer's disease and provides them with a fun and stimulating sensory experience.
With different fabrics and materials like sequins, the book stimulates the senses and helps improve cognitive functioning and alertness.
The Fidget Book for Adults is perfect for calming and stimulating the mind. With a soft cover and 10 pages, this book contains a variety of calming activities that are perfect for adults.
Whether you're looking for a gift for someone with Alzheimer's or Dementia, or you just need something to help you relax, this book is the perfect solution.
---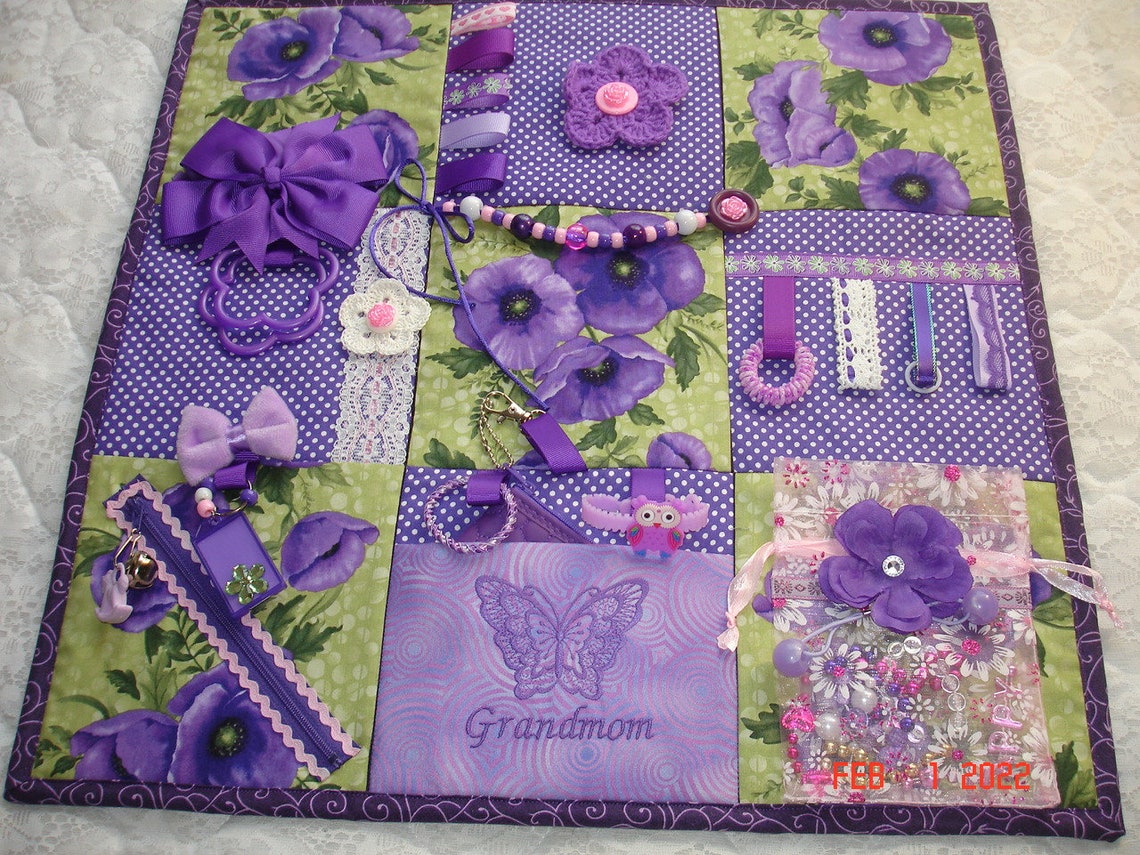 Objects Included:
Bell On Zipper Pull Ribbon
Bracelets – 2
Rhinestone Buckle
Buttons
Coin Purse
Crochet Curly Cue
Crochet Flower
Flower Clip
Hair Scrunchie
Lace
Plastic Ring
Ribbon Loops
Rocking Horse Zipper Pull
Satin Ribbon
Velcro Strips
Zipper
FREE NAME and embroidered motif on a large pocket. Embroidered vintage sewing machine, butterfly, or hearts if preferred, and your loved one's desired name will be embroidered Free of Charge. (NOTE: Some vendors charge up to ten dollars for embroidery).
A variety of purple floral fabrics included – cotton
Warm violet fleece backing
Size: Approximately 22.0″ High x 22.0″ Wide
---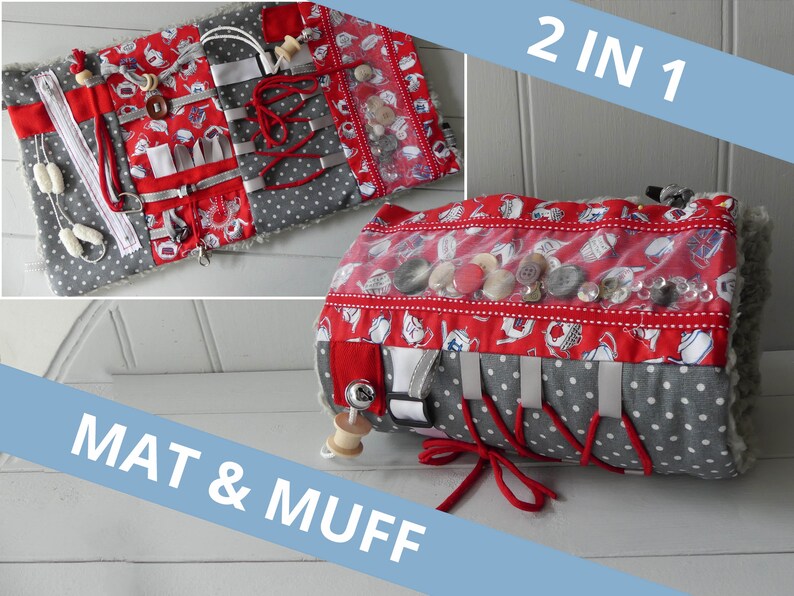 Objects Included:
Bead/Button/Charm Strip
Buckle Slider
Hematite Rings
Jersey Ribbon Pull With Metal Ring And Wooden Ball
Keyring Clip
Lace-Up
Metal Rings To Slide
Mini Wooden Rings To Pull Over Knotted Cord (Resistance Sensation)
Pompoms On Cord
Silicone Spiral Stretch
Variety Of Cords And Ribbons
Wooden Slider
Wooden Cotton Reel On Textured Rope, With Magnet And Jingle Bell
Zip
Size: Approximately 10 x 17 inches (when flat)
Two toggles can be fastened/unfastened to switch between twiddle muff and fidget mat.
When flat, the mat is backed with beautifully soft faux fur, which adds another level of comfort and security. The mat can be fastened using the wooden toggles with either the fur on the inside (keeps hands snuggly and warm) or with the activities inside to keep restless hands busy.
---
FAQs for Fidget Blankets
How Can Fidget Blankets Be Used in Dementia Care?
Fidget blankets can be used for people with all types of dementia, including Alzheimer's Disease. The weight of the fidget blanket on the lap may have a calming effect that helps prevent wandering or agitation. Fidget items placed in the pockets of the fidget blanket provide tactile stimulation, which is soothing to many people living with dementia.
Are there any side effects to using these blankets?
Since fidget blankets are usually made of cotton fabric with raised embroidered or knotted features, they pose little risk. Beware of any allergies, make sure all objects are attached securely, and ensure no choking hazard exists.
The fidget blanket should not be used as a seat for those who have no need for sensory input, as it may affect them negatively by giving them a feeling of sensory overload.
---
Related Articles
---
Conclusion
So that concludes our list of some of the best fidget blankets on the market today. Thank you for reading 5 Best Fidget Activity Blankets For Dementia And Alzheimer's.
I hope this article has given you some insight into what makes these products so popular and will help you find one that is perfect for your needs, whether it's a gift or just something to keep yourself occupied.
Have you bought or used a fidget blanket? Please comment below.