Wooden walking canes are a timeless, classic, stylish, and practical way to get around. Whether you're looking for a stylish fashion accessory or sturdy, reliable support, wooden walking canes provide many options.
The best rated wooden walking cane is the Oleksandr.Victory for it's durability and design. I like how the duck contours to the hand to make it extra comfortable.
To help you narrow your choices, we've compiled a comprehensive guide of the best-rated wooden walking canes. We'll discuss the features and benefits of each one.
From classic carved canes to modern, ergonomically designed models, you can find the perfect cane for your needs.
Features To Look For In A Wood Cane
There are several features to consider when shopping for a wooden walking cane. Many people prefer to buy a wood cane that is stylish and highly functional. The first factor to consider is the type of wood used to make the cane. Several varieties of wood are available for wood canes, and each has advantages and disadvantages. For example, mahogany is known for its beautiful grain pattern and durability. At the same time, oak is renowned for its strength and resistance to wear.
Another important feature to look for in a wooden walking cane is the handle. The cane handle should be ergonomically designed to provide maximum comfort and support. It should also feature a slip-resistant grip to reduce the chance of slipping. Many wood canes feature a crook handle, curved in the shape of a "C." This type of handle allows for a comfortable grip and better balance.
The length of the wood cane is another important factor to consider. The length should be appropriate for the user's height and weight. The cane should be long enough to provide adequate support without being too long to impede movement. Additionally, the user should be able to adjust the length of the cane easily and without too much effort.
Finally, it is important to consider the design of the wood cane. Many wood canes feature intricate designs and decorative carvings, making them more aesthetically pleasing. Some wood canes feature a variety of colors and finishes, so selecting one that matches the user's style and personality is important.
When shopping for a wooden walking cane, it is important to consider the features mentioned above. The cane should be made from a durable and attractive wood, feature a comfortable handle, and be the correct length for the user. It should also be aesthetically pleasing with a design that matches the user's style and personality. Considering all of these factors, it is possible to find the perfect wood cane.
---
Our Top Picks
---
Oleksandr.Victory
Features:
Linden Wood
Hand-carved
3 Sizes
Left and Right Handed
Braided Wrist Strap
Connection: Wooden Peg and Glue
Tip: Military Tank Rubber
Specifications:
Length: 34″, 35″ or 36″
Product Weight: Approx. 1 lb
The Oleksandr.Victory canes are uniquely hand-carved. Made from linden wood and there are a variety of carvings to choose from.
These are available in three sizes and can be used by both left- and right-handed people.
Included is a braided wrist strap. The tip is made with military tank rubber for extra grip.
Available in 3 sizes, these canes can be shortened to fit your needs.
---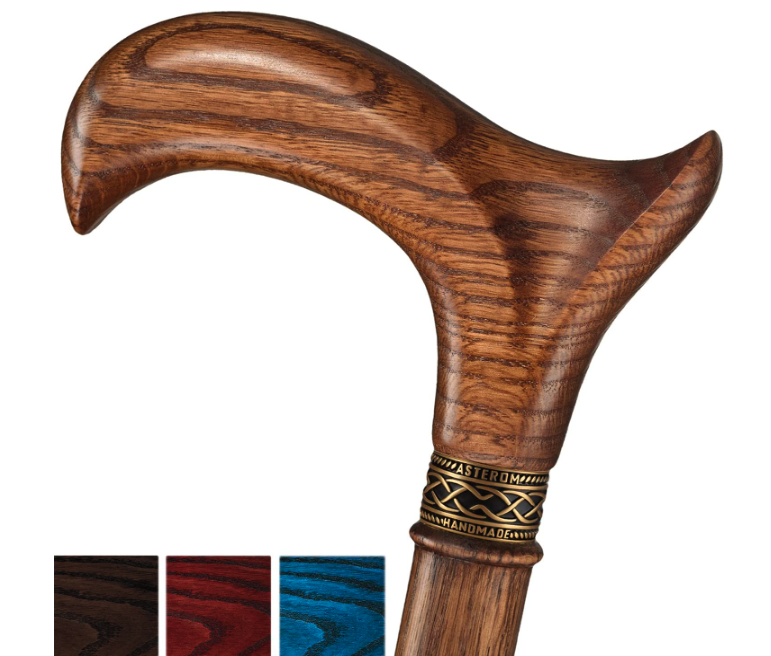 Features:
Handmade
Hardwood Oak
Derby Handle

Right and Left-Hand Users
Ergonomic
Changeable

7 Coatings
Connection

Long Dowel Screw
Carbon Steel

Rubber Tip: 1 Extra Included
Specifications:
Length 36″
Weight Capacity: 400 lbs
Product Weight: 18 oz
Contact Seller For Specialized Size
Get the support you need while making a statement with Asterom's Handmade Ergonomic Walking Cane.
Handmade from scratch using hardwood oak and featuring an ergonomic Derby handle that is compatible with both right and left-hand users.
At 36″, its unique connection system and long dowel screw are designed to provide support up to 400 lbs while remaining lightweight at 18 oz.
Get around with style and comfort with the Asterom Handmade Ergonomic Walking Cane.
---
Davops
Features:
Handmade
Wood
Hand-Carved Elephant Design
Handle:

Ergonomic
Left or Right Handed

Retro Tibetan Ring Between Handle and Shaft
Rubber Tip: Extra Tip Included
Specifications:
Length: 36″
Product Weight: Approx. 1.2 lb
Supports Up To 220 lbs
The Davops Handmade Elephant Wooden Walking Cane is a unique and stylish way to add support and balance.
Hand-carved from solid wood for a unique and beautiful look, this cane features an ergonomic handle designed to fit your left or right hand.
The rubber tip provides secure traction, while the retro Tibetan ring between the handle and shaft adds a special touch.
With a length of 36," it can be sawed to shorten and has a weight capacity of 220 lbs.
---
OrthoGlam 
Features:
Wood
Bedazzled With Rhinestones
3 Sizes Available
Derby Handle
Rubber Tip
Specifications:
Length:

Small: 31.5"
Medium: 33.5"
Large: 35.5 

Product Weight: 3 lbs
Supports Up To 210 lbs
Designed for Support, Not For Weight Bearing
Enhance your everyday look with the Orthglam Fashionable Walking Cane.
This stylish and lightweight wood cane is bedazzled with Triple-A grade crystals, giving it a beautiful and luxurious look.
Featuring a clear crystal rhinestone choker between the handle and the shaft and a silver wooden Derby handle for a comfortable grip.
Available in three sizes and supports up to 210 lbs.
Like all canes, this one is designed for support, not weight-bearing.
---
GC-Artis
Features
For Right-Hand Users Only
Ergonomic Handle
100% Wood
Imported
Rubber Tip
Warranty: 30 Days
Specifications:
Length: 36″
Supports Up To 250 lbs
Product Weight: Approx. 1 lb
Make a statement with the stylish GC-Artis Wooden Walking Cane with Skull Head. This fashionable cane is designed for right-hand users.
It features an ergonomic handle made from 100% wood and a rubber tip for added durability and stability.
This cane supports up to 250 lbs and has a length of 36″.
Get ready to walk in style with the GC-Artis Wooden Walking Cane with Skull Head!
---
FAQs
What height should a cane be for walking?
To measure for the right height cane, use a tape measure and measure the distance from your wrist to the floor. Use this measurement to choose a cane that is the same distance from the handle of the cane to the floor.
Why do you use a cane on the opposite side of the injury?
When using a cane, it is important to use it correctly and on the opposite side of the injury for maximum benefit. This is because a cane helps shift weight off of an injured leg by providing support to your body, allowing you to walk more comfortably and safely.
Are walking canes allowed on airplanes?
Overall, most airlines allow passengers to bring their walking canes onboard planes as long as they are within size and weight restrictions and properly secured for transport.
Before traveling, check with your airline regarding their specific policies and procedures for bringing assistive devices onboard their flights so that there are no surprises when you arrive at the airport.
---
Recommended Reading
---
In Parting
So this concludes our review of some of the best rated wooden walking canes on the market today.
In your reading, our hope is you became more informed and were helped in deciding which cane might best fit your needs.
Remember, with all products, features can change, so be sure the qualities that attract you to the product are still the same before purchasing.