Has the time come that you've decided to become more active? To get out and explore the world. But at the same time, you don't feel secure on a two-wheel bicycle? An adult tricycle might be the perfect fit. The Slsy Adult Tricycle – Review, Explores the features and the pros and cons of this three wheeled bike.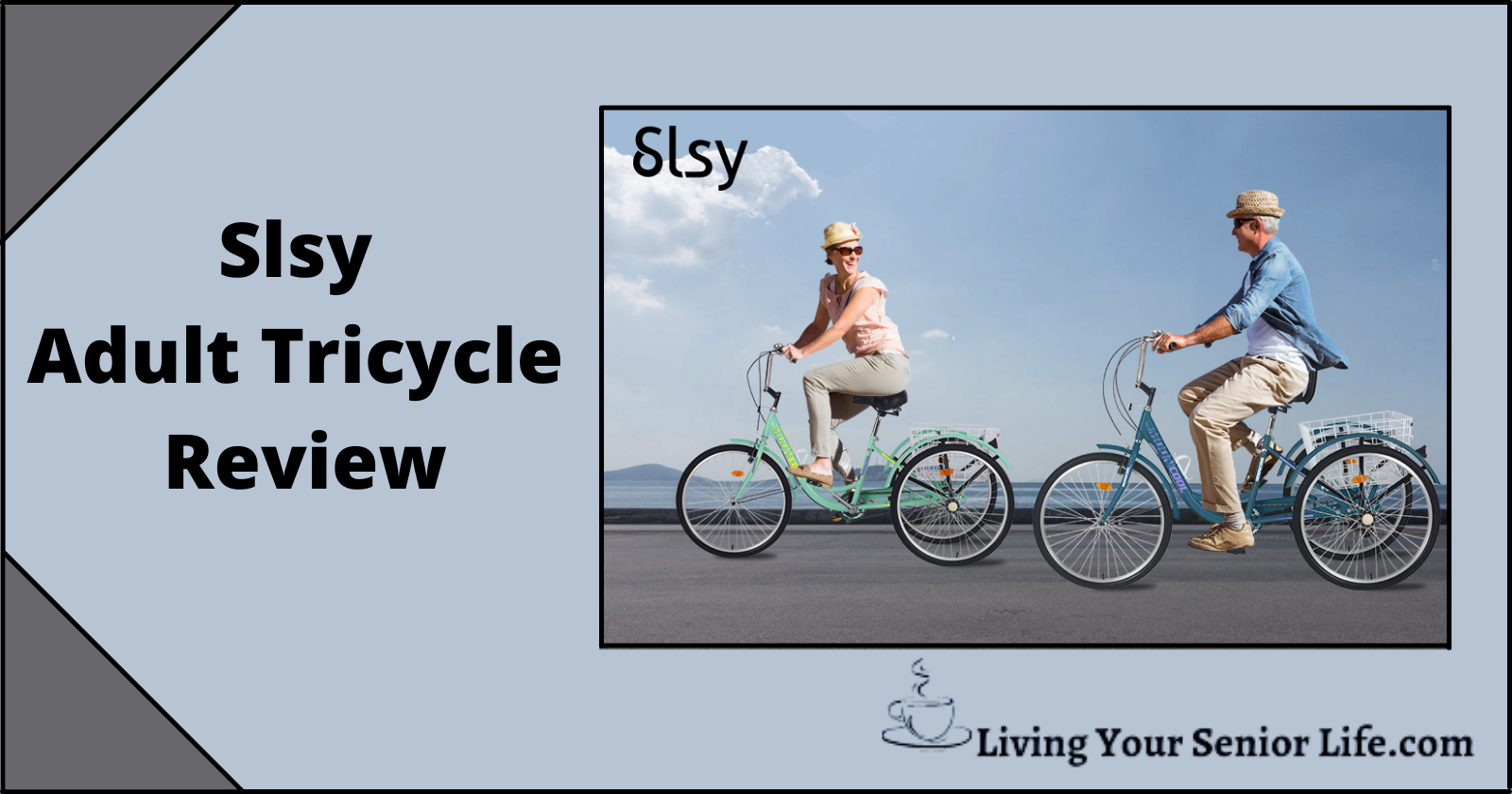 Why You Should Get A Slsy Tricycle
Slsy Adult Trike Bikes are perfect for individuals who are older or someone who does not have the balance to ride a two wheel bicycle. Slsy bikes are great because they provide exercise and you'll be able to get outside for some fresh air. You can ride the Slsy around your neighborhood or short jaunts to the store and with the large basket, you can carry your groceries or personal items. The Slsy comes in 3 sizes in a variety of colors.
Features:
20", 24" or 26" Wheel Size Available – Depending on Color
7 Speeds
Adjustable Seat
Handbrakes
Basket
Padded Seat with Backrest
Steel Construction
Weight Limit – 350 lbs
Basket Load Capacity – 50 lbs.
Also Included:

Assembly Tool
Water Bottle Cage
User Manual
Warranty:

One Year Warranty On All Defective or Damaged Parts
Guarantee:

30-Day Return & Money Back Guarantee
When you go to purchase, be sure to choose your color, speed, and wheel size.
Pros
Available in a Variety of Colors
Large Basket
Seat has Backrest
One Year Warranty
Cons
Difficult Assembly
Some Reports of Damaged Parts
FAQ for The Slsy Tricycle
1. What wheel size is suggested?
The typical answer to this is that the larger the wheel size the taller the person that the trike will accommodate. Slsy offers the following guideline for Slsy Adult Trike Bikes:
4'8″ to 5'4″ – 20″ trike
4'11" to 5'9″ – 24″ trike
5'3″ to 6'2″ – 26″ trike
2. Do I Need To Wear a Helmet When Riding An Adult Tricycle?
Some people say that you should wear a helmet, while others say that it's not necessary. In my opinion, if you are riding your tricycle anywhere near automobile traffic, then you need to wear a helmet.
Even if you are riding on a bike path or somewhere where there isn't traffic, there is the possibility of falling.
Given the possibilities, it seems like wearing a helmet is a reasonable precaution, even on an adult trike.
A helmet doesn't necessarily prevent all head injuries, so you need to be aware of the risks.
Also, there are helmet laws, so be sure to check with authorities in your community.
Here are some other things to keep in mind:
You should wear a properly fitted helmet designed for cycling.
Your helmet should sit on top of your head in a level position and shouldn't rock from side to side.
Your helmet should be snug enough that it won't fall off.
If you wear prescription glasses, you should wear them under your helmet. This decreases the chances of your glasses getting scratched or knocked onto the ground while you ride.
You should replace your helmet after any impact, regardless of how small it seems.
If the helmet has been in an accident, it's even more important to replace it because its protective capabilities may be compromised.
All-in-All
The Slsy three wheeler features a sturdy steel construction frame that can support up to 350 lbs. This tricycle features an adjustable seat making it suitable for people of different heights. It is also equipped with a large rear basket that you can use to carry your groceries during short trips to the market or small personal items.
The 7-speed derailleur offers more fun in riding, suitable for driving slopes, making cycling easier. You may not think you need more than a one speed bike, but consider going up even a slight grade or hill. With seven speeds, you have a lot more torque available for going uphill. You will be thankful to have more gears for the climb.
Full wrap fenders work well in wet conditions, mists, and at night when lights illuminate bright droplets and spray, which can be hazardous to cyclists. One of the main drawbacks that some people voice is that full wrap fenders tend to look awkward. However, Slsy has taken a different approach to the design: it has developed a full wrap fender that is both effective and attractive. Having full wrap fenders on all three wheels helps keep the bike and the rider cleaner.
Staying hydrated is important with any activity, and the water bottle cage allows you to take along your water to stay hydrated.
This tricycle comes with a user manual and assembly tool.
A dealer maker for you might be the 1 year warranty on all defective or damaged parts and a 30 day return and money back guarantee.
The biggest complaint about this bike is the difficulty in assembling. If you're not a pro, I highly recommend either hiring someone to do the assembly or taking it to a bike shop to have it assembled.
After assembly riding your trike can be great fun. With the large rear basket, you'll be able to carry some belongings or pick up some groceries. A trike can give you a sense of independence and allow you to get outside for some exercise – Maybe even go for a ride with friends or family.
---
Recommended Reading
You Might Also Be Interested In: Best Electric Trikes For Adults – Buying Guide
---
Closing Words
Like with all exercise, there is a risk of injury involved while riding a bike. Be sure to consult with your doctor beforehand to ensure this is a safe and viable activity for you.
With all products, features can change, so be sure the features that attracted you to the product are still the same before purchasing.
I hope you have found the Slsy Adult Tricycle – Review helpful in your decision to purchase or not purchase the Slsy Tricycle. Have you recently purchased an adult tricycle or have an experience you would like to share in exploring an adult tricycle? I would love to hear about it.  Please comment below.