In Samsung Galaxy Watch 3 v Apple Series 6 – Comparison, you'll explore the features and pros and cons of both the Samsung Galaxy Watch 3 and Apple Series 6 Smartwatch. Think of the uses that these features bring.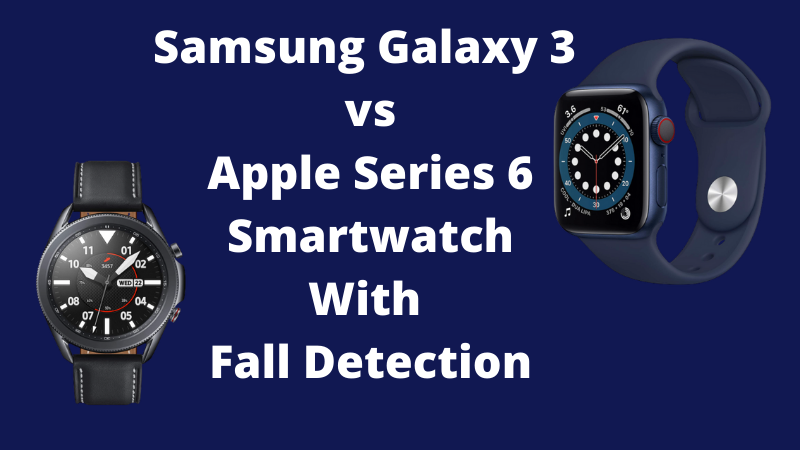 Are you a walker, hiker, jogger, or runner? Do you, at times, go by yourself? Are you a senior or have parents that you worry might fall or need assistance and won't be able to notify anyone?
Imagine the added comfort of knowing if you or a loved one were to trip/fall or need emergency assistance; it can all be done with a smartwatch.
Maybe wearing a medical alert necklace or bracelet doesn't sit well, yet a smartwatch is something that can be worn and has a more discreet, modern look.
The features on smartwatches are amazing – so many of the features weren't available even just a few years back. We've all seen or heard of smartwatches that track activity and allow you to read messages, and emails and listen to music. However, two more recent features have hit the smartwatch market – SOS and Fall Detection.
Two smartwatches that stand out from the rest with these features are Samsung And Apple. With the information in this post, you'll be able to make a better, more informed decision on which is the right one for you to purchase.
A Few Items Before We Start
At the bottom of this post, there is a side-by-side comparison chart that visually shows each watch's features – the Samsung Galaxy Watch 3 and Apple Watch Series 6.
Both companies, Samsung and Apple, issue warnings that their smartwatch is not intended to diagnose a disease or other conditions or in the cure, mitigation, treatment, or prevention of disease.
Users should not interpret or take clinical action based on the device output without consulting a qualified healthcare professional. Any health metrics are not intended to replace traditional methods of diagnosis or treatment.
Features
Available in 2 Finishes
Available  In 3 Colors
50,000 Plus Watch Faces
Face Size – 41 and 45 mm
Available with Bluetooth and/or LTE
LTE allows you not to have your phone with you
Cellular Availability – Requires Initial Pairing With Eligible Samsung Device and Qualifying Wireless Plan.
Wireless Plan – Through Your SmartPhone Provider
GPS Tracking
Health Metrics
ECG Sensor
Checks For Signs Of Irregular Heart Rhythm – Atrial Fibrillation
Heart Rate
Menstrual Cycle Tracking
Oxygen Levels SP02
Sleep Tracking
Monitors Stress Levels and Has Breathing Exercises
Safety
SOS – Send a message with your location to designated contacts when you are in an emergency situation.
Trip Detection – notifies emergency contact.

Trip detection recognizes falls when engaged in dynamic motion, not when still.
Requires network connection to notify an emergency contact.
GPS accuracy may be affected by obstructions to satellite signals such as buildings.
Fitness Tracking
Tracks 7 Activities Automatically
Step Tracking 
Challenge – Step Leader Board 
Misc Features
Samsung Pay – With Android Only
Sync Devices
Water Resistant with Water Lock Mode up to 50 meters
Tech Specs
Android and I0s Compatible 
Battery Charge – 2 hours
Battery Life on Single Charge – More Than A Day But Battery Life Varies With Usage
Requires Samsung Galaxy Smartphone with Android 7 Or Later 
Requires Samsung Health Monitor App
Pros
Cellular and BlueTooth Versions Available
Compatible with Android and IOS
ECG
Trip Detection
Cons
Samsung Smartwatch 3 AND a Samsung Galaxy Phone Required For Some Features
Some Features Do Not Work With iPhone
Some Apps Cost
Limited Apps
A Few Words
The Samsung Galaxy Watch 3 is a high-quality, versatile smartwatch that offers cellular availability with a qualifying wireless plan. With Bluetooth and LTE connectivity, you can stay connected even when you're not near your phone. The watch also comes in two finishes and three colors to choose from. With 50,000 watch faces and face sizes of 41 and 45 mm, the Galaxy Watch 3 is perfect for any fashion-forward individual.
The Galaxy 3 has some great health and fitness features. Not only does it track your heart rate, blood pressure, and more, but it also monitors your stress levels and provides breathing exercises to keep you healthy. It even has an ECG feature to check for signs of irregular heart rhythm – atrial fibrillation.
The watch tracks your activity data, including steps taken, calories burned, distance traveled, and more. It also keeps track of your progress and provides you with helpful insights to see where you need to improve.
---
Features
Available In A Variety Of Colors And Band Types
Face Size – 40mm  And 44 Mm
Cellular Available
GPS
Health Metrics
Measure Blood Oxygen Levels
Check Your Heart Rhythm With The Ecg App
High And Low Heart Rate Notifications
Irregular Heart Rhythm Notification
Menstrual Cycle Tracking
Noise Monitoring
Sleep Tracking
Safety
Emergency International Calling
Fall Detection
SOS
Hand Washing Timer
Fitness
Track Your Daily Activity 
See Your Activity Trends In The Fitness App On iPhone
Measure Workouts Like Running, Walking, Cycling, Yoga, Swimming, And Dance
Misc Features
Apple Pay
Sync Music, Podcasts, And Audiobooks 
Water-resistant – up to 50 meters
Tech Specs
Always-on Display (Retina)
Battery Life Up To 18 Hours
Charge Time  90 Minutes 
Requires An iPhone 6s Or Later With IOs 14 Or Later
5ghz Wi-fi And U1 Ultra Wideband Chip
Asin – B08J628R4C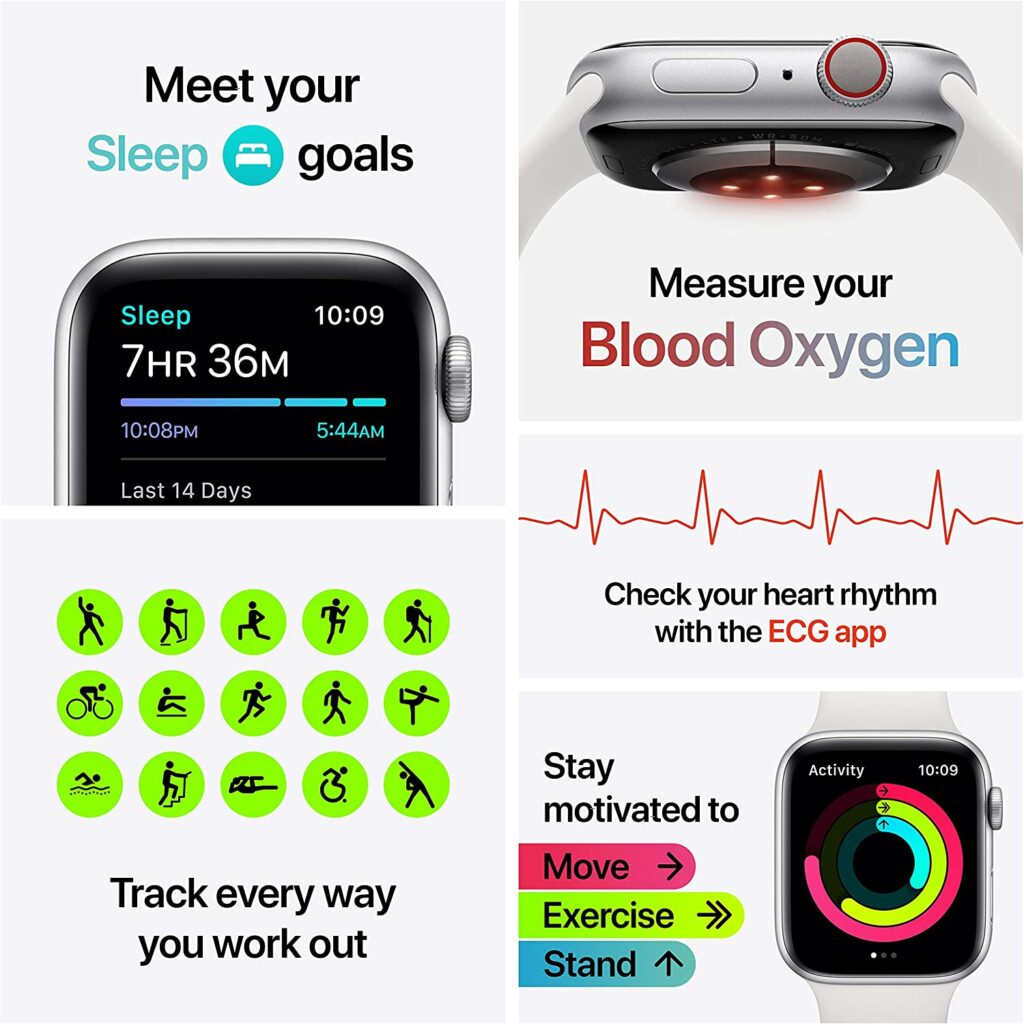 Pros
Cellular Connectivity
Heart Rhythm With Ecg App
Measure Your Blood Oxygen 
Fall Detection
Cons
Compatible With iPhone Only, Not Android
Not FDA Cleared
Sleep Tracking Limited Function
Price
A Few Words
The Apple Watch Series 6 is available in a variety of colors and band types, has a cellular available, GPS, face sizes of 40mm and 44mm, and many other features.
Some of the watch's key features include measuring blood oxygen levels, checking your heart rhythm with the ECG app, high and low heart rate notifications, irregular heart rhythm notifications, menstrual cycle tracking, noise monitoring, and sleep tracking.
The Cellular model is able to connect to a cell phone network so you can stay connected without ever having to take your watch off, the GPS allows you to track your location and movements.
With features such as Emergency International Calling, Fall Detection, SOS, and Hand Washing Timer, you'll be better prepared if something were to happen. In addition, the fitness app on iPhone, tracking your daily activity and measuring workouts is easy and fun.
Don't forget you can sync music, podcasts, and audiobooks with the Apple Watch Series 6 so you can enjoy them anywhere you go.
---
Summary
The Samsung Galaxy Watch 3 and Apple Watches Series 6 are two watches of the few available smartwatches with the trip detection feature. However, they both come with the features commonly found on a smartwatch – activity tracking – time – calendar – texting – email weather, etc.
Before making your purchase be sure the watch you choose is compatible with your smartphone. Also, check with your carrier to find the price of any additions you need to your plan.     
Though the Samsung Galaxy Watch 3 is compatible with IOs, be aware that it will not have all the features available that are described above.
The additional safety features found on the Apple Smartwatch – Hand Washing Timer and Emergency International Calling may be something you can do without.
Likewise, if receiving high and low heart rate notifications aren't important to you, then again, the Samsung Galaxy Watch 6 might be the way to go.  
The Apple Series 6 does come with a lot of bells and whistles. One downfall is that it is only compatible with the Apple iPhone.
For all features to be available, you do need the cellular option and an iPhone 6s or later with IOs 14.
Features available on the Apple that are not available on the Galaxy include the Emergency International Calling, the handwashing timer, and the high and low heart rate notifications.
If you have an Apple iPhone 6 or higher with the needed carrier compatibility, I would recommend the Apple Series 6 smartwatch. For the price difference and not being guaranteed to be able to use the available features on the Samsung Galaxy Watch 3, you'll be able to get more use from the Apple Series 6. 
Comparison Table
Features
Samsung Watch Galaxy 3
Apple Watch Series 6
Face Size
41mm/45mm
40mm/44mm
Colors/Bands
3 Colors/1 Type Band
Various Colors/Sport Band and Loop
Cellular Connectivity Available
Yes
Yes
Bluetooth Available
Yes
Yes
LTE Available
Yes
Yes
GPS
Yes
Yes

Health Metrics

Heart Rhythm
Yes
Yes
Irregular Heart Beat Notification
Can Record But Doesn't Notify
Yes
Measures Blood Oxygen Levels
Yes
Yes
Menstrual Cycle Tracking
Yes
Yes
Monitor Stress Levels
Yes
No
Noise Monitoring

No

Yes
Sleep Tracking
Yes
Yes-

Limited

Safety
Emergency International Calling

No

Yes
Fall Detection
Yes
Yes
Hand Washing Timer

No

Yes
SOS
Yes
Yes
Fitness Features
Challenges
Yes
Yes
Track Activity
Yes
Yes
Track Steps
Yes
Yes
Track Workouts
Yes
Yes
Water-Resistant
Yes – Up to 50 Meters
Not Waterproof
Yes – Up to 50 Meters
Not Waterproof

Miscellaneous

Apple Pay

No

Yes
Samsung Pay
Yes

No

Bixby/Suri
Bixby
Suri
Apps Needed
Yes
Yes
Battery Life – Varies with Use
Up to More Than a Day
Up to 18 Hours
Battery Charge Time
120 Minutes
90 Minutes
Get Calls
Yes
Yes
Music Ability
Yes
Yes
Texts
Yes
Yes

Technical

Phone Require
Samsung Galaxy Smartphone with Android 7 Or Later 
iPhone 6s Or Later With IOs 14 Or Later
Android Compatible
Yes

No

IOs Compatible
Yes – Some features will not Work
Yes
Family Set Up Available

No

Yes
Health App Needed
Yes
Yes
Memory
1GB + 8GB
Battery
1 lithium-ion battery required
(included)
1 lithium-ion battery required (included)

Price

For Current Price
or
To Purchase
Click Here
For Current Price
or
To Purchase
Click Here
Related Articles
Apple Watch Series 6 With Health Metrics – Review
The Take-Away
With all products, features can change, so be sure the features that attracted you to the product are still the same before purchasing.
I hope in reading Samsung Galaxy Watch 3 v Apple Series 6 – Comparison, you have become more informed and have a better understanding of the right watch that fits your needs.
If you have any experience in purchasing or buying either of these watches, please share in the comments.