Are you finding it more challenging getting up and out of your favorite chair or couch? Have you had a recent surgery that limits your mobility? Are you a caretaker that finds helping someone get up is getting more difficult or starting to hurt your back? A power lift recliner chair might be the solution to these and other problems. Some people refer to these types of recliners as sleeping chairs as they are perfect for naps. If you are starting on your quest to learn about power lift recliner chairs, you may not realize there are so many options you need to consider. In Power Lift Recliner Chairs – Buying Guide, I explore these options with you. With this knowledge, you will be able to make a more informed decision in your purchase.
Video: Power Lift Recliner Chairs
What is a Power Lift Recliner Chair?
A power lift recliner chair lifts you while it slants, making getting in and out of a seated position and into a standing position easier. The process usually starts with a simple push of a button on a remote control, making them easy to operate and very user-friendly. Not only does a power lift guide you into a standing position, but they also recline to varying degrees depending on the type you choose.
Positions
These types of recliners are known by some people as sleeping chairs. The reason being is power lift recliners have various reclining capabilities. Some only recline slightly; some recline almost flat, and others allow your feet to elevate above your heart and head. Deciding which best fits your needs is essential to purchasing the right recliner.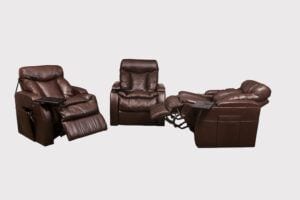 Power lift recliners come with the option of having 2, 3, infinite, and zero gravity positions. Though the positions seem self-explanatory, they can be misunderstood and need some explanation.
The 2- position power lift recliner chair has two major positions: a straight-up position, much like a chair, and a slight recline. Though you might think there are only two positions, it can recline anywhere between straight and reclined. This would be the chair to use while setting up visiting or slightly reclined to read or to watch television.
The 3-position power lift recliner has three major positions – straight up, slightly reclined, and almost flat. The most horizontal position achieves a slight V where the seat and the back meet, so it's not entirely flat. This power recliner is perfect for watching television, reading, and napping. Like the 2-position recliner, the three-position recliner isn't limited to just three positions. It can recline from its most straight-up position to its most reclined position and anywhere in between.
A recliner with infinite positions comes with two dual motors that allow the foot/leg/ottoman area to work independently of the back portion of the recliner. Having them work independently provides for an "infinite" number of positions, thus the name.
The option of infinite positions allows the user to choose the angle that they find most comfortable and beneficial for their particular needs or wants, including a full recline.
Lastly, there is something called zero gravity. With this option, there is the ability for the head, torso, and heart to be lower than the legs. Having the ability to have your legs elevated is recommended for some medical conditions. It also relieves pressure off your back while in a supine or face-up position.
Single or Dual Motors
A power lift recliner comes with either single or dual motors. A single motor controls the chair in one action – the footrest raises as the back reclines. In comparison, a power lift recliner that comes with dual motors can move the backrest separate from the footrest allowing for many positions.
Auxiliary Mode/Battery Packs
Having a backup power source is an excellent idea. Imagine being home alone, recovering from surgery, or relying on your power lift recliner to get up and stand because it has become too difficult for you to do on your own. And right in the middle of a storm, the power goes out. What would you do? Would you be able to get up on your own? Having a backup mode is essential at times like those. Some recliners come equipped with a backup battery pack, but if the one you like doesn't, in most cases, it can easily be added to your recliner. Just be sure to check with the manufacturer to ensure it is safe to do so and that it won't void any warranty.
Heat/Massage
Another feature you might want to look at is heat and massage. Does lying down and having heat soothe aching muscles sound appealing? Or how about a massage after a day out and about. Not all recliners have this feature, so be sure to look for it if it's something that interests you.
Material/Fabric
When thinking about the covering on your power recliner, there are a couple of considerations. Are you planning to eat and drink as you relax in your recliner? Is there incontinence to consider? Shedding pets? Then you might consider an easy-to-clean covering such as faux leather chair, leather recliner or a smooth covering like vinyl that allows for easy cleaning. However, keep in mind that these types of coverings don't breathe and can make you feel too warm, especially in hot, humid areas.
Fabric coverings are available if you prefer that look. A microfiber fabric that is slip-resistant and helps to prevent slipping as it raises to a standing position is a popular choice.
Microfiber and linen fabrics can be treated to be stain-resistant to help with cleaning.
Extras
Side pockets on a recliner make it convenient to put your magazines, glasses, iPad, iPhone, remote and other items you want close at hand.
USB connections allow you to charge your electronic devices, such as your cell phone, iPad, or laptop computer, while your devices are nearby for use.
Cup Holders are available on some models—a convenience when you're not next to a table or end table.
If you are contemplating moving your recliner room to room, you want to think about the ease of movement. Wheels are an option on some recliners.
Assembly
Is assembly something that can easily be done? Are you going to have to hire someone to assemble it for you?
Ease of assembly is a big selling point for me. Suppose you see reviews where customers repeatedly say assembly was difficult or the instructions weren't clear. In that case, that is a red flag for a possible frustrating time ahead.
Construction
You want to ensure the power lift's construction is strong and sturdy. If you find one supported by plastic, this probably isn't the best choice. Look for sturdy metal that not only supports the mechanisms of the chair but one that will support the user. This is a reason that the weight limit is so important.
Price
As with any purchase, the price comes into play. There is a wide price range with power lift recliner chairs. Prices from the mid $300 to well over $1000 is a range you can expect. Your budget is something you want to look at.
Make a list of your priorities of what you would like in your purchase from highest to lowest. What features do you feel you can't live without, and what can you leave behind and still have a recliner that still fits your needs? This will help narrow down your choices and keep you within a comfortable price point.
Replacement Parts
Are replacement parts readily available? Are you able to get them locally or online, or do you need to order them directly from the manufacturer? Does using non-manufacturer parts void your warranty in any way?
Return Policy
What is the return policy? Are returns allowed? How long do you have to return your recliner if you find you don't like it? What are the rules of returns – is the original packaging required, is a receipt, and who pays for shipping?
Warranty
What is covered under warranty? With electrical devices, you want to be sure you get the best warranty possible. Research to find out what can void the warranty. How long is the warranty for? Is there an extended warranty that you might be interested in? Just a few questions you'll want to look into to be fully informed of the manufacturer's policies.
How To Measure for the Perfect Size
Not sure what size power recliner you should get? All you need to do is take a few measurements. First, you want to take some measurements of your body. This will ensure the recliner fits you well. Second, you'll want to know the measurements of the recliner.
Lastly, you'll want to measure the space in the room you plan to have the recliner in. It may be easier to measure if you have someone to help out, but it is possible to do the measuring yourself.
Each manufacturer may have different measurements correlating to the size of their recliners. With the measurements you take, you will get a good idea of the most appropriate size for you as you match them to the manufacturer's measurements.
Height from Floor to Seat
To determine how high the recliner needs to be from the floor to the seat, measure from your foot to the back of your knee. This measurement is important because your feet need to reach the floor while in a seated position. This will allow your feet to be firmly planted on the ground when the chair lifts and assists you in standing.
Width of Recliner Seat
For the width of the setting portion of the recliner, you will need to set in a regular chair. Then with a measuring tape or yardstick measure from one side of your hips to the other. For a little extra room, you can add a few inches. Or, if you have a pet that likes to cozy up to you, add a few inches for him/her. Be aware that this measurement will give you the seat's width, not how wide the complete recliner will be.
Depth of Recliner Seat
Now measure from the bottom of your back to the back of the knees – this will give you how deep the recliner's seat should be (from front to back).
Height of Recliner Back
Measure from the bottom of your back to the top of your head to get a measurement of how high the backrest of the recliner should be.
A Rule of Thumb
For sizing, you want to check with the manufactures sizing, but as a rule of thumb – the measurement from the seat to the top back of the recliner:
Petite: 22-24 inches
Small: 24-25 inches
Medium: 25-27 inches
Large: 28-29 inches
Finally, you will want to weigh yourself. Power recliners come with different weight limits, so you want to be sure your weight comes within the weight limits of the recliner.
Room Space
Now that you have your measurements, you will want to be sure the recliner will fit in the space you have in mind. First, you want to know how long the recliner is in its full reclined position. Then you want to know the width of the full recliner chair, not just the seat.
Compare these measurements with the measurement of the space where you want to place the recliner to ensure there is enough room to fit.
In general, you will need anywhere from 18-22 inches from the wall for the recliner to fully recline. There are wall hugger recliners that only need 4-6 inches if you have limited space.
Medicare
It is possible to have a power lift chair partially covered by medicare. However, there are certain conditions and processes you need to go through. Be sure to contact your medicare representative for your individual circumstances and what you will need to qualify.
Risks
Though rare, it is worth noting that power lift recliner chairs do not come without some risk. For example, if the person using the chair doesn't have the stability to stand can risk falling. There is the possibility of fingers or other parts of the body being pinched or trapped in the recliner's moving parts. It's imperative to make sure the path of the moving recliner is cleared, including children and pets. And with all electrical devices, shock or fire is possible if the recliner has a defect. Regularly inspect the wiring for frays or signs of any damage. If any damage is found, immediately unplug the chair and contact the manufacturer for further instructions.
As a reminder, you should consult your doctor before using a power lift recliner. Also, discontinue use and consult your doctor if you experience pain in a muscle or joint after using your power lift recliner. Persistent pain could be a symptom of a more serious condition.
Conclusion
I hope in reading Power Lift Recliner Chairs – Buying Guide, you have a clearer idea of the options you want to include when purchasing your recliner. If you would like to see a comparison review of a few power lift recliners, see my recent post 5 Best Power Lift Recliner Chairs Review.
Do you have any experience with Power Lift Recliners?  I would love to hear about it – comment below.