Oh boy, how I wished I had read something like this before my first surgery…who am I trying to fool – more like my first, second, and third surgeries. You see, before these surgeries, I had never been in the hospital (well, other than having my children) and never had surgery. I thought I'm strong, and I'll muscle my way through this – mind over matter. Well, you might say one, I was wrong, and two, I'm a slow learner. I can almost (nothing is 100%) guarantee if you even have a few post-surgery supplies available to you, life might not be easy as it once was, but it will be easier than if you did what I did – return home with no supplies and WOW what a surprise.
What if I Don't Have Supplies On Hand – EEK
Can you survive without having post-surgery supplies at home – sure – you can also survive on a desert island but again, who wants to.
Think about something as simple as putting on your socks, but your knee doesn't bend enough range of motion, and you end up playing horseshoes trying to throw your sock over your toes -sounds like someone experienced this…hmm, I wonder who that could be.
Then there's the oh no, you dropped the remote, and you can't bend down to pick it up, and now you're stuck watching more Kardashian drama (just kidding).
Not being able to pick up the dog poop in your backyard – your neighbors will not be happy.
Have you thought about food or what you will eat once you are home?
Are you able to pick up any prescriptions your doctor will have for you after your surgery? Do you have your supplements on hand – have you cleared them with your doctor?
On a more serious note – what about slipping in the shower or taking your pills at the wrong time – these things can be catastrophic. I did do the second of these.
I took my pills, and then I forgot, of course, after swallowing, if I had already taken a pill earlier? I usually wrote the time down, but this time I didn't. I was alone, and what if I had taken too many pills? Would it cause any harmful side effects or even something worse?
I ended up calling poison control because I literally did not have a memory if I had taken one or two of the pills – what an amazing representative I talked to there. We went over the pills I might have taken, and by pure luck, it was okay. I had taken two pills; however, the dose was low enough; I would be okay. However, they did call me back a couple of hours later to be sure I was responsive. If I had a pill dispenser, it would have stopped, which could have been, a tragic mistake.
Why go through all of this when there are solutions to all of these situations.
Are There Other Options Out There?
Now I'm sure some of you will have a home health aide or caretaker – there is certainly nothing wrong with that, and you are blessed to have them. However, what about those times when they are not there, or you don't have that service available to you. What about not having the money to hire someone, or if you do have someone with you, what happens if they have to leave? Then you do have other options.
You can order food through many online companies. Delivery is not only available through neighborhood restaurants; there are meal prep services that you order from online, and they prepare your meals and deliver on a scheduled basis. This is so helpful, and I suggest doing that. Not only are you sure to have food which you need when recovering, but you won't have to cook for yourself.
You can hire a service to pick up the dog messes – maybe a neighborhood teenager looking for some extra money.
Again there is absolutely nothing wrong with these types of services, and if you have the money and the need, then again go for it.
Some communities have a "medical closet" where you can borrow post-surgery supplies on loan – what an excellent service.
Products That Are Useful Post-Surgery
Upon arriving home, you might find getting in and out of bed is difficult. I had this issue with my back surgery. What I did was get a hospital bed that could be lowered and raised. This would be very beneficial if you face a long-term recovery or perhaps for someone who will need ongoing care. Another good use of a hospital bed is if your bedroom is upstairs and you're unable to climb stairs after surgery, you can have it in another room downstairs.
I found a shower
chair really handy. I have a tub/shower combination and could not climb safely over the tub to get into the shower. A shower chair also allows you to set if you have issues with balance and stability. Be sure to check the measurements of your shower to choose one that will fit.
You may get a walker upon discharge from the hospital, and your insurance may pay for it, which is great. However, if you need a walker for a more extended time for outdoor excursions, a four-wheel walker is nice to have. Many times they come with a seat and a basket to hold various items.
If you have surgery that makes it difficult to walk for long periods, you might need a wheelchair. Even getting outside is nice, allowing you to get some fresh air. If you have a partner, family, or friend, maybe they would like to walk with you.
If your mobility will be diminished for quite some time, you might want to look into purchasing an electric mobility scooter. A scooter of this type will allow you to enjoy getting out and about when it may be difficult or impossible to do so without one. In an article, I wrote, "Electric Scooters and Seniors," you can learn about the different options available in a mobility scooter.
After my knee surgery, I was allowed to use crutches – the bad point is I wasn't good with them and would trip and slip.  I also found them uncomfortable. I purchased a knee rover/scooter,  named him Scotty, and life got so much easier. I could use it when I did laundry or just getting around the house. When it was time for me to go back to work, I still wasn't walking. I took my scooter to work, and it ended up being a hit. Some of my team members even decorated Scotty for the holidays. I would defiantly use one again.
Using the restroom may be one thing you don't think about until you find it difficult. Sitting down and balancing may be difficult without anything to hold on to. This is where a freestanding toilet rail comes in handy.
I used a bed/laptop tray/table for eating, writing, and using my laptop computer. I like the one I had that was adjustable and could tilt when using my laptop and lay flat for eating and writing.
I found the reading pillow to be beneficial when I was sitting on the couch. This would also be good if you don't have an adjustable bed or hospital bed to give you support when setting up in bed.
https://amzn.to/3lzR2cOWhen you're on medication, you may forget when you should take your pills, as I did above. A pill dispenser would have been so valuable to me, and I will get one should I need medications in the future. Some pill dispensers even come with an alarm so you can be alerted when your next dose should be taken.
I can't tell you how difficult it can be to put socks on when, for instance, you're unable to bend your knee.  A sock aid is one of those products that can make life easier.
When you're not able to bend over to pick something up, a gripper tool comes in so handy. You don't realize how simple things can become difficult. Even if you need to get something down from a shelf, this is a great tool to have even after you've recovered.
When I had surgery the first time, and it came time to picking up after my dogs, I found it so difficult. However, I did become good at standing on one leg, kicking the other one back, and reaching down to pick up after my dogs. I'm sure it looked quite comical. The second time around, I bought a dog pooper scooper that I still use. So much easier than bending over and using paper towels or bags.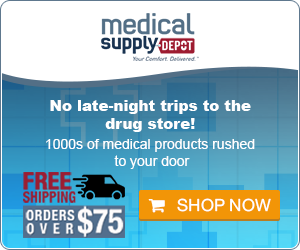 Anything Else I Should Prepare For?
I can't stress enough; at least at the beginning of your recovery, you will be tired.
It would be best if you were mindfully ready for things that might come out of the blue that you weren't expecting. Do you have a family member, neighbor, or friend that will be willing to help out – even something as simple as checking the mail, making you a meal or two.
Don't forget that with most surgeries, you cannot drive right away – try to have in place someone who can drive you – even a driving service to take you to your appointments.
You may not be sleeping well, which is to be expected, so you may not want a lot of company in the beginning. But as you begin to recover and get stronger and stronger, you might want to have someone stop by for a chat or a game of cards. You may be overwhelmed with feelings of depression. It can become lonely staying in the house all day with no social interaction.
All in All
Surgery is not an easy event in life. One day you may be feeling great, and the next, you're in the hospital feeling helpless.
As you are released from the hospital and arrive home, you may feel overwhelmed. This is okay and completely normal. There are so many services and post-surgery supplies that can help with recovery. And though you may have a caretaker, there will be times when they may not be there, and having even some products available will help you.
I discussed some post-surgery products I found helpful. There are plenty more out there that might be good to have for your particular situation.
As you prepare for your surgery, my advice is to have as many post-surgery supplies on hand that you can. It will make your life have less stress and frustration, and you will be able to be more relaxed and doing the job you need to do – recover.
My hope for you is a restful, relaxing, and full recovery. As you progress through your recovery and when the day comes that you are on the other end and feeling well and back to your normal activities, pat yourself on the back – Congratulations! You did it!
I would love to hear your tips and experiences following surgery or post-surgery supplies you found useful. Please comment below.