Since the writing of this review, Quicken has come out with an updated 2024 Version. Click to Read:
Nolo's Quicken WillMaker & Trust Review 2024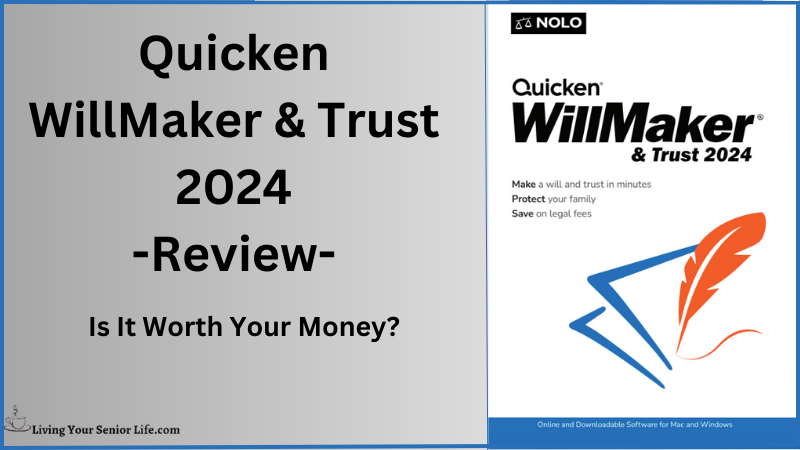 ---
Nolo's Quicken WillMaker & Trust Review 2023 – Peace of Mind explores the three plans for this 2023 release, one of its most popular software programs.
Now is the time to plan for your future and ensure all your estate planning needs are taken care of.
Nolo WillMaker is a popular software program used by individuals to create legally binding wills.
This program allows you to create an estate plan, including a Will, Trust, and Power of Attorney (POA) documents in one easy-to-use software program.
Not only that, but the benefits of using this software include quick and easy updates to your Will, Trust, and POA documents, as well as 24/7 customer support.
The information provided on this website does not constitute legal advice, and no attorney-client or confidential relationship is or will be formed by using the website.
Please be aware that estate planning documents are not valid in Louisiana, US Territories (U.S.), or outside the United States.
Video: Nolo's WillMaker & Trust Review 2023
What is Nolo's Quicken WillMaker & Trust 2023?
This is a powerful financial planning tool that will help you make your own Will and create Trust documents. It can also help you plan your estate and protect your assets in the event of death.
In short, it's an essential product for anyone looking to take the next step in their personal or business life!
The tool is a comprehensive and user-friendly estate planning software that will help you get everything organized and in order.
What are the Benefits of Using Nolo's WillMaker & Trust Program?
Making Wills and Trusts can be daunting, but Nolo's WillMaker & Trust can make the process quick and easy. Whether you're planning to leave your estate to your children or grandchildren or simply want to ensure that your final wishes are carried out, this is a product to consider.
Leveraging the power of this program, your essential documents, such as Wills, Trust, and POA, can be easily prepared.
The Trust feature is beneficial, as it allows you to protect your assets while keeping them accessible should you need them in an emergency.
Also, the program is reviewed regularly by Nolo's expert attorneys to ensure each legal document reflects the laws of your state and allows you to avoid legal fees.
Overall, this WillMaker & Trust is an excellent tool for making critical legal decisions quickly and easily in the comfort of your own home, allowing you to complete documents at your own pace!
The WillMaker 2023 reviews have been overwhelmingly positive, praising its user-friendly interface and comprehensive features.
How Does Nolo's WillMaker & Trust Work?
The software includes updated features like online Wills, beneficiary designation, and more. In addition, the software is available in both PC and Mac versions.
As you go through the process of creating your documents, Quicken walks you through a step-by-step interview process to create your estate plan.
You are able to create and revise documents at any time during the membership year.
Regardless of your membership status, you have lifetime access to your account and documents.
What to Look for When Choosing a WillMaker & Trust Software Program
Choosing the right Will Maker & Trust software program can be daunting. That's why it's important to research and consider key factors like what forms and other essential documents are included, affordability, flexibility, and ease of use.
Additionally, it can be helpful to check out user reviews. They can provide valuable insights about the program and help you make an informed decision.
---
Nolo's Quicken WillMaker & Trust 2023 Plans
| | | | |
| --- | --- | --- | --- |
| | Starter | Plus | All Access |
| Wills | √ | √ | √ |
| Health Care Directive | √ | √ | √ |
| Final Arrangements | √ | √ | √ |
| Durable Power of Attorney for Finances | | √ | √ |
| Letters to Survivors | | √ | √ |
| Living Trust | | √ | √ |
| Transfer on Death Deed | | √ | √ |
| Download Version for PC/Mac | | √ | √ |
| 1-year Everplans Subscription | | | √ |
| Secure Document Organization | | | √ |
| Share with Trusted Advisors | | | √ |
Included are two helpful ebooks for your reference:

Quicken WillMaker & Trust: The Legal Manual
A user-friendly legal manual answers common questions.
Special Needs Trusts: Protect Your Child's Financial Future

Learn how to provide for a person or loved one with special needs without jeopardizing government benefits.
Includes the forms and information you need to make a third-party special needs trust.
More Information About The Documents
Wills
Also known as a last Will and testament.
You decide who will inherit your property and who will take care of your children.
And you can appoint an individual you trust to manage property left to minor children. 
You appoint an executor to carry out the wishes in the Will.
Without a Will, your property will go through what is called probate.
You can update your Will whenever you want.
Health Care Directives
Clarify your healthcare wishes should you become unable to due to such circumstances as injury, illness, and psychological issues.
Includes a living will and health care power of attorney.
Final Arrangements
Here you can state what your desire is for such things as burial, cremation, memorials, obituaries, and more.
Durable Power of Attorney
In the event of mental impairment, the Durable POA appoints a person to make your decisions.
Examples include such things as financial tasks such as paying your bills, making bank deposits, and handling insurance and benefits paperwork.
Letters to Survivors
You can use the letter to survivors for such things as letting someone know why you made the decisions you did or your thoughts on life.
You can also state such things as passwords, numbers of bank accounts, and who to notify of your death.
Living Trust
Distributes your assets and provide property management.
Keeps your Trust property out of expensive probate proceedings.
Transfer on Death Deed
Assign one or more beneficiaries when upon your death, ownership of real estate property automatically transfers to your beneficiary/beneficiaries.
Finalizing Your Documents
Once you have completed your documents, you will need to sign and date, and some need you to have witnesses sign.
These requirements vary by state, but usually will need:
Wills to be signed and witnessed.
A Living Trust need to be notarized.
Durable Powers of Attorney need to be notarized.
Healthcare Directives need to be witnessed, notarized, or both.
Final wishes and arrangements, and letters need to be signed.
Every document also needs to be signed and dated. The program comes with specific instructions that are based on your state.
System Requirements
Computer: 1 GHz or Higher
Operating System: Windows 8.1/10/11 or macOS 10.13 and Higher
Memory: Minimum 2GB
Hard Disk Space: 54 MB Free Space; for Windows, up to 1.5 GB if .NET Is Not Installed.
Software: PDF Viewer
Internet Connection: To Receive Legal and Technical Updates
Customer Support
Customer support is available 24/7 to help you with any questions you may have. In addition to this, make sure to register your product to receive future updates and enhancements!
Returns
Like most software programs, there are no returns, so be sure it's the right product for you.
What Others Are Saying
The WillMaker 2023 reviews have been overwhelmingly positive, praising its user-friendly interface and comprehensive features.
The New York Times published a detailed QuickBooks WillMaker 2023 review, highlighting its user-friendly interface and comprehensive legal templates.
FAQs
Am I able to use Nolo's WillMaker For Multiple People?
Yes, Nolo states that the program is intended for individual family use. What this means is that as long as the people are in your family, you can create documents for their situation.
For example, you can use the program to create documents for your spouse, sister, grandparents, etc.
Can I use Nolo's Willmaker to provide for a loved one that has special needs?
No, WillMaker does not safeguard a person's eligibility for benefits provided by the government and does not sufficiently provide for special needs.
---
Related Articles
---
Final Words
If you plan to make a legal Will or Trust, consider using Nolo's WillMaker & Trust software program. More than an online will maker, this program has many benefits that help you organize all the forms and protect your estate planning assets.
In addition, you'll have easy access to customer support if you encounter any issues while using the software.
Consider getting your copy today and start planning your estate for the future!
This ends our Nolo's Quicken WillMaker – Trust Review 2023. I hope in reading it you were able to get an understanding of what the program provides.
Have you used any of Nolo's/Quicken products? What are your thoughts? Please comment below.