This Version Nolo's Online Will Is No Longer Available.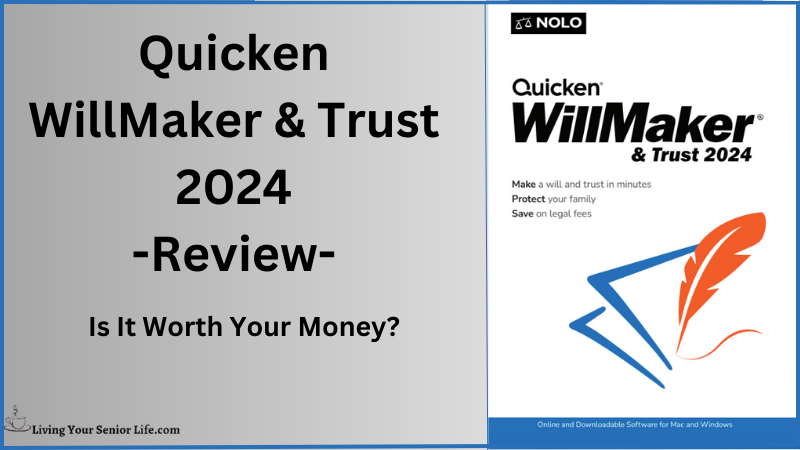 Have you been meaning to create a Will? Are you not sure where to start with the process of creating a Will? Would you like to make a Will in the comfort of your home? What easier way to do that than online. Nolo, a company that has been in business for over 40 years, has a way to do that in their Online Will. Nolo's Online Will (Review) will familiarize you with the process; why you should prepare a Will, what to look for when choosing an online Will, the features that Nolo's Online Will has, the pros and cons of the program, and well as some frequently asked questions.
Why You Should Prepare a Will
A Will is a document that states how you want your estate handled after your death. Not a cheery thought, but it should be done. If you don't have a Will or A Trust, your property will go through a process called probate. Probate will have a court-appointed executor who will decide how to dispose of your property.
In other words, the judge appoints someone who decides who gets what – even if it wasn't your intent or wishes. For this reason alone, it's essential to have a Will.
*Estate planning documents not valid in Louisiana, U.S.Territories or Canada.
Stipulations
Age
To make a Will, you must either be:

At least 18 years old, or
Living in a state that permits people under 18 to make a Will if they are married, in the military or otherwise considered legally emancipated.
Mental Competence
You must be of sound mind to prepare a valid Will. The laws generally require that you must:

Know what a Will is, what it does, and that you are making one
Understand the relationship between you and the people who would normally be provided for in your Will, such as a spouse or children
Understand the kind and quantity of property you own, and
Be able to decide how to distribute your belongings
If a Contest Seems Possible
If you have any serious doubts about your ability to meet the legal requirements for making a Will, or if you believe your Will is likely to be contested by another person for any reason, consult an experienced lawyer.
What to Look for When Choosing an Online Will
Everyone has different preferences on what is important or not when deciding on a Will-making program, but I want to offer my opinion on the most important features that an online Will maker should have.
Look for an Online Will Program That You Can Change
You never know when life circumstances will change. A Will is a legal document that you should be able to change and edit whenever a life event has occurred. You don't want to have a Will that will cost you additional money for every revision.
Look for a Company that has a Good Reputation
You want the company that has created the shell of the Will, and that will guide you through creating one to be reputable. Find out how long they have been in business. Have they received good reviews? Do they stand behind their product? Are they watching out for changes in the law that might affect their Will program.
Look for Ease of Use
You want to look for a program that is easy to use. You want to be able to navigate through the program easily. You also want language you can understand and if you don't understand does the company have customer support to answer your questions.
Features

:
Ability to:

Leave Property To Family, Friends, Or Charities
Name A Guardian To Care For Your Young Children
Appoint An Adult To Manage Property You Leave To Young People
Name New Caretakers For Pets
Name An Executor
Name Alternates In Case Your First Choices Don't Survive You
Forgive Debts Others Owe To You

Multiple Wills Allowed
Unlimited Revisions
1-Year Access
Renewal Option
24/7 Online Access to Your Document
100% money-back guarantee if you are not completely satisfied
Video: Why Do I Need A Will?
Pros
Revision of Will Up to 1 year From Purchase
Long Standing Company – 40 years
Money-back Guarantee
Cons
Not Valid in Louisiana, U.S. Territories or Canada
Only Valid in the United States
Nolo's Online Will is an excellent product if you want to create a Will on your own, and it is far less expensive than hiring a lawyer. Having said that, you should have an attorney look over the Will to be sure you have everything you meant to have in the Will and to make sure it covers your state's legal requirements.
Nolo has been in business for over 40 years. They are staffed with attorneys to ensure their documents are up to date and meet new laws to ensure your online legal documents stay legally up to date.
Nolo is an easy and straightforward program to use. It has an interview format, which asks questions, and the creator of the Will types in the answers.
Though the online purchase of the Will Form is good for 1-year, there is a renewal process if so desired. You will receive an email from Nolo that alerts you, and you can then go into the program to renew. If you don't renew your program, your Will and personal information will be purged from their system.
FAQs for Nolo's Online Will
Here are some commonly asked questions about Nolo's Online Wills
Can I make copies of the Will I create with Nolo's Online Will?
You can make copies of your Will; however, you should only sign one document. The other copies can be given to your executor or other loved one(s) for informational purposes but be sure they are not signed. Signing multiple copies makes more than one original document and could cause confusion after death.
How long do I have to make changes to my Nolo's Online Will I create?
You have access to your Nolo's Online Legal Forms Will for a full year from the purchase date. During that period, you can make revisions as needed.
---
Related Posts
---
Conclusion
So that concludes my review of Nolo's Online Will. By reading Nolo's Online Will (Review), you became more familiar with the process of creating a Will and the features of Nolo's Online Will.
Comment below with any experience you have with creating a Will.