This product is no longer available.
To read an article on Nolo's new Quicken WillMaker & Trust 2023, where you can create a living trust click the link below.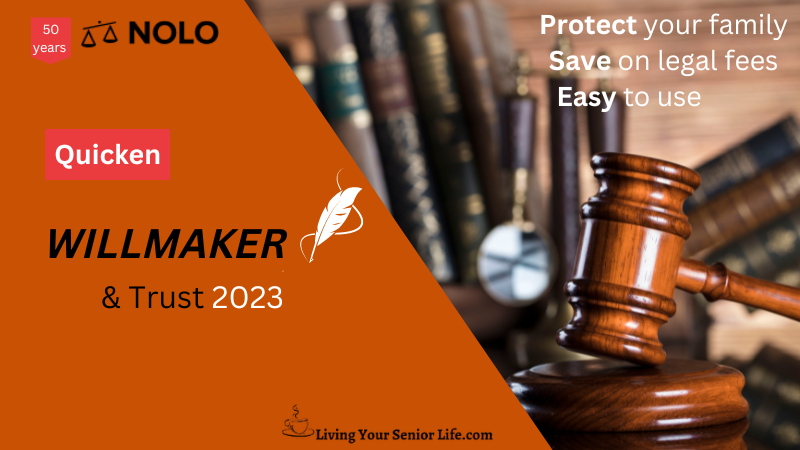 Nolo's Living Trust Review 2021 – Guard Against Probate explores the features and system requirements to create your Living Trust in the privacy and comfort of your home.
Have you been thinking about creating a Living Trust but not wanting to spend the money on an attorney? Nolo's Living Trust program can help you do that. After purchasing Nolo's Living Trust product you download the program right to your computer and create one of the most important documents in estate planning.
System Requirements Needed For Nolo's Living Trust
Computer: 1 GHz or higher
Operating System: Windows 8/8.1/10 or macOS 10.12 and higher
Memory: Minimum 2 GB
Hard Disk Space: 54 MB free space. For Windows, up to 1.5 GB if .NET is not installed
Internet Connection: To receive web updates and access NoloCloud
Software: PDF Viewer
Forms Included In Nolo's Living Trust
Individual Living Trust
Shared Living Trust
Certification of Trust
Restatement of Trust
Revocation of Trust
Letter to Successor Trustee
Step-by-Step Guidance
Nolo's Living Trust Software is a question-and-answer format. By answering the questions, you are guided step-by-step to create your Living Trust. It's a simple program to use.
As you go through the creation of your Living Trust, you are given helpful information to help you make your Trust right for your situation. It guides with telling your such things as:
What Property To Put In Your Trust – And What To Leave Out
Whether To Use An Individual Or Joint Trust
How Living Trusts Provide For Property Management In The Event Of Incapacity
How To Pick A Trustee
How To Transfer Property, Including Real Estate And Bank Accounts, To Your Trust
If And When You Should Consult A Lawyer
Documents Included In Nolo's Living Trust Software
A Valid Living Trust, Tailored To Your Wishes And The Laws Of Your State
A Living Trust For An Individual Or Couple
Children's Subtrusts For Property Left To Children And Young Adults
Custodianships For Property Left To Children.
An advantage to Nolo's Living Trust software is that you can revise your documents when needed without an added cost.
Another advantage of a Living Trust like Nolo's is that it avoids the expense and time of probate that your family and beneficiaries could face if no Living Trust is in place.
If you would like more information about Living Trusts before taking the steps in purchasing a program, take a look at the article I wrote Understanding Living Trusts.
In reading Nolo's Living Trust Review 2021 – Guard Against Probate I hope you have found if it fits your needs. Have you had experience in preparing your Living Trust? I would love to hear about them. Comment below.