12 Monthly Subscription Boxes for Kids – and Grandkids Reviewed
If you're like I am, year after year I'm at a loss of what to buy the kids and grandkids for birthdays and holidays. I recently ordered my first box subscription for myself and thought what a great gift idea it would be for kids.
Subscription boxes run from monthly up to a year. Most can be canceled at any time. I think one of the fun parts is the anticipation of the next box coming in the mail. I remember when I was young, you know before bills took over life, I used to love getting mail.
Subscription boxes can be a good alternative when the weather is bad and the kids can't go outside to play or ride their bike.  If you live nearby them you can make this a grandparent/grandchild activity
When you're contemplating whether you should buy monthly subscription boxes for kids and grandkids, you might be surprised by the number of options available – from science to crafts to books and so on.
Monthly Box Subscription Tips
When looking for a gift box, keep the person you're buying for likes and dislikes in mind. Make sure it's something they would like and not necessarily you – I think I might be guilty of this lol.
Also, keep the age of the child in mind – you don't want to get something that would be too young or too old for who you have in mind.
If you have more than one child in a family to buy for, you might be able to have them sharing depending on their age gap.
Below are 12 of the More Popular Subscription Boxes – Sorted by Age
Price or to Purchase – Click here
As of writing this post, there are two coupons on the website
$5 off first subscription box.
$10 coupon upon subscribing to their email.
Recommended for Ages 1-3 or 4-6   When you sign up for this subscription, you choose not only the age range but also gender.
4 subscriptions are available – 1 month, 3 months, 6 months, and 12 months.
Each box contains at least 5 toys.
You can cancel at any time but no refunds.
Price or to Purchase – click here
Recommended for Ages 3-5
This box will take the little ones on an excursion each month – Early Explorers is packed with fun and educational themes, including landmarks, music, animals, food, art, oceans, natural wonders, world coins, space, world discoveries, dinosaurs, science, celebrations, habitats, transportation, insects, sports and more!
In the first package you'll receive a fun orange suitcase, a wall-sized world map, souvenirs, activity booklets, stickers and tags to decorate your suitcase, and letters and photos from your new pen pals Max and Mia and their dog Toby!
There is also a premium product that comes with a book, which is a higher price.
Subscription can be canceled at any time.
Customer Review: My 3-year-old son absolutely loved Little Passports; he was eager to open his package each month. He learned so much from his monthly packages, from knowing all the continents to all the famous landmarks around the world, and even food from different countries. Little Passports helped him make real-world connections, which, as a teacher, I know are so important for future learning! Although we finished the kit, he still likes to revisit what he has learned about.
For Price or Purchase – click here
Recommended ages 3-6
This gift box is unique in that the toys are hand chosen based on the child's age and developmental stage.
Targeted areas include fine motor, gross motor, sensory, strength, oral motor, visual perceptual, and creative play.
After signing up, there is an optional questionnaire that helps in the choosing of the handpicked items that are included in the box.
There are add on items that you can select from the website – Download additional activities or select unique quality items from several categories including birthday, blankets, books, feeding and bathing, and more! Just pick your items, and it will arrive with your shipment.
Each box comes with 3 or more toys.
Customer Review – A great, personalized box for kiddos. I like that they focus on developmental skills and suggest age/stage-appropriate activities in addition to the included toys.
Price or to Purchase – click here
Recommended ages 4-7
Also an option for ages 7+
Do you remember Highlight magazines? I used to love them. Now there is a subscription box that contains two magazines a month. This seems more like a subscription that comes in a large envelope, not a box.
Two Age-Appropriate Books provide brain-building activities for both kids and grown-ups.
Three Sticker Puzzles in Each Book strengthen hand-eye coordination and fine motor skills.
A Wide Array of Puzzle Types exercise many of the skills kids use in school.
Subscription can be canceled at any time.
Customer Review: Wonderful for 4-year-old great-granddaughter. She loves the stickers that get put in the "find" picture. Entertains her for quite a while and a good learning tool also.
3 plans to choose from – 1 month    6 months     1 year
For Price or to Purchase – click here
Recommended ages  5 – 12
Do you know a child that loves or wants to cook – this would be the box for them.
The kits include coloring posters, word games, and fun stickers so that kids have something to engage in right away, regardless of what's in your pantry. The adults will get involved when it comes to the recipes and creative/food science activities (getting ingredients and spending quality time). The lessons are simple enough that kids can do most—if not all—of the cooking/assembling on their own. We also include a kid-friendly kitchen tool that we've sourced from top culinary brands.
Each themed box ships free* and includes:
A high-quality, kid-friendly kitchen tool, gadget, or non-perishable ingredient sourced from top culinary brands.
A step-by-step cooking lesson designed to teach kids useful techniques.
Collectible recipe cards. Our team has years of experience developing innovative recipes that kids can make with minimal adult assistance.
Hands-on activities designed to make cooking techniques and food science fun. Get ready for tasty experimentation and exploration!
Monthly subscriptions can be canceled at any time. You may cancel the renewal of your 6 and 12-month subscription after the initial year or bundle has been fulfilled.
Subscriptions are available for 1 month, 3 months, 6 months, and 12 months.
For Price or to Purchase – click here
Recommended ages 5-12
Every Orange Art box is designed with a feature project and multiple smaller projects.
Every month the recipient will be receiving a box containing themed art projects to have fun creating with.
From the Orange Art Box website – "We will be sending projects with ideas on how and what they can do with the supplies that have been sent to them. Our boxes are to help inspire, and we can't wait to see what your artists create!"
It can be canceled at any time.
Price or to Purchase – Monthly click here     3 months click here      6 months click here
Recommended ages 6-12
Also has another age option of 12-15
This is a fun box that comes with 4-6 items a month.
Items can include jewelry, accessories, fun school supplies, nail and hair care, yummy lotions + soaps, etc.
Boxes are curated around a monthly message of confidence-building, helping young girls realize they are beautiful just as they are!
Customer Review – I've already given this box a 5-star review, but I just heard from my daughter at camp that she and her friends are still having a great time with this gift. It's a total winner!
Price or to Purchase – click here
Recommended Ages – 8-13
Also, there are subscriptions for ages 3-4 and 5-7. Be sure to choose the correct age.
From the ratings, this is a very popular subscription. STEM stands for science, technology, engineering, and math.
STEM Club toys vary each box to include a range of topics and concepts, from robots to chemistry sets to circuit boards.
Toys encourage understanding and exploration of STEM subjects for children in a fun and entertaining way.
Support the development of essential skills like logic, creativity, and problem-solving.
Some projects contain instructional booklets and may require support from an adult.
Subscription can be canceled at any time.
Customer Review – We purchased this subscription for our 8-year-old grandson. The first package contained a laser game with various levels of difficulty. As he masters one level, he can move on to the next, which means more time spent on the game. I was very impressed with the product and hope others are as much fun!
For Price or Purchase – click here
Recommended ages – 6-14
There are 3 choices of businesses to choose from
Homemade dog treat
Bath Bomb
Cake Pops
This is a great box that goes step by step of producing a product, naming your company, pricing, packaging, advertising, and then selling.
Each kit comes with everything needed for an entrepreneurial experience: raw ingredients, packaging materials, advertising flyers, and a step-by-step curriculum.
The lower end of the age range will require more adult supervision, but children at the upper end of that range will be able to do the kit fairly autonomously.
This box is not a subscription that comes monthly.  It's one box, and then you can purchase refill items.
30-day money-back guarantee
Customer Review – I think we hit the jackpot!! My husband and I are entrepreneurs and hope one day our kids will be too. Thankfully Boss Club has eloquently put together a box that teaches children how to successfully start their own business. Boss Club guides them each step of the way. My daughters are so excited! I absolutely love how it got the girls creative juices flowing! My girls can't stop talking about it!
Single box and monthly, 3, 6, and 12-month subscriptions available
For Price or to Purchase – click here
Recommended ages 8+
The boxes are full of everything you need to learn about and do hands-on science, technology, engineering, and mathematics (STEM) experiments.
Included in the box is a Lab Notebook, where the recipient can read about that month's topic, perform investigation activities, and document their findings. They will investigate, brainstorm, plan, build, test, and redesign their own creations.
Also, receive access to the special "Beyond…in a Box" online learning portal.
Cancel 5 days before renewal subscription. Gift subscriptions cannot be canceled.
Price or to Purchase – click here
Recommended Ages – 9+
Each month the subscription packages contain everything you need to continue your STEM discovery with action-packed experiments that allow you to launch your own air-powered rocket, build a car that's powered by the sun, and much more!
In the first Science Expeditions package, you'll receive our signature blue tote bag, a science lab notebook, a forensic science experiment kit, a fingerprint analysis card and an ink pad, and a booklet with more fun games and activities.
Themes include Forensic Science, Caves & Crystals, Hydrology, Optics & Vision, Rockets, and more!
Subscription can be canceled at any time.
Customer Review – I bought The Science Exploration for my then 9-year-old granddaughter for Christmas last year. The first box came in time for me to wrap to put under the tree. She and her mom have enjoyed doing the experiments each month. Her favorite so far has been finding the DNA of a strawberry!! Highly recommended the Little Passports.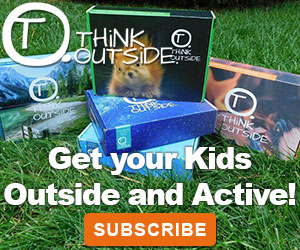 Price or to Purchase – click here
Recommended Ages 9-14+  Younger ages with parental help
Subscriptions available – Monthly,  Quarterly, and Yearly
This box is unique in that it is geared toward the outdoors.
The purpose of the box is to provide children with knowledge and skills to improve their confidence and appreciation of the natural world.
Monthly themes, such as navigation, shelter building, or star gazing
Each box includes:
3 to 5 pieces of quality outdoor gear
Water-resistant resource cards
24+ page educational booklet
Hands-on activities
Challenges to do as a family
You can cancel the subscription at any time.
Customer Review – "My boys have been out exploring about every other day. We just tell them to go wherever they end up and look around, get rocks, watch butterflies, whatever they think of. They're having a blast with it. And it's the only time they get along!"
Is A Subscription Box in Your Future?
With the variety of subscription boxes available, there seems to be something for every type of interest. Monthly subscription boxes for kids and grandkids seem like an answer to the problem I have year after year of what now to buy the grandkids.
I know the excitement I had waiting for my first subscription box, and I'm waiting with anticipation for the next to arrive.
Do you have any experiences with subscription boxes for kids? Any subscription boxes that you love? If you do or have any comments or questions, please post in the comment section below.