Have you been dealing with knee pain? Maybe from arthritis or perhaps from playing sports.  4 Best Knee Braces For Arthritis (2021Comparison Guide) explores four different knee braces to aid with arthritis: unloading, sleeve, support, and heat.
Since there are different types of knee braces before using one, check with your doctor to find the right model for you; maybe you need a compression brace or perhaps one that unloads. This article should not be used as an alternative to medical advice or seeing your doctor.
If you believe you have arthritis or want to learn more about it, there are two articles I wrote two articles you might be interested in, About Arthritis and Rheumatism. The other is Osteoarthritis vs. Rheumatoid Arthritis.
Features
Available In 9 Sizes
Provides Support and Comfort From Pain Caused By:

Osteoarthritis
Rheumatoid Arthritis
Knee Pain from

Running
Weightlifting
Sports
ACL

Compression Knit Massages The Soft Tissue During Movement
3D Braiding Provides A Heating Effect

Keeps The Leg At Body Temperature To Reduce Stiffness

Anti-Slip Silicone
Lightweight
Breathable
Additional Information
For Daily Use – Select A Larger Size
For A Tight Fit – Select One Size Smaller
Hand Wash/Air Dry
Material

70% Nylon
20% Spandex
10% Latex

ASIN: B07T3P64QJ
Pros
Breathable
Wide Variety Of Sizes
Heating Effect
Cons
Customers Report Issues Of The Brace Not Staying In Place And Rolling Down
Some Reported Trouble With Sizing
The 30-day Return Policy Is Rather ShortMust Be In The Same Condition As When Received
Must Have Original Packaging
---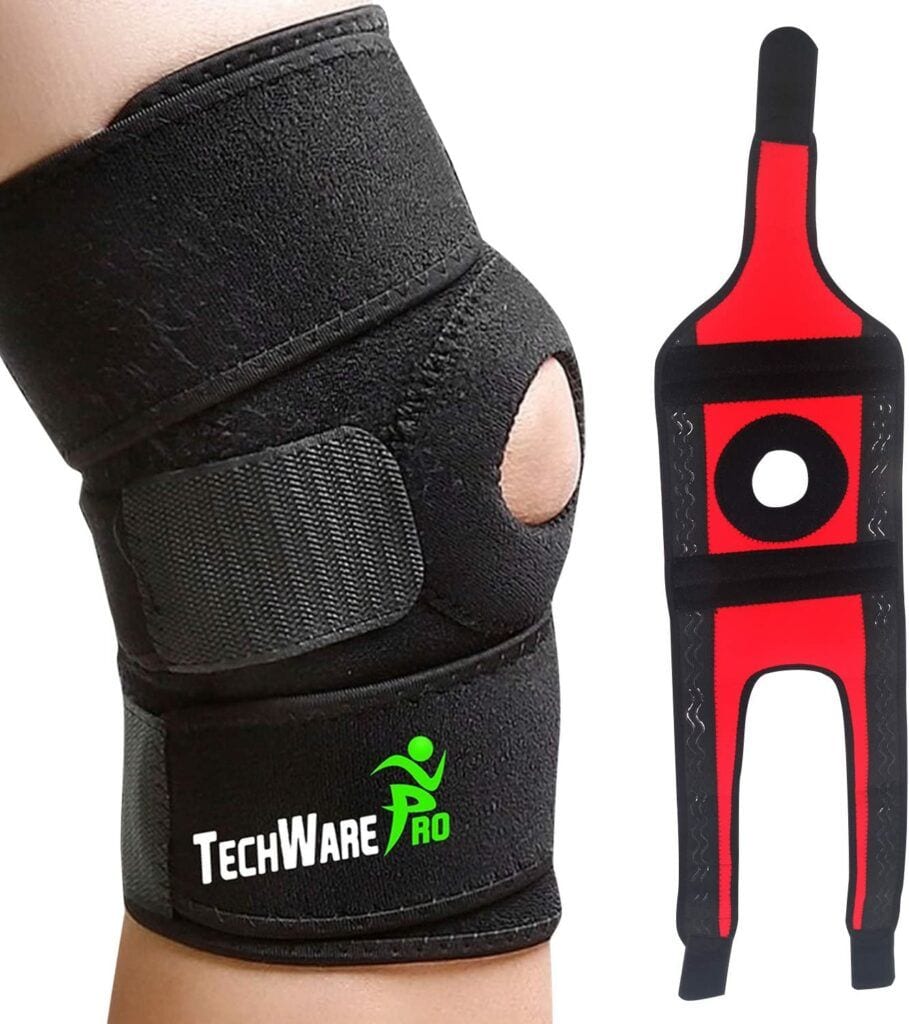 Features
Available in 4 Sizes
Reports to Relieve Pain From

Arthritis
ACL
LCL
MCL
Meniscus Tear
Tendonitis

Open Patella (opening at knee cap)
Dual Stabilizers
Non-Slip Comfort Neoprene
Adjustable Bi-Directional Straps
Moisture Wicking
ASIN – B07B6859V4
Pros
Sizes For Larger Leg Size Available
Good Customer Service
Alternating Hook And Loop Straps Applies Even Support And Compression
30-day Satisfaction Warranty.
Cons
Some Reports Of Trouble With The Velcro Not Sticking
---
Features
2 in 1 Knee Wrap With Heat and Massage
Heat Temperature Settings

50°C – 65°C
55°C – 60°C
60°C – 65°C

3 Vibration Modes
Use The Heat and Massage At The Same Time Or Separate
Rechargeable Batteries Included
For Use With Arthritis Pain and Support Knee Pain Relief
If You Aren't Happy With Your Purchase, They State They Will Simply Refund Your Money – No Need to Return 
Additional Information
Hand or Machine Wash on Gentle Lay Flat to Dry 
One Size Fits Most
Men and Women
Can Also Be Used On Elbow
Pocket For Ice Pack – Ice Pack Not Included
Company located in China
ASIN: B088K29RYT
Pros
Rechargeable Batteries – Lasts 2-3 Hours
Manufacturer Stands Behind Product
Cons
Some Find Uncomfortable To Wear
---
Features
Medial (inside) – Left and Right Available – Be Sure to Click the Correct Button
Support For:

Arthritis Pain
Osteoarthritis
Cartilage Defect Repair
Avascular Necrosis
Tibial Plateau Fracture

It Helps To Support The Knee Joint And Share The Loading Of The Affected Joint
One Size Fits Most
Lightweight
Additional Information
If you want a brace that you can wear during sports, this is not for you.
ASIN: B07MYXV9KD
Pros
Provides Good Support
Good Customer Service
Cons
Some Issues Were Reported With The Fasteners/Buckles Popping Apart
Not For Use When Playing Sports
If You Are Looking For That This Brace Is Not For You
Final Thoughts
I hope in reading, 4 Best Knee Braces For Arthritis (2021Comparison Guide), you have been able to find the type of brace that will be beneficial for you.  Don't forget this article should not be used as an alternative to medical advice or seeing your doctor.
Do you have any experience in using knee braces for arthritis?  I would love to read what they were.  Please comment below.