Have you been dealing with knee pain? Maybe from arthritis or perhaps from playing sports. If you're suffering from this type of pain, you know it can be a debilitating condition. The good news is there is a common treatment available that can help improve your quality of life- the use of a knee brace. In this article, 3 Best Knee Braces For Arthritis – Buying Guide, we'll introduce you to some of the best knee braces for arthritis; ArthritisHope Knee Compression, Techware Pro, and Orthomen Oa Unloader.
Since there are different types of knee braces before using one, check with your doctor to find the right type for you; maybe you need a compression knee brace or perhaps one that unloads. This article should not be used as an alternative to medical advice or seeing your doctor.
Features
Available In 8 Sizes
Available in 3 Colors
Unisex
Provides Support and Comfort From Pain Caused By:

Knee Osteoarthritis
Rheumatoid Arthritis
Knee Pain from

Running
Weightlifting
Sports
ACL

Compression Knit Massages The Soft Tissue During Movement
3D Braiding Provides A Heating Effect

Keeps The Leg At Body Temperature To Reduce Stiffness

Anti-Slip Silicone
Lightweight
Breathable
Additional Information
For Daily Use – Select A Larger Size
For A Tight Fit – Select One Size Smaller
Hand Wash/Air Dry
Material
Video: ArthritisHope – Compression Sleeve For Knee Arthritis
Pros
Breathable
Wide Variety Of Sizes
Heating Effect
Cons
Customers Report Issues Of The Brace Not Staying In Place And Rolling Down
Some Reported Trouble With Sizing
A Few Words
ArthritisHope is the brand name of knee sleeves designed to provide pain relief and inflammation associated with osteoarthritis, rheumatism, knee pain from running, weightlifting, sports, and ACL.
The soft, breathable material helps keep the leg at body temperature, reducing inflammation and swelling. ArthritisHope knee brace has 3D braiding that provides a heating effect that helps to stimulate the healing process.
It is available in eight sizes and comes in three colors.
---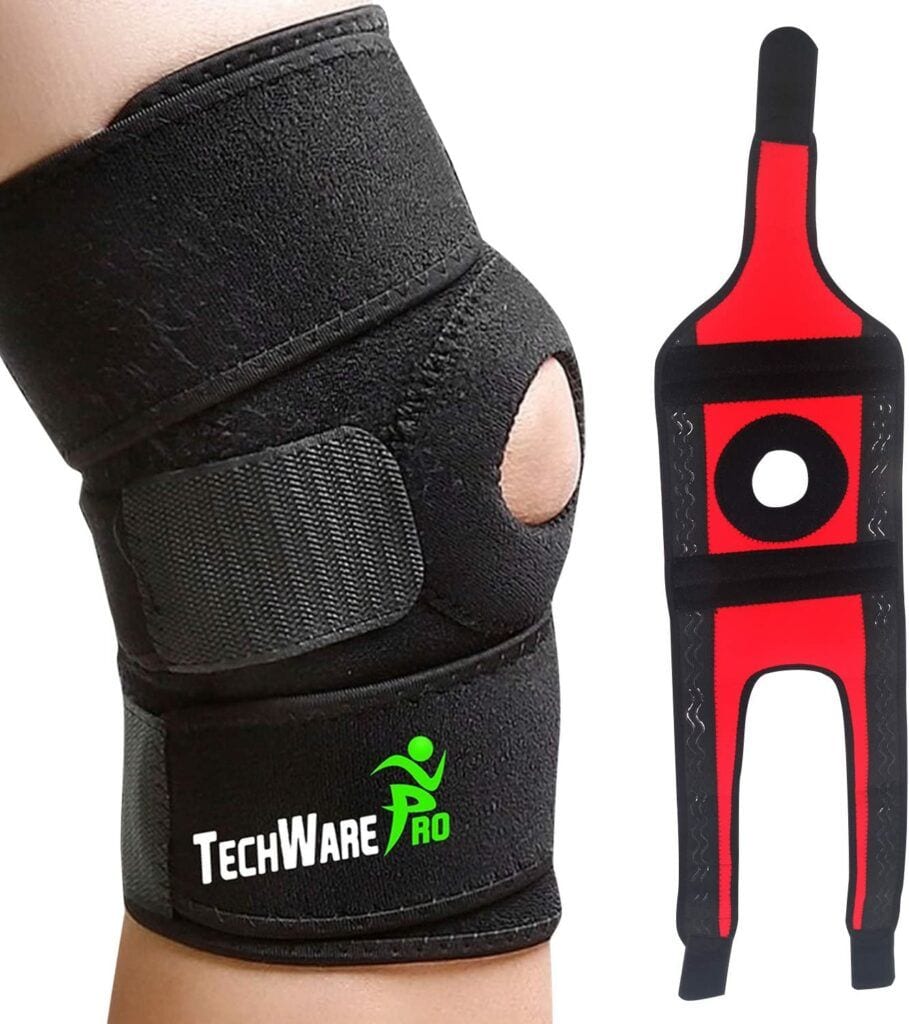 Features
Available in 4 Sizes
Unisex
Reports to Relieve Pain From

Arthritis
ACL
LCL
MCL
Meniscus Tear
Tendonitis

Open Patella (opening at knee cap)
Dual Stabilizers
Non-Slip Comfort Neoprene
Adjustable Bi-Directional Straps
Moisture Wicking
Pros
Sizes For Larger Leg Size Available
Good Customer Service
Alternating Hook And Loop Straps Applies Even Support And Compression
Cons
Some Reports Of Trouble With The Velcro Straps Not Sticking
A Few Words
The TechWare Pro knee brace is made from high-quality neoprene material and featuring dual stabilizers This device supports and protects your knee while relieving pain from arthritis, ACL, MCL, Meniscus tear, tendonitis, and other conditions.
You can wear it in any position for comfort, and the adjustable straps keep it firmly in place no matter how active you are.
---
Features
Medial (inside) – Left and Right Available – Be Sure to Click the Correct Button
Support For:

Arthritis Pain
Osteoarthritis
Cartilage Defect Repair
Avascular Necrosis
Tibial Plateau Fracture

It Helps To Support The Joint of The Knee And Share The Loading Of The Affected Joint
One Size Fits Most
Lightweight
Additional Information
If you want a brace that you can wear during sports, this is not for you
Video: Unloader Brace For Medial Knee Joint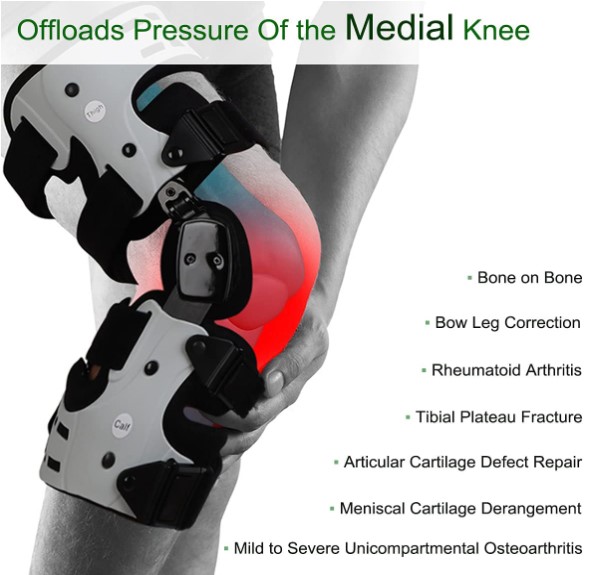 Pros
Provides Good Support
Good Customer Service
Cons
Some Issues Were Reported With The Fasteners/Buckles Popping Apart
Not For Use When Playing Sports
A Few Words
Orthomen Unloader Knee Braces provides medial (inside) – left and right available – support for arthritis pain, osteoarthritis, cartilage defect repair, avascular necrosis, and meniscal cartilage derangement. This unloader knee brace helps to support the knee joint and share the loading of the affected joint.
With its adjustable strap and pads, it is comfortable to wear and easy to put on.
---
Related Articles:
---
Final Thoughts
With all products, features can change, so before purchasing, be sure the features that attracted you to the product are still the same.
A knee brace is often recommended for people with arthritis, as it helps to alleviate the pain and inflammation in the joint of the knee. Often times they are used while undergoing physical therapy and in hopes of avoiding knee surgery. However, before purchasing a knee brace, it is important to determine what type of knee brace you need and which is the best for your needs.
I hope in reading, 3 Best Knee Braces For Arthritis – Comparison Guide, you have been able to find the type of brace that will be beneficial for you.  Don't forget this article should not be used as an alternative to medical advice or seeing your doctor.
Do you have any experience in using a knee brace for arthritis?  I would love to read what they were.  Please comment below.