iRobot Braava Jet m6 Robot Mop Review explores the features, pros, and cons, helping you decide if this robotic mop is for you. If you're like me, one of the household chores I would rather not do is mopping the floors.
My home is all laminate/hardwood flooring, which means I have to mop the whole house. And though I have a small home, and it didn't really take me that long to mop, I would rather be doing something else.
I recently purchased an iRobot Braava Jet m6. I couldn't be happier. However, as everyone is different, I encourage you to take a look at this review to see if it's something you may like.
Background
Years ago, I had purchased the iRobot Braava 240, and there is a world of difference between that one and the m6. The 240, at the time, didn't map, so it would just wander around my kitchen aimlessly.
Oh, I didn't mention the 240 is so much smaller, so it would take hours for it to complete just the kitchen. It was just easier for me to do it myself. I ended up selling it at a garage sale.
So with my experience with robotic mops, I was leary about getting another one. But I'm so glad I did.
Features:
Wi Fi Connected

Alexa Compatible
Google Assistant Compatible
Smart Mapping

Keep Out Zones
Choose To Mop Some or All of the Rooms
App

Scheduled Cleaning
Suggests Extra Cleanings
Dimensions

10.00 x 10.60 x 3.50 inches
What Comes In The Box:
iRobot® Braava jet m6 Robot Mop
1 Charging Dock
1 Dock Tray
1 North American Line Cord
Pads

2 Single-Use Wet Mopping Pad
2 Single-Use Dry Sweeping Pad
1 Washable Pad

4oz. Cleaning Solution Sample Bottle
Video: iRobot
Pros
Keep Out Zones
Mapping
Scheduling
Cons
Price Point
Propriety Solution and Pads
My Experience
My experience with the iRobot m6 robot mop has been so much better than the first mop I had purchased. It comes with everything you need to get started—even a sample of the cleaning solution.
You can use just plain water as well. That is what I did for the first wet mopping run just to try it out.
Also, 2 single-use wet mopping pads and 2 single-use dry sweeping pads and 1 washable wet mopping pad come with the purchase. I did purchase additional washable pads online.
There are also other iRobot Braava jet m6 products available.
Everything was very easy to set up. I did have trouble connecting the cord, but after watching a youtube video, I realized I just had to push harder on it. The app uploaded and I was able to get that going in no time.
I saw streaks and some wheel marks with the first mopping, but I believe that occurred because of the dirt on the floor and only using water without a cleaning solution. It has gotten much better in time.
What I Love About the iRobot Braava Jet m6 Mop
What I love about the Braava Jet m6 mop it is the mapping capability.
After it created a map, I now have the option of choosing which rooms to clean. I find this handy when there is a particular room that needs mopping and not the whole house.
Since it has the charge and resume function, I can leave it on its own to finish the job. As I said earlier, I have a small house, about 1200 sf, so it can complete the job without refilling the tank and in about 2 hours.
If you have a larger home, I'm assuming you will need to refill the tank, and the cleaning time will take longer to mop your entire home.
The Keep-Out Zone I sat up, so I don't have to remember to pick up the pet food and water. You can set up the keep-out zone for any specific areas you don't want the mop to go. I set up the app to tell the iRobot mop to stay away from them. Not having to fear spilled water all over the kitchen floor is a welcome plus.
Another feature I like is being able to schedule a particular day and time. I find this comes in handy if I forget to start the mop; with the way I have it set up, it will wet mop at least once a week. This feature is an option and how your schedule would be based on your cleaning habits; you can run the mop whenever you like and you don't need to set up a schedule.
The other feature I like is using the app. I can start the mopping process right from my phone – I need to be sure there is the pad and solution or water in the tank beforehand.
Overall, I am very pleased with my iRobot Braava Jet m6 mop and have found it to be the ultimate robot mop. Why? Well besides what I've shared above I believe it's the ultimate robot mop for a couple of other reasons it has a precision jet spray that helps tackle kitchen grease, sticky messes, and grime. It's a little more expensive than the other ones available but compared to my last purchase with a less expensive model; there is a world of difference.
Popular Posts:
Best Robot Vacuum Cleaners – Buying Guide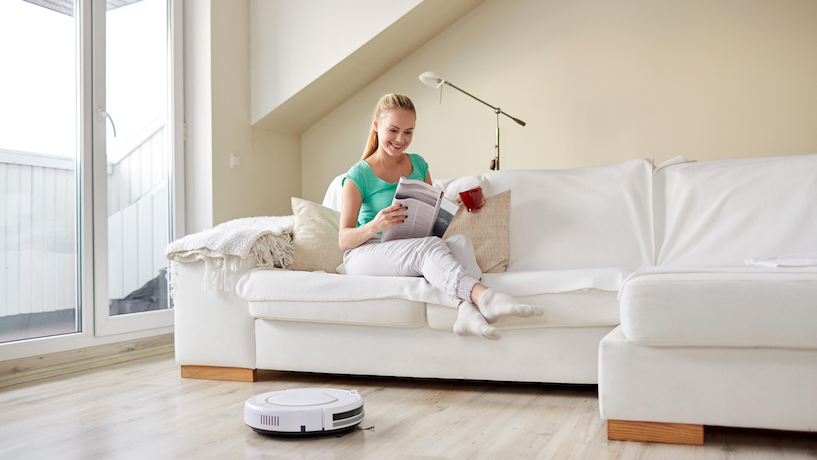 Explores 5 Of The Best Robot Vacuums Cleaners Available. Become a More Informed Consumer.
Buying A Robotic Vacuum Cleaner? A Step by Step Guide
Explores And Explains Some Options To Look For When Considering Purchasing A Robotic Vacuum.
Shark IQ Robot Self-Empty Vacuum XL RV1001AE – Review
Explores The Features & The Pros & Cons of this Robotic Vacuum; Become A More Informed Consumer.
One Last Thing
Thank you for stopping by and looking at the iRobot Braava Jet m6 Robot Mop Review. I hope you found some information for you that will help you in your purchase decision.
If you have any tips or stories about any robot mops, I would love to hear them. Please comment below.