GTW Club Car Precedent 6″ Lift Kit (Review) 2004-Up Elec/Gas explores the features and pros and cons of one of the best-rated lift kits.
Are you looking for a different look for your club car, maybe a higher clearance, a more stable ride? Then a arm lift kit might be what you are looking to add to your golf cart.
By reading W Club Car Precedent 6″ Lift Kit (Review) 2004-Up Elec/Gas, you'll become a more informed consumer before making your purchase.
Features
Material: Steel
No Cutting Or Welding
Pivot Point Grease Fittings
Camber and Toe Adjustments
Accepts Tires Up To 23″ 
Increase Stability 
High Gloss Black Powder Coated Finish
Comes With All Necessary Hardware For Installation
Instructions For Installation
Specifications
Package Dimensions

29.69 x 16.81 x 10.51 inches

Weight
Compatible with:

Club Car Precedent 2004-Up, Gas or Electric

Manufacturer: GTW
Brand: GTW
Manufacturer's Part Number: 18140
ASIN: B01LT68PQE
Pros
Price Point
Easy Installation
Smooth Ride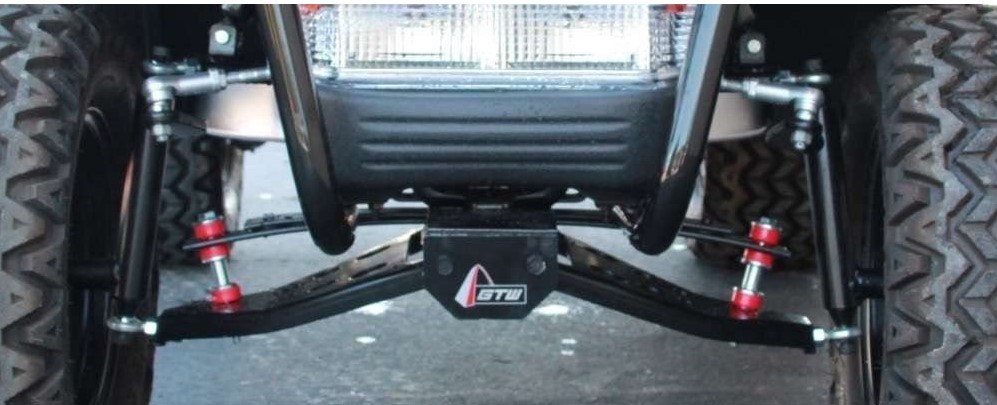 Review
The GTW 6″ Double A Arm Lift Kit For Golf Carts comes with parts that accommodate a 6″ lift to your Club Car. It is compatible with years 2004+. This Double A Arm Lift Kit is made of durable steel. Allows for camber and tow adjustments, complete with pivot point grease fittings for easy maintenance.
There is no cutting or welding needed for installation – allowing for an easy on bolt installation.
The most challenging part of the installation is moving the axle below the leaf springs. This requires two people as the motor tries to flip forward.
What some people consider a con was using old shocks though most people seem OK with this.
The price point plus the customer reviews make this a great choice.
Why Should I Purchase A Lift Kit For My Club Car?
Besides liking the look a lift kit gives to a club car, a lift kit for your club care golf cart can make driving and maneuvering around obstacles much easier, especially if you have a low-slung or off-road cart. Suspension lift kits increase the ride and stability on all terrains.
Additionally, a lift kit can also give you the capability to transport larger or heavier items.
All Golf Cart Lift Kits Are Not Created Equal. If you do not know the difference between different lift kits, it is important to consult with a reputable mechanic.
Related Articles
Club Car Accessories – Buying Guide
Discusses Some Accessories, Their Features, And Pros And Cons That Can Add Value And Comfort To Your Club Car.
Club Car Lift Kit – The Best 3
Explores 3 Of The Best Club Car Compatible Lift Kits. Be an Informed Consumer Before Purchasing Your Lift Kit.    
3 Best Club Car Floor Mats – Comparison – Keeping It Clean
Explores 3 of the Best Club Car Compatible Floor Mats. Discover the Best Choice For You.
Conclusion
With all products, features can change, so before making a purchase, be sure the features that attracted you to the product are still the same.
There are some individuals who have basic mechanics knowledge who can install a lift kit in just minutes. However, others may require the assistance of a professional installer. It's important to know your limits.
In reading GTW Club Car Precedent 6″ Lift Kit (Review) 2004-Up Elec/Gas, I hope you came away with a clearer vision if this is the right lift kit for your club car.
If you have any stories or experience with club car floor mats, I would love to hear about them. Please comment below.