I don't normally do reviews for food, but I'm excited to bring this one to you. If you're interested in having your food prepped for you, I would highly recommend Factor 75 Meal Delivery service.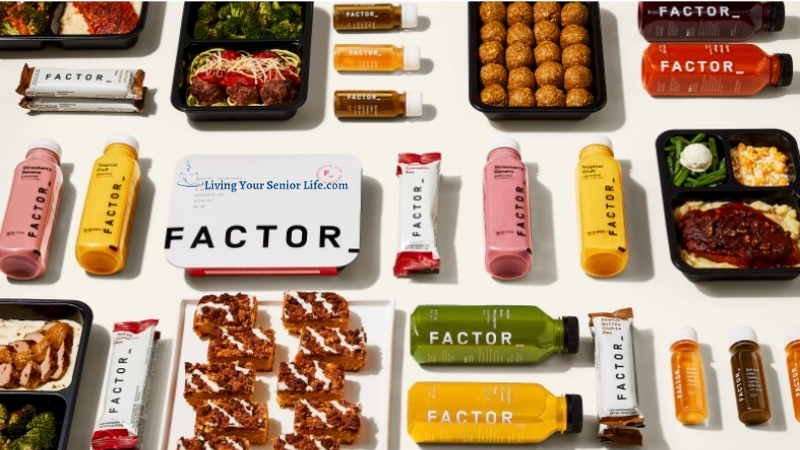 This is an honest review of a product I use weekly.
What is Factor 75?
Factor 75 is a prepared meal delivery service that provides customers with fresh meals. The company works in conjunction with dieticians to provide clean, nutritious meals.
History
Factor 75 was founded in 2013 by Nick Wernimont and was bought by Hello Fresh in late 2020.
The name was derived from the belief that 75% of fitness results and daily performance is derived from the diet we eat.
Factor 75, based in Batavia, Illinois, serves customers throughout the United States, excluding Alaska and Hawaii.
Video: Factor 75 Meals/Founder Nick Wernimont
Benefits
If you are someone who meal preps, you know how time-consuming it is. Factor gives you that time back.
Factor meals allow you to clean eat without the stress and work of meal prepping.
If you're someone that no longer cooks for yourself or has limited cooking skills, you might find yourself ordering in or stopping by the fast food establishment way more than you would like. Then Factor 75 can give you a healthier alternative.
The Food
The difference between Factor 75 and many other meal delivery services is the meals are not delivered as meal kits leaving you having to cook. Factor 75 are precooked and ready to eat meals – just heat and serve.
Every ingredient is non-GMO and free of preservatives, antibiotics, and hormones. Not only are the prepared meals gluten and soy-free, but they're also organic. Their proteins come from pasture-raised, grass-fed, and wild-caught sources.
When you are choosing your meals, you are able to view the ingredients and nutritional information.
The majority of the prepared meals are around 600 calories each and fall between 350 and 900 calories.
Factor does not offer special requests.
Nutrition Coach
If you have a question or need some help choosing from the various meal plans, there is a free 20-minute phone consultation with a dietitian.
Plans
The meal options are categorized by what they call Preference.
Protein Plus

30 Grams of Protein or More
You have the choice of getting 4, 6, 8, 10, 12, or 18 meals per week.
The price depends on how many meals you purchase. The more meals you get, the less expensive per meal.
Ordering
With a rotating menu, meals change weekly.
You can either have your meals chosen for you, or you can go to the website and modify your meals to your liking.
The cutoff day to edit or modify your delivery is Wednesday 11:59 pm. Your meals will be delivered the following week. If you forget to modify your order, you will receive what the company refers to as the chef's choice.
After choosing your meals and saving, you will then have the ability to see and purchase add ons such as protein/health drinks, desserts, etc.
If you have food allergies, sensitivities, or dietary restrictions, be sure to carefully review the ingredients before consuming.
Note that wheat, milk, soy, eggs, tree nuts, peanuts, fish, and shellfish are all processed in the same facility.
Factor 75 Pricing
At the time of the writing of this article, you will find Factor meals cost start at $11.99. As prices can change, click to get current prices.
Delivery
Meals are delivered once a week. Mine come via Fed Ex, but there are various carriers they use, including AxleHire, CMS, UDS, UPS, and FedEx.
The carrier is dependent on your geographical area.
Delivery takes place on Monday, Tuesday, or Wednesday. You are not able to choose your delivery day. The delivery day is dependent on your zip code.
Delivery takes place between 8 AM to 8 PM on delivery day.
As of the writing of this article, Factor 75 shipping cost is included in the price of the meals.
What a Delivery Looks Like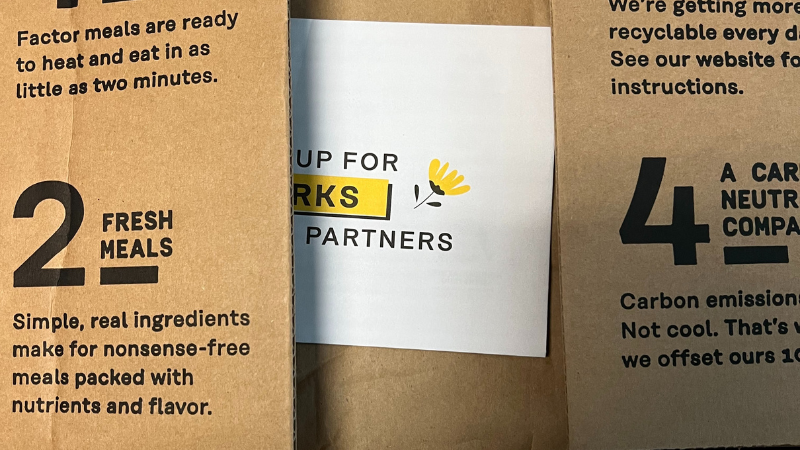 Cooking Factor Meals: Couldn't Be Easier
You can cook Factor Meals either in a microwave (great for lunch) or in a conventional oven.
Microwave:

Remove the meal from the packaging.
Pierce the plastic film.
Microwave on high for 2 minutes (sometimes I do mine for 2:15, microwaves will vary for cooking time).
Let stand for two minutes
Remove film – be careful it will be hot, and steam may escape when the film is being removed.
Transfer to a plate or eat out of the container.
Conventional Oven:

Adjust the rack to the middle position.
Preheat to 375 degrees.
Remove the meal from the container.
Remove the plastic film.
Place the tray on a baking sheet.
Bake for 7 minutes or until the desired temperature is reached.
Transfer contents to a plate or eat out of the container.
Packaging
Meal Containers

The plastic meal containers are completely BPA-free CPET.
These are safe for food storage and also heating in the microwave or oven. 
The containers are designated as recyclable 1.
Shipping Boxes

The meals are shipped in boxes. To recycle, put it in the recycle bin after breaking down.
Gel packs

Non-toxic and recyclable gel packs are reusable. Made with 99% salt water and 1% sodium polyacrylate, the gel packs are non-toxic and can be reused.
Do not put the contents of the gel packs in your sink or toilet as it could cause plugged drains.
FAQs
Are Factor 75 foods safe?
Factor's kitchen and packaging facility is licensed and inspected by the State of Illinois and County Health Department.
The company states they ensure that they meet or exceed the FDA and USDA standards for food safety.
The ingredients of each meal are cooked and then cooled in compliance with the USDA Safe Food Handling requirements.
The meals are maintained at or below 41degrees Fahrenheit.
How do I cancel future meals?
It really is simple and has no hassle. I've done it, and all you do is log into your account and click cancel subscription.
Be sure to cancel before the Wednesday cutoff. If you cancel after Wednesday, you will receive the next order, and then your subscription will be canceled.
You are also able to skip deliveries. This is convenient if you are just going to miss a week or two.
Are Factor 75 meals on any of the nutrition apps?
Currently, Factor meals are on MyFitnessPal, Loselt, and Carb Manager. This makes it convenient, so you don't have to enter the macros of the individual meals while tracking your daily nutrition.
Does Factor 75 offer low-sodium options?
No, not at this time. However, the sodium content is labeled on each meal so if this is something you are concerned about, simply click on the photo of the meal you're interested in to find the sodium content.
How long do Factor 75 meals last?
The meals last seven days refrigerated. There is a use-by date on each meal.
Though it isn't recommended, I do freeze some of my meals and take a few out at a time, and put them in the fridge to thaw.
Pros
Delivery
Taste
Packaging
Ready to Microwave or Heat in Oven
Cons
Price
Cannot Choose Delivery Day
Review
I've tried many meal prep companies, and I can honestly say that Factor's meals have been the best tasting.
The meals are created by chefs and dieticians. All the ingredients and nutritional information is listed on each individual meal.
I love the convenience of these meals. I'm eating a larger variety of foods than I would if I was cooking for myself.
I cook mine in the microwave for 2 – 2:30 minutes.
What hasn't been great – one time, my order didn't arrive until a day later through FedEx, and I had to throw the food away. Not any fault of Factor – it was setting in FedEx's warehouse.
Also, one time I forgot to go in and edit my meals, and I received the chef's choice. This wouldn't have been bad, but there are some meats I don't eat, and the order contained some of those. I ended up giving them away to a gym member. Again, no fault of Factor. Just be sure to go in and edit your meals before the cut-off time.
Though I did experience these two issues, they were resolved quickly with no problem or hassle. I contacted customer service, and they refunded me.
I do like the idea that you can cancel at any time, again, with no hassle. Just go into my account and click cancel subscription.
I can honestly say that I've liked all the meals I have received. I don't eat some meats or spicy, so I can't attest to those meals, but with the quality of the meals I have, I'm sure the taste is just as good or maybe better than the other type of meals.
---
Popular Posts
---
Conclusion
Factor 75 is one of the best meal prep services I've tried. The food is healthy and delicious, which is what everyone wants to find in a meal prep company.
With so many of us having busy schedules, having ready made meals can be a welcome convenience.
Thank you for reading Factor 75 Meal Delivery – Review. I hope reading it helped you understand the service and helped you decide if it's a service you would like to try.
What about you? Have you ever used any other service for meal prep before? Will you give Factor75 a try soon?