It's important to determine how you will be using the mobility scooter. Identifying your needs beforehand will allow you to choose the scooter that best fits your lifestyle. Electric Scooters for Seniors – Buying Guide Explores the Different Options To Consider When Purchasing An Electric Mobility Scooter.
Have you been limiting life's activities because of a lack of mobility, missing out on family adventures, or enjoying the outdoors? Maybe walking has become difficult, so you sit on the couch, spending your days in boredom. Do you miss the independence that limited mobility may have? Perhaps it's time you look into purchasing one of the many types of electric scooters for seniors.
Before you haphazardly go out and get on a scooter, there are some options and differences you want to understand and consider before purchasing. First and foremost, you want to be safe. Can you safely enter the scooter? Will you need help in doing so? Are you able to look side to side, watching for other people, vehicles, and obstacles? You will want to be sure you can ride and drive safely. There are some safety options discussed below.
Number of Wheels
First, consider the number of wheels you want. There are 2, 3, and 4 wheel scooters, and each has its advantages and disadvantages. For the purpose of this article, we will look at the 3 and 4 wheel electric scooters.
3 Wheel Scooter
Good For Indoor Use
Tight Turning Radius
Fits In Smaller Spaces
More Legroom Because Of The Absence Of The 2nd Wheel In Front
Not As Stable As A 4 wheel scooter
Usually Lighter Than The 4 wheel scooter
Lower Price Point Than The 4 wheel scooter
4 Wheel Scooter
Better For Outdoor Use And Uneven Terrain
Not As Maneuverable As A 3 Wheel
Broader Stability
Heavier Than A 3 Wheel
Expect A Higher Price Point Than The 3 Wheel
Class 2 and 3
Class 2
Class 2 scooters are restricted to 4 mph on pavement and cannot be used on the road.  In most states, you do not need to be licensed to operate a class 2 scooter, and it does not need to be registered. 
Though seat belts are not usually required with a class 2 scooter, it can be wise to wear one.  Seat belts will better secure you if you come upon potholes or have to stop suddenly.  However, you will want to check with your local laws to be sure you are compliant with the regulations in your area.
Class 3
Class 3 scooters can run up to 8 mph – this is about twice as fast as an average person walks.  Class 3 scooters can be used on the road; however, check with your local laws to see what is allowed in the area you will be driving.
You do need to be licensed, and the class 3 scooter does need to be registered, and seat belts are required. But again, check with your local department of motor vehicles to be aware of your local laws.
Mobility Scooter Batteries
Charge Distance and Battery Life
Travel distance or battery range on a single charge varies from scooter to scooter but usually ranges from 6 to 20 miles.  Some higher-end models can get up to 45 miles on a single charge.
The life of the battery depends on how often the scooter is used. If used daily, the battery will last, on average, 18-24 mths. If you use the scooter less, say once a week, it may last up to 3 years.
Portability
Will you be using your scooter away from home?  If you are, then you want to consider a portable scooter, one that is foldable. Something else to consider is if travel by plane, you'll want to be sure that the motorized scooter is approved by the airline. Some of the benefits of portable scooters include being compact, lightweight, and easy to maneuver.
If you are buying a scooter that is not foldable, there are racks you can purchase for the back of your car to transport your scooter. Best Mobility Scooter Transport Racks Buying Guide
Handlebars
Standard Handlebars have thumb levers that control the forward motion of the scooter.
Wrap Around – Allow for both left and right-handed operation.  This allows for the wrist to rest on the bar.  A good option if you have hand strength or dexterity limitations.
Safety Features
Safety should be a priority when considering any type of mobility scooter. Some safety features to look for are headlights, rear lights, turn signals, rearview mirrors, and anti-tip wheels.
Seat Size and Adjustability
The average width of most mobility scooters is somewhere between 16″ and 18″. Some scooters come with the option to upgrade to a wider seat. Also, a height adjustment option for the seat will allow you to fit comfortably, given your height.
Another feature that makes getting on and off a mobility scooter easier is a swivel seat that swings outward.
Speed
Mobility scooters usually have a speed of somewhere between 4 mph and 18 mph. The average is on the lower end of this spectrum, somewhere between 4 and 5 1/2 mph. Be sure when looking at purchasing a new mobility scooter that the driver is able to handle the speed with ease and able to have a quicker reaction time the higher the speed.
Suspension
An option with scooters is suspension. Some scooters have suspensions that will absorb some of the impact when riding over uneven surfaces making for a more smooth ride. If you suffer from back issues, a scooter with suspension is an excellent option to make the ride more comfortable.
Terrain
Will you be using your scooter primarily for outdoor use, or are you looking for one that will be utilized inside your home? You might not think this would be an issue; however, if you plan to ride your scooter outside, you want to have one that can handle bumps, grass, gravel, hills, and other types of terrain you might encounter.
Weight Capacity
The weight capacity of an electric scooter is how much weight the mobility scooter can withstand. This includes the weight of the rider plus any other items on the scooter.  You can find scooters with a weight capacity of 250-450 lbs., but each model is different. When looking for a scooter, you want to be sure the rider fits the weight capacity that the scooter is intended for.
Heavy duty electric scooters, at times called bariatric scooters, have a higher weight capacity. Many times this type of heavy duty scooter will have a maximum weight capacity of 450 lbs.
Accessories
There are many accessories for scooters.  Maybe you want lights, mirrors, or a basket.  If these are important to you, then, by all means, look for them in your scooter package.  But, also remember that many accessories are sold separately, so even if they don't come with the scooter, you may be able to purchase them separately.
To read about some accessories that are available, I wrote an article, "Best Mobility Accessories" – there may be some accessories you haven't thought of that you would find beneficial.
Anti-theft Devices
Most scooters do not come with an anti-theft device. Since you're spending a lot of money, you will want to invest in some type of anti-theft device, whether it's a lock or alarm, to deter theft. You will also want to look into insuring your scooter to cover liability and theft.
Insurance
Insurance is not required on a scooter; however, it is strongly advised that people take out insurance to cover personal safety, other people's safety, and the vehicle's value. Again, check the laws in your area.
Warranty
When looking at a scooter, an important component you don't want to overlook is its warranty. Since each brand and model have different warranties, this should be part of your purchasing decision. Will the company be there if your scooter should break down? Does the battery come with a warranty? What about the drive train? Again, this can be an important part of your purchase decision.
Price
When looking to purchase your mobility scooter, the price can be a significant factor.  Mobility scooters can range anywhere from $700 up to $5000 and more.  Look at your budget and know what you can afford before looking – this way, you can see what is available for the amount you want to spend.  No sense in looking at a $7000 scooter if your budget is $900. With so many mobility scooters on the market, you are sure to find one to suit your needs and budget
You Might Also Be Interested In Reading: Best Mobility Scooter Transport Racks
FAQs About Mobility Scooters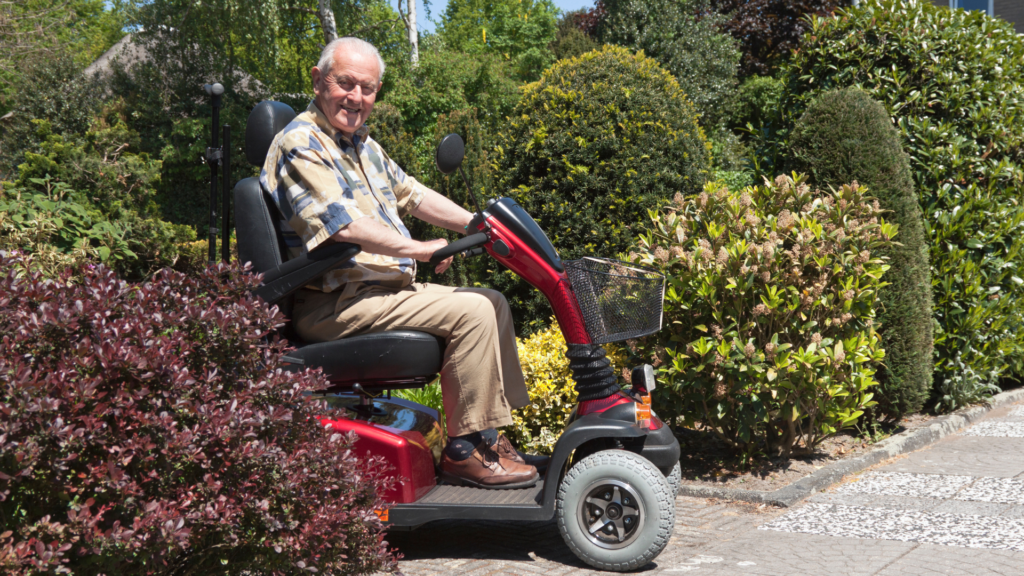 1. Which scooter is best for older adults?
When it comes to scooters for older adults, there are a few factors that you need to take into account. First and foremost, the scooter needs to be easily maneuverable.
Older adults are often prone to falling, so it is important that the scooter is easy to get around on.
Additionally, it would be best to make sure that the scooter is durable and able to withstand a lot of wear and tear.
Another important consideration is the seat. Many older adults suffer from mobility issues, so a comfortable seat is key. Some scooters come with adjustable seats that make the fit better.
Finally, it is important to find a scooter that is lightweight and easy to transport. Many older adults do not have the strength or mobility to carry a heavy scooter around.
So, what are the best scooters for older adults? It comes down to the specific needs and preferences of the individual.
2. What are the benefits of mobility scooters?
Mobility scooters are specifically designed to help people with disabilities or chronic conditions become more mobile and independent. Additionally, other benefits are improved mood and self-esteem gained from the added independence.
3. How much does an electric scooter cost?
Typically, electric scooters cost between $700 to $5,000 and up. There are a variety of different types and models to choose from, which many times dictates the cost.
---
Related Articles
You Might Also Be Interested In Best Folding Shopping Carts or Challenger Mobility Scooter Trailer Review
---
Conclusion
Purchasing an electric scooter for seniors can be a life-changing event. Whether a shopping trip, a vacation, or just getting out and around can be a new adventure.
With all the mobility scooters on the market, I hope in reading Electric Scooters for Seniors – Buying Guide, you have gained insight into the options to consider when purchasing your scooter. Consider all the options and carefully make your purchase based on what you want and the choices you find important. You don't have to buy all the bells and whistles up front; there are always add-on accessories you can buy at a later time. Remember, a scooter is a motorized device, so stay safe and enjoy your new-found mobility.
Disclaimer: This article is provided solely as guidance and does not constitute legal advice. You are responsible for knowing and following the laws that pertain to mobility scooter use in your local area or state.
Do you have any experience(s) with purchasing and riding electric mobility scooters? I would love to hear about them. Please comment below.