Best Electric Scooters For Adults – 2022 Buying Guide compares and reviews five electric scooters; Vive, Metro, Drive Medical Phoenix, EV Rider, and Ewheels. Mobility scooters are an excellent resource for seniors and others who may have limited mobility.
Are you looking for a way to get around more easily and comfortably? Are you considering purchasing an electric scooter? There are some great scooters on the market that work for adults. Take a look at this post for insight into some of the best electric mobility available.
A comprehensive side-by-side comparison chart can be found toward the bottom of this post.
Quick Preview Table
Why You Should Get A Mobility Scooter
People with limited mobility often find it challenging to travel from place to place. Electric Mobility scooters are perfect for anyone but especially for those with limited mobility who find it difficult to travel from place to place. Mobility scooters are simple to operate, and they can be taken almost anywhere.
Some people use mobility scooters for transportation, while others use them for daily use and leisure activities such as shopping, going to the park, touring, or visiting friends.
What to Look for When Buying A Mobility Scooter
With so many different mobility scooters on the market, it can be difficult to make a choice. To help narrow down your choices, it's important to decide what features you want.
Everyone has different preferences on what is important or not when deciding on a mobility scooter, but I want to offer my opinion on the most important features that a mobility scooter should have.
No matter what, you will want to consider the different features available and the right scooter for you and your lifestyle. If you would like to read some basic information about mobility scooters, see What Is A Mobility Scooter?
Size
A couple of things to keep in mind when it comes to the size of the scooter. One is, will it fit you comfortably, will the seat size be accommodating enough to be comfortable?
There are portable scooters that make them easier to transport. However, will the size of the scooter itself be able to fit in a car if you plan on transporting it in the trunk? Also, do you have a place that is large enough to store the scooter?
Weight Capacity
Weight capacity is yet another important aspect for you to consider when buying a motorized scooter. Therefore, make sure that the capacity of the scooter is enough to carry your weight comfortably.
How Many Wheels?
Do you want a 3 wheel scooter that can usually maneuver smaller spaces or a 4 wheel scooter with added stability?
Lights
To get the most safety precaution when it comes to lights, it's best to have headlights and brake lights. Some mobility scooters have turn signals as well. Lights are especially important at night but can add some safety for daytime use as well.
Easy Transportation
If you plan on transporting your scooter, look for one that can be quickly disassembled or that folds.
Speed
Is able to go at a faster speed important to you? It may not be, but if it is, be sure to research the miles per hour the scooter is able to go.
Drive Range and Battery Life
Mobility scooter batteries and their driving range do vary from scooter to scooter.
Do you plan on driving your scooter a certain amount of distance? If so, be sure the battery range is within the mileage you will want to go – don't forget to count the miles round-trip. You don't want to end up being stuck miles from home with a dead battery.
Price
When looking to purchase your mobility scooter, the price can be a significant factor.  Mobility scooters can range anywhere from $700 up to $5000 and more.  Look at your budget and know what you can afford before looking – this way, you can see what is available for the amount you want to spend.  No sense in looking at a $7000 scooter if your budget is $900.
Warranty
When looking at a scooter, an important component you don't want to overlook is its warranty. Since each brand and model have different warranties, this should be part of your purchasing decision. Will the company be there if your scooter should break down? Does the battery come with a warranty? What about the drive train? Again, this can be an important part of your purchase decision.
Features
Maximum Speed 3.7 mph
12.4-mile Drive Range
3 Wheel
Non-marking Tires
Speed Control
Seat

Swivel
Height Adjustable
Padded

Armrests – Flip Up
Forward and Reverse Capabilities
Horn
Front Basket
Weight Capacity 265 Lbs
Additional Information
Disassemble Into 4 Pieces To Transport – Heaviest Piece 29 Lbs
Battery with Charger
5 Year Limited Guarantee
Pros
Can Be Quickly Disassembled For Transport
Drive Range
Price Point
Cons
3 Wheels Offer Less Stability Especially On Uneven Surfaces, Gravel, Grass
Limited Legroom
Can Tip
Review
The Vive Mobility Scooter 3 wheel scooter is an excellent option for those looking to get around the city with ease. Suitable for both indoor and outdoor use. With a speed of up to 7 mph, a 14-mile drive, and a weight capacity of 265 lbs., this scooter can easily maneuver over smooth surfaces and is perfect for getting around town.
The comfortably padded seat is height adjustable and has armrests that are padded so that you can rest on your way to your destination.
The front basket is perfect for carrying small items with you.
You can disassemble the scooter into four pieces for easy transport.
The Vive comes with a rechargeable battery and a charger for easy recharging.
The Vive 3-Wheel Mobility Scooter does have a great price point and has received many positive reviews.  My worry about this scooter is the reported tipping issues.
---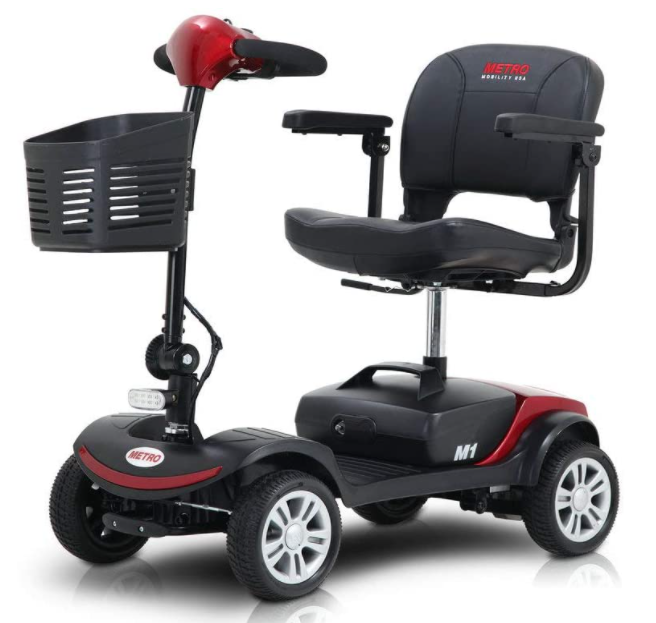 Features
Maximum Speed 4.97 Mph
Up To 15-20 Miles Drive Range
4-wheels
Tires

9″ Pneumatic Tires
Flat-free Tires

Turn Radius Of 59 Inches
Climbing Angle – 8 Degrees
Forward and Reverse Capabilities
Seat

Swivel
Height Adjustable
Back Rest – Folds Down

Padded Armrests That Flip Up And Width Are Adjustable
Tiller – Adjustable
Handles

Ergonomic Wraparound Handles

Headlight
Rear Brake Light
Horn
Large Plastic Carry Basket
Interchangeable Color Panels
264 Lb Weight Capacity
Additional Features
12 Ah Battery and Charger
Disassembles Into 5 Pieces For Transport
Warranty
Limited Lifetime on the Frame
24 Months on Electronics
12 Months on the Batteries

If You Want To File A Claim On the Batteries, You Will Need To Have A Valid Load Test Reading Showing That The Batteries Are Faulty.
Dimensions
Pros
Swivel Seat For Easy Accessibility
15-20 Miles Driving Range
Warranty
Cons
Can Be Heavy to Load Into A Vehicle
Review
The Metro Mobility Scooter is perfect for those looking for a lightweight, compact, and durable mobility scooter. It has an adjustable height, seat, and armrests for comfort. This scooter has a maximum speed of 4.97 mph and has a 15-20-mile drive range.
The swivel seat makes it easier to get in and out of.
Being a four wheel scooter, it has the advantage of being more stable compared to a 3 wheel scooter.
The Metro Scooter has many features that make it easy to operate, such as the tiller being adjustable. Also, the ergonomic wraparound handles let you operate the scooter with one hand while you rest your wrist.
Included are the rechargeable battery pack and charger.
It also has a basket at the front which can be used as a storage space or to carry items.
The color panels are interchangeable, giving you the choice of red or blue.
This scooter has a weight capacity of 264 lbs.
The Metro Scooter can be disassembled into five pieces. This makes it easy to transport and store and can easily fit in the trunk of a car.
The limited warranty is another selling point.
---
Features
4 Wheels
Maximum Speed 4mph
Up To A 15-mile Driving Range
Interchangeable Color Panels In Red And Blue
Headlight
Forward and Reverse Capabilities
Plastic Carry Basket
Seat

20″Wide
Height Adjustable
Swivel
Two-tone Upholstery
Fold Down Backrest

Armrests: Padded And Adjustable
Tiller – Adjustable
Ergonomic Throttle Control
Tires

Flat-Free
Wheels – Anti Tip
Non-marking Tires

350 Lb Weight Capacity
Charger
Additional Features
Easy Disassembly
2 – 12V x 20AH Batteries
Dimensions
Seat Dimensions: 20″
42″(L) x 23″(W) x 36″ (H)
129lbs
Pros
350 lb Weight Capacity
Wide Seat
Review
The Drive Medical Phoenix Mobility Scooter is an excellent option for those who need a scooter for daily activities. It is easy to control and, with its wide seat, is very comfortable to ride. The scooter also has a storage basket that can store your belongings.
When looking at heavy-duty scooters, the Drive Medical Phoenix is a great option to consider. It has many features that make it a great choice for those who need a durable and reliable scooter.
Here are some of the pros, cons, and key features of the Phoenix Heavy Duty Scooter:
1. The Phoenix has a durable frame that can hold up to 350 pounds.
2. It has a long-lasting battery that can travel up to 15 miles on a single charge.
3. Can be d

isassembled for transport

.
However, there are also some drawbacks to this scooter. Here are the  cons:
1. The Phoenix is a bit heavy, so it's not as easy to transport as some other scooters.
2. It also costs a bit more than some other models.
Overall, the Drive Medical Phoenix is a great choice for those looking for heavy-duty scooters. 
---
EV Rider Transport Plus – Manual Folding

Scooter
Features
Three-step Foldable Scooter
4 Wheels
10 To 15-mile Range Per Charge
Forward and Reverse Capabilities
Speed Maximum Of 4 Mph
Tiller – Adjustable
Articulated Front End Adds To Greater Stability
Front And Rear Lights
Horn
Key Operated
Removable Seat
Speed Control Dial So You Can Control The Maximum Speed.
Weight Capacity 250 Pounds
Additional Information
270 Watt 4-pole Motor
The Transport Weighs A Total Of 70 Pounds, However, The Seat And Battery Can Be Removed To Make It Only 46 Pounds For Easy Lugging And Travel.
Dimensions – Unfolded
Overall Length 36″
Overall Width 24″
Overall Height 38″
Pros
Foldable
Stability
Adjustable Tiller
Cons
Arm Rests Sold Separately
If Transporting It Can Be Heavy To Lift In And Out Of The Vehicle
Battery Life – Might Want To Consider A Backup Battery
Review
The EV Rider Transport Plus is an excellent option for those looking for a manual folding electric scooter. This scooter is easy to fold up and transport, making it ideal for taking with you on trips. It also has an adjustable comfortable seat that can accommodate a variety of users.
However, though it does fold, it can be heavy to take in and out of the car. If you find it too heavy and don't have anyone to help you – you can remove some items to make it lighter and reattach it.
Also, with a top speed of 4 miles per hour, it doesn't have the speed of some of the other mobility scooters.
Overall, the EV Rider Transport Plus is an excellent option for those looking for a manual folding mobility scooter that is comfortable and easy to transport.
---
Features
3 Wheels
Min Speed – 1 mph
Maximum Speed – 18 mph
Up To 45 Mile Long Driving Range
Seat
Lights

Headlights
Taillights
Turning Signals

Mirrors
Safety Belt
Anti-Theft Alarm System
Storage

Basket
Under-Seat
Lockable Glove Compartment

Front and Rear Suspension
Rear Shock Absorbers
Electromagnetic Brakes
Rear Wheel Anti-Tippers
Cup Holder
Weather Cover
Weight Capacity – 350 lbs
Warranty
Frame: 3 years
Electronics: 1 Year Limited
Batteries: 6 Months

If You Want To File A Warranty Claim On The Batteries, You Will Need To Have A Valid Load Test Reading Showing That The Batteries Are Faulty

Chargers: 90 Days
Labor And Service Calls Are Not Included
Pros
Anti-Theft Alarm
Speed
Driving Range
Review
The Ewheels Ew-36 Elite Recreational Electric Mobility Scooter for Adults with Electromagnetic Brakes is an excellent choice for anyone looking for an electric scooter that has some speed as well as a more extended driving range.
One of the best features of this scooter is the electromagnetic brakes. They provide a much smoother stop than traditional brakes, which is important for safety.
Having headlights, brake lights, turn singles, and two mirrors add to the ride's safety.
Another feature that stands out is the storage areas. There are three places you can store your personal items; the basket, under the seat, and in the lockable glove compartment.
But with all of the good features, there are a few downsides to the Ewheels Ew-36 Elite Mobility Scooter.
The first is that it is a bit more expensive than some other scooters on the market.
The other downside is that it is a bit heavier than some other scooters, so it may not be as easy to transport.
Overall, the Ewheels Ew-36 Elite Recreational Electric Mobility Scooter is an excellent choice for anyone looking for a high-quality electric scooter.
Comparison Table
| | | | | | |
| --- | --- | --- | --- | --- | --- |
| Features | Vive | Metro | Drive Medical Phoenix | EV Rider Transport – Manual | Ewheels |
| | | | | | |
| Rider Weight Capacity | 265 lbs | 264 lbs | 350 lbs | 250 lbs | 350 lbs |
| Number of Wheels | 3 | 4 | 4 | 4 | 3 |
| Dimensions Unfolded | Not Stated | 44 (L) x 36 (H) inches | 42″(L) x 23″(W) x 36″ (H) | 36 x 24 x 38 inches | Not Stated |
| Seat Dimensions | Width – 16.9″ | Not Stated | 20″ | Not Stated | Not Stated |
| Max Speed | 3.7 mph | 4.9 mph | 4 mph | 4 mph | 18 mph |
| Drive Range Per Charge | 12.4 Miles | 15-20 Miles | Up to 15 Miles | 10-15 Miles | Up to 45 Miles |
| Swivel Seat | Yes | Yes | Yes | No | No |
| Adjustable Seat | Yes | Yes | Yes | No | No |
| Arm Rests | Yes | Yes | Yes | No | Yes |
| Accessories | Basket | Basket | Basket | None | Basket |
| Charger | Included | Included | Included | Included | Included |
| Folding | No | No | No | Yes – Manual | No |
| Lights | Yes | Headlight and Brake light | Yes | Yes | Yes |
| Stability Features | None | Wheels – Anti Tip | Anti-tip wheels (not tip-proof) | Articulated front end adds to greater stability | Rear Anti-Tip Wheels |
| Tiller – Adjustable | Not Stated | Yes | Yes | Yes | No |
| Battery | One | 12 AH | Two 12V | Not Stated | 8V 20Ah Battery |
| Price | Price | Price | Price | Price | Price |
FAQ's for Mobility Scooters
Here are some commonly asked questions about Mobility Scooters
1. Are Mobility Scooters Airline Friendly?
Federal law requires all US airlines to accept power mobility scooters at no charge. Most airlines do want notice, so you'll want to tell them that you're traveling with a mobility scooter when you book your ticket. You'll ride it to the gate; they'll stow the scooter and then return it to you at the end of your flight. Also, it would be best if you asked the particular airline you will be using to be sure before buying your ticket.
2. Are Mobility Scooters Street Legal?
No, most mobility scooters are not street legal. I'm not referring to bike lanes but actual motor vehicle lanes. It would be dangerous to do so. The speed of many mobility scooters is slow, and the small size might make them hard to be seen by drivers of automobiles; however, if this is something you really want to do, check with your local government offices to see if they do allow it in your jurisdiction.
3. Can I Rent a Mobility Scooter?
Yes, many medical rental companies have mobility scooters they rent out. If you are going to be using the scooter for the short term, this would be an excellent option. However, if you will be using the mobility scooter for an extended period of time, then it will probably be better to purchase one.
4. What Are the Differences Between 3 Wheel and 4 Wheel Mobility Scooters?
3-Wheel
Good For Indoor Use
Sharper Turning Radius
Fits In Smaller Spaces
More Legroom Because Of The Absence Of The 2nd Wheel In Front
Not As Stable As A 4-wheel
Usually Lighter Than The 4-wheel
Lower Price Point Than The 4-wheel
4-Wheel
Better For Outdoor Use And Uneven Terrain
Not As Maneuverable As A 3 Wheel
Broader Stability
Heavier Than A 3 Wheel
Expect A Higher Price Point Than The 3 Wheel
---
You May Also Be Interested In: Challenger Mobility Scooter Trailer – Review
You Might Also Be Interested In Best Folding Shopping Carts
---
Final Words
I hope that in reading Best Electric Scooters For Adults – 2022 Buying Guide, some of your questions have been answered in exploring these mobility scooters. 
With all products, features can change, so before purchasing, be sure the features that attracted you to the product are still the same.
There's no doubt that scooters can give you a new lease on life, as they have done for many others. I hope it is the same for you.
With so many mobility scooters on the market, you are sure to find one to suit your needs and budget.
Have you purchased or are you looking at purchasing an electric scooter?  What was your experience in doing so?  I would love to hear; please comment below.