There are different walkers suited to an individual and what their needs are. Different Types of Walkers For The Elderly: Learn Here! explores different types of walkers and who they are best suited for.
According to the statistics, a walker is the most common external aide used by the elderly. For many seniors, the walker is a necessity for them because it improves their mobility and helps them maintain balance and confidence while carrying out their daily tasks. It also provides gentle support and allows seniors to explore their surroundings with ease and comfort.
Before getting started with exploring different styles of walkers let's discuss what a walker is and what features to look for when considering a purchase.
What is A Walker
A walker is a mobility aid that helps those with limited mobility and is constructed with frames designed to support its users in walking. Most walkers work by extending their owner's leg so they can walk with better balance and mobility. The different wheeled walkers are best for those without lower-body issues or who use wheelchairs.
Whether someone is aging in place at home or in assisted living and if dealing with balance or mobility issues, walkers are a safe cost-effective way to help maintain an active lifestyle.
Walkers allow walkers to get outside and use public transport as they need it. They also make outdoor walks safer, accessible, and refreshing with proper maintenance of the walker. Wheeled walkers come in different sizes that suit individual needs.
What Features To Look For In A Walker
There are different walkers on the market, and each type offers a different function. Wheeled walkers roll, while other standard walkers provide both mobility and balance assistance, making them more versatile than those that roll. Walkers come with many features, and some of the important ones to consider are:
Accessories
Consider what standard accessories the walker comes with. Accessories like a personal item bag, storage bag, and cane or cup holder are excellent additions.
Adjustability
Having a good fit is essential. Most standard walkers and walker products include a height recommendation. You will get a better fit with a walker that has adjustable height with having adjustable legs and armrests. You'll also want to ensure that the seat width will be comfortable for the user.
Brakes
If you're looking at a wheeled walker having handbrakes is essential in reducing the risk of the walker rolling away, especially on a slope.
Stability
Having a good solid, stable frame is essential. If the structure is too weak or wobbling, you risk tripping or falling. Most walkers have a steel/metal or lightweight aluminum frame.
Seat
If you want to have the ability to sit down, then you want to look for a walker that comes with a seat. Some seats are padded and are covered with fabric or vinyl. Some walkers also come with a backrest that makes it more comfortable when setting.
Transport and Storage
If you plan on storing or transporting the walker, you'll probably want a folding walker, at least to some degree.
Weight Capacity
The amount of weight a walker can support is essential in your consideration. You want to be sure the walker gives enough stability to the user and can support their weight.
Wheels
There are two types of wheels you will encounter in your search for the perfect walker; Wheels that are rigid in that they don't turn and swivel wheels that do turn and make for easier steering and maneuvering in tight spaces.
Different Types of Walkers
Basic/Traditional/Conventional Walker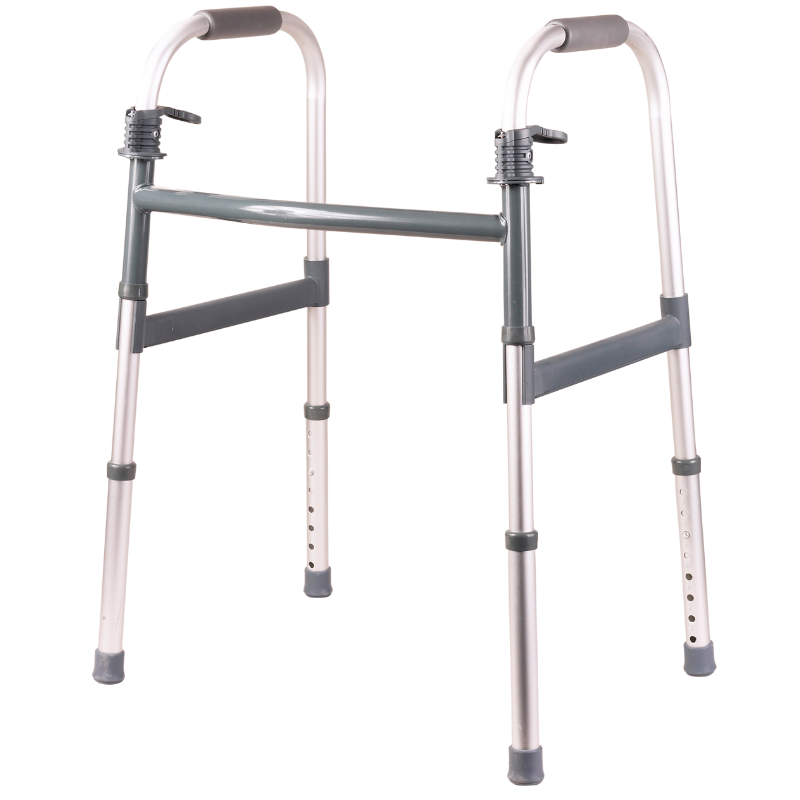 The Standard Walker has many names including basic walker, traditional walker or conventional walker. It is one of the most common walkers for older adults, seniors, and the elderly. When you think of standard walkers, this is what usually comes to mind. This is often the type of walker you use after a medical procedure.
The Standard Walker consists of two handles and four legs. They have rubber tips on the legs. The rubber tip legs are there to prevent the walker from rolling forward.
The motion of using a standard walker is lifting the frame, placing it in front of you, and then stepping forward. This is repetitive in that the user does this with each step.
Standard Walkers are a good option for those who just need a walker for indoor use to move around their own home. They are lightweight so that you can carry them from room to room. A Standard Walker is also foldable for easy transport.
A downside to the standard walker is many times the user is slouched or hunched over looking at the ground instead of out in front. This can cause bad posture and back, shoulder, and wrist pain.
Standard Walkers are suited for those who can stand with their bodyweight alone. Basic Walkers are also suitable for seniors who want to practice balance and coordination without breaking the bank.
Basic walkers are one of the lower cost walkers averaging anywhere from $30 on up.
Fold and Go Walker
A Fold and Go Walker is a basic type of two wheeled walker. It is a lightweight walker that easily folds for easy storage and transport. Most fold and go walkers have two small wheels in the front that will be fixed or swivel depending on the model.
The folding of this two wheel walker is much like you have with an umbrella stroller.Also, some will come with a pouch for carrying small personal items.
The fold and go is a simple two wheeled walker ideal for traveling and using around the house. A folding walker is also perfect for someone that needs a walker for just a short period of time.
Rollator Walker
A Rollator walkers is also known as a rolling walker. Rollators have wheels and this is what distinguishes Rollators from Basic Walkers. With a rolling walker, the user is rolling rather than manually lifting the legs of the walker with each step. This increases balance as well as stability when walking.
Rollators provide much better mobility than non-wheeled walkers, and they are ideal for seniors or patients with limited endurance or upper body strength because you don't have to move them every time you walk a few inches forward.
Rollator walkers come in different designs with different types and numbers of wheels; the three wheel walker, the four wheel walker, and swivel-type and non-swivel.
Four wheel rollators come with two wheels at the front and back of the walker frame. Rollator walkers are known for their safety and mobility. They provide you with the same stability and support that standard walkers do, but they have a wider base to ensure your footing is secure.
Rollators have brakes that slow you down and many have a seat for you to rest if needed. When you get to a standstill, the wheels can be locked to restrict the rollator from rolling away. The front wheels are usually swivel and perform the steering in most models, much like a car.
Depending on the materials used in construction and the features included, such as storage baskets, drink holder, cane, or phone holder you can expect to pay anywhere from $100 – $500 to a few thousand dollars.
Support Walker
Like the one shown above, a support walker isn't one you will usually see in a home or out and about, but I still wanted to touch on it in case you've heard the name and wanted to know if it would be suitable for you or a loved one.
A support walker is usually found in hospitals or other institutions. They also go by the name of a therapy walker, cardiac walker, or safety walker.
A support walker provides added security and safety for users when recovering from surgery. These may be used by a physical therapist for rehab purposes and exercise therapy.
They usually come with four wheels and don't have a lot of frills. Some will have padded armrests for comfort and hand brakes. Still, others come with a lifting device that assists in getting a person into a standing position, especially when used for physical therapy.
The cost of a support walker can be pretty pricy, starting around $1000 and going up in price from there.
Upright Walker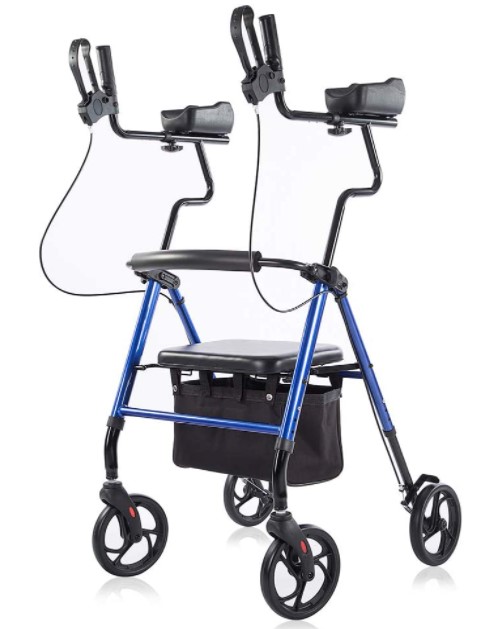 An Upright Walker, also known as a Stand Up Walker, is a walker that allows the person to stand and walk in a secure upright position without hunching over. This type of walker has been specifically designed to enable people who have trouble walking on their own to enjoy increased mobility and confidence. 
An upright walker is a four wheel walker with armrests and either soft foam or hard rubber hand grips. This places the user in a more secure upright position giving better posture and less pain as well as extra stability than found with the traditional walker.
Besides allowing the user to stand upright, they also decrease the risk of falling because the user looks straight forward and not down at the ground like they do with other types of walkers. This also reduces slouching and encourages the user to stand tall, which increases confidence and comfort.
Upright walkers are perfect outdoor walkers as they usually have a fabric or padded seat if the user requires to stop and rest.
You can expect prices for an upright walker to run from $150 on up.
FAQs about Walkers
1. How do I choose the right type of walker?
There are many different types of walkers on the market, and it can be challenging to decide which one is the best for you.
The first thing you need to do is determine your needs. Some common needs for walkers include: being able to stand up straight, being able to move around easily, having a seat, and having a smooth ride.
After you have determined your needs, you can begin to look at the different types of walkers available on the market.
Overall, it is important to choose a walker that will meet your specific needs and preferences.
2. How long should I use a walker before switching to another type of device?
There is no definite answer to this question as it depends on the individual's needs and preferences. Some people may prefer to use a walker for a more extended period of time, while others may find it more comfortable to switch to a different type of device sooner.
Ultimately, it is up to the user to decide when they feel the need and are ready to switch to a different type of device.
3. What is the safest walker for seniors?
There is no one-size-fits-all answer to this question, as the safest walker for seniors will vary depending on their individual needs and preferences. However, some of the factors that you should consider when choosing a walker for seniors include:
• Weight Capacity Of The Walker
• Type Of Walker
• Height Of The Walker
• Stability and Durability Of The Walker
Related Articles
Takeaway
Walkers are essential to helping many seniors live independently. They can help keep them mobile and active and enable them to stay independent at home. Walkers can also help prevent falls by keeping their balance, walking safely around obstacles, and providing a secure grip when moving around.
There are many different types of mobility products when it comes to walkers for the elderly, so it's important to make sure you choose the correct walker for your needs; whether it's a basic walker, a two wheel walker, rollator walker, or the upright walker. Also as in many things the best walker is one that is used.
By reading Different Types Of Walkers For The Elderly – Learn Here! I hope you can better understand the differences and have become a more informed consumer.
Do you have experience in using or purchasing a walker? Please comment below.