Club Car Accessories – Buying Guide discusses some accessories, their features, and pros and cons that can add value and comfort to your Club Car Golf Cart.
The truth about accessories is that not everyone wants to accessorize their golf carts. But when you have a Club Car Golf Cart, you've made a purchase worth accessorizing. Not only worth accessorizing but accessorizing with the quality known to the Club Car brand.
Why You Should Get Club Car Accessories
When you have a Club Car, you have a top-of-the-line golf cart. You don't want to accessorize it with any generic brand. In keeping with the Club Car Golf Cart experience, you'll want to have authentic parts and accessories.
What to Look for In Accessories
Does It Fit Your Club Car Golf Cart?
If you buy off-brand accessories, they may not fit perfectly like a Club Car part, or accessory explicitly made for Club Car Golf Carts. The fit will be better being that it's made with Club Car Golf Carts in mind.
Safety 
First and foremost, you want any accessory to provide quality, and with that quality, you want safety. Are the edges of the floor mats flat to avoid tripping? Are the mirrors the right size? Are the seats secure?
Assembly
Is the product you're considering easy to assemble? Is it something you'll be able to assemble yourself or one that you will need some help on?
Shipping
Who is paying for the shipping? Who pays for shipping if the item needs to be returned?
Return Policy
What is the return policy? What happens if you get your part/accessory and it isn't the color you wanted, or you don't like the look. Are returns allowed? How long do you have to return the product? Who pays for return shipping? What is their return policy, and what are the stipulations. You should find out before you purchase so you won't be disappointed to find out later that they are non-returnable.
Warranty
Is the product you're buying under warranty? What happens if there is some type of defect? Warranties have stipulations and limits. Be sure to read the warranty and understand it completely. If there is something you don't understand, contact the company to have it explained to you. 
Customer Service
What type of customer service does the company provide. Is it 24/7 or only available on weekdays? Is it via chat, phone, or email? Have others found their customer service to be responsive? You don't want to end up with a problem and have customer service non-responsive or their hours inconvenient to you?
You'll find that floor mats and liners are a valuable accessory to add to your cart.
Floor coverings for your golf cart help prevent dirt and grime from ruining the cart's floor. Floor mats and liners also protect against discoloration and deterioration, helping to extend the life of the flooring.
There are full coverage liners that cover from the dash to the seats and partial coverage that cover the foot area of the cart.
Floor mats and liners are easy to install and well worth the investment.
---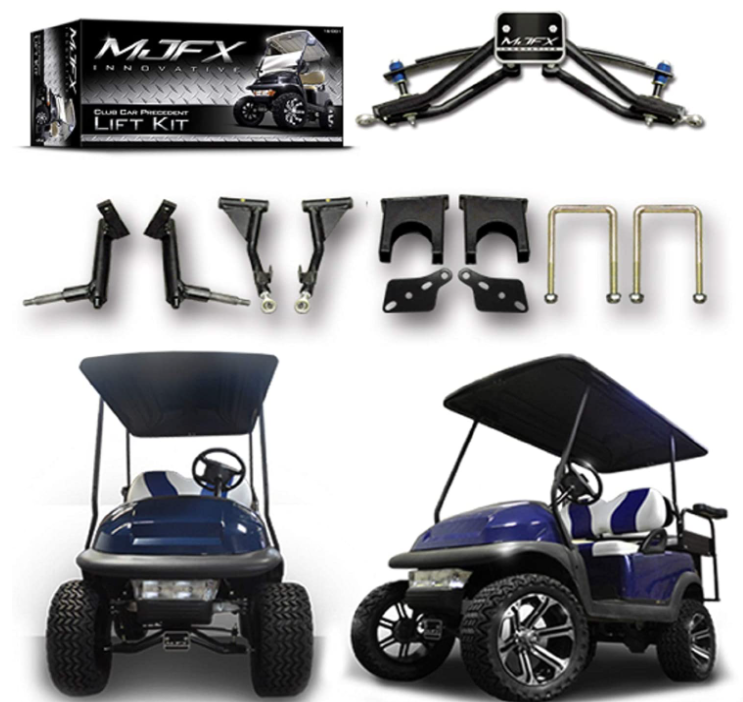 Lift kits give you club car higher clearance allowing you to use it over more types of terrain. They also add stability by having a wider stance, and you can add larger tires to the cart.
Lift kits come in different sizes allowing you to raise the height of the cart 3″, 4″, 5″, 6″, or 8″.
There are different types of lift kits. A few of the most popular are:
Drop Spindle Lift Kits

Used to Replace and Increase the Golf Cart Spindle Size and Length
Gives a Wider Stance
Increases the Stability

A-Arm Lift Kits

Replaces Much of the Front Suspension
Helps Cart Ride Smoother

Long Travel Lift Kits

Capable of Separating the Front and Rear Suspension
Used More For Off Road, Rough Terrain
You May Be Interested In: Club Car Lift Kits – The Best 3 
---
A rear seat replaces the bagwells (where you carry golf club bags) on the back of your cart with a rear-facing seat. Adding a seat to the rear of the cart allows for more passengers.
In addition to those rear seats being stationary, there are also fold-down models that allow you to still use the back area for transporting cargo when not transporting passengers.
---
To protect the investment you have made in purchasing your club car, you'll want to protect the seats. One of the best ways to do that is with seat covers.
In addition to keeping club car golf carts looking nice, seat covers will also protect your seats from cracking, sun damage, stains, dirt, and spills while enjoying yourself on the golf course.
In addition, they are a less expensive way of covering existing seats that may have torn or have other existing damage.
You might also want to add a different color or design to your existing cart, and a way to do that is with car seats.
Seat covers are relatively easy to install and come primarily with two installation methods.
---
Steering wheels among other purposes have the basic function of steering your club car in the right direction.
Steering wheels are available in a variety of colors, materials, designs, and styles allowing you to achieve a more custom look.
---
Club Car covers help protect the cart from weather elements such as snow, sun, wind, rain, hail, and UV damage.
A cover can also help protect the club car from getting accidental scratches.
If you store your cart outside without a cover, the cart can also become subjected to moisture, tree sap, and animals.
When looking for a cover, you want to keep in mind the type of fabric it is made from. A waterproof cover is ideal.
You also want to keep in mind how easy it is to take off and put on. If it is too difficult, you may forego putting it on and missing out on a cover's benefit.
---
Having a dashboard storage basket gives you a convenient place to put small items. This is perfect for such items as sunglasses, phones, towels, drinks, and golf balls.
Dashboard baskets are not universal in size or style Because of this be sure before you purchase one to be sure it is compatible with your particular club car.
---
Underglow LED light kits transform your Club Car into a fun look at night. Another idea is to change the color to correspond with holidays and festivities.
There are multiple colors available. Certain kits allow for modes such as flashing, strobe, color fade, sos flashing and even keeping time with music.  
---
Like with an automobile, I think of safety when I think of mirrors on a club car. You want to see who is behind and to the side of you.
Mirrors are mandatory if you will be driving on streets where it is legal to do so.
If your current mirrors have cracks or obstruct your view in some other way, now is the time to purchase new ones.
A few things to keep in mind while considering your purchase:
Adjustable – So Multiple Users Can Adjust To Their Field Of Vision.
Compatibility With Your Model Club Car.
Foldable – Can Prevent Damage While Not In Use.
Size – Be Sure Your Club Car Has the Needed Room For the Mirror You Are Considering.
---
Rear arm rests nowadays come with a cup holder. This is a perfect way to give your passengers a place to have their drinks.
Being that rear seat arm rests come in various colors, there is sure to be one that meets your design needs.
Many rear seat arm rests are easy to install with no drilling, which is an added plus.
---
FAQs About Club Car Accessories
1. How do I choose a good Club Car accessory?
Club Car is a popular and trusted name in the transportation industry, and its accessories are no different. When looking for a good accessory for your Club Car, it is important to consider a few things. First, you will want to consider the purpose of the accessory.
Second, you will want to consider the price. Some accessories are more expensive than others, but they may be worth the investment.
Third, you will want to consider the quality of the accessory. This is important because you do not want something that is going to break after a few uses.
2. Is there anything that I should look out for when buying a Club Car accessory?
It's important to be aware of the materials that the accessory is made from. Some materials are more durable than others, and some may be more susceptible to corrosion. It is also essential to ensure that the accessory is compatible with the Club Car model you are purchasing it for.
3. What is the difference between a factory-installed and aftermarket accessory for my vehicle?
Factory-installed accessories are designed and manufactured by the cart manufacturer and come with the cart when purchased. Aftermarket accessories are made by third-party manufacturers and are not typically included with the club car. Aftermarket accessories and club car parts may have better performance or be more aesthetically pleasing, but they may not be compatible with your club car's electrical system or features.
---
Related Articles
You Might Be Interested in Reading: Best Golf Club Sets For Senior Men
You Might Also Be Interested In Reading: 5 Best Golf Club Sets For Senior Women
---
Final Thoughts
With all products, features can change, so be sure the features that attracted you to the product are still the same before purchasing.
Because of its golf car's solid design (aluminum frames), the superb construction quality of its club car parts, and the brand name recognized all around the globe since 1958, Club Car is an industry leader. Adding accessories to your car gives it your special flare. In adding the accessories, you also want to keep the quality of your golf cart consistent with its originality.
In reading Club Car Accessories – Buying Guide, I hope you came away with what you should look for in your purchase and a clearer vision of suitable accessories for your club car.
If you have any stories or experiences with golf cart accessories, I would love to hear about them. Please comment below.