Remember the days of childhood when you would hop on a bike and explore the neighborhood, ride to the store, follow the mailman (yes we did, poor guy lol),
or just ride aimlessly around with a friend. That feeling of freedom on a bike ride doesn't need to be a distant memory. Bicycles and seniors – what's the saying, -Once you learn to ride a bike, you'll never forget. Hop on a bike and take a ride.
Benefits of Bike Riding
The benefits of bike riding are numerous. As always, remember, before starting any activity, you want to have your doctor's clearance to do so.
Being able to get outside and getting some fresh air can do wonders for the mind – did anyone ever tell you as a kid – go outside and get the dust off. The same can be true as an adult.
If you suffer from bad knees or hips, you probably don't want to participate in high impact exercises like running. Biking can be an excellent substitute for high impact activities.
You can even get your heart rate elevated for a cardiovascular workout- if you want a more vigorous workout, you can peddle faster or even change the gears to make it harder to peddle.
If you have limitations and do not have easy access to the outside, a stationary bike is a great alternative for getting in some activity.
Whether outside or on a stationary bike – biking is a great non-impact activity.
Social interaction is another benefit when you go riding with someone else.
How about bike riding with your children or grandkids and spending time across-generations making memories.
You can search the internet for group rides in your area.
There are also biking tours you can participate in.
Safety First
There are more safety precautions to take when riding a bike today than when we were kids. You want to be sure to follow the rules of the road.
Road Rules:
Ride with traffic.
If available, use bike lanes.
Cross the street at crosswalk – but never assume you'll be given the right-away.
Obey traffic signals and stop signs
Use hand signals

Left-arm bent up at elbow – right turn.
Left-arm straight out point toward left – left turn.
Left-arm bent down at elbow – slowing/stopping.
Helmets:
Even though you might not think you will fall or come in contact with a car, you just never know. If it should happen, you want to be sure your head is protected.
The use of helmets is controversial, and you can do some research and decide for yourself, but I, for one, feel better using one.
Ride in Groups
Bike Checklist
Before hopping on your bike, do an overall check of the bike.
Be sure the tires are inflated and show no signs of wear.
Check the brakes to be sure they are in good working order.
Check the chain – is it running smoothly?
Even after checking your bike, there is a possibility that something could happen. It's a great idea to bring a repair kit along on the ride. It will come in handy for minor repairs; for instance, if you get a flat tire – you'll have the tools necessary to fix it, even if it's a temporary fix to get you home or to a bike shop. You can purchase a repair kit that has items you will most likely need on the road or purchase individual items for your kit:
Spare Tube
Patch Kit
Pump
Tire Lever – helps pry the tire off the rim.

Multi-

Tool

– look for a tool that has wrenches, screwdrivers, and a chain tool all on one device.
There are bike shops that offer repair classes, so you will know what to do if you need to repair something on your bike – especially when out on a ride.
In addition to a repair kit, you might also want to bring a cell-phone and some money in case you stop for snacks or need it for some other reason.
Biking Groups and Clubs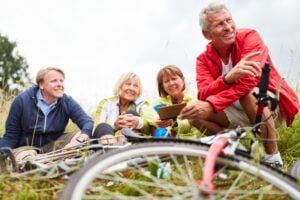 If you like to ride in groups, there are many biking groups available. I know my local bike shops have groups that meet weekly to go for various rides for different riding expertise – from beginners to those who race.
Check to be sure the type of bike you have is what most of the other riders have. Once I searched the internet and found a biking group that went out to breakfast after riding on Sunday mornings. I went for the group ride using my mountain bike when all the other riders had street bikes. Guess who arrived last?
Some companies like Viator provide tours on a bike. How much fun would it be to tour the east coast when the fall foliage arrives. How about riding throughout the Rockie Mountains and exploring Colorado, or perhaps you are looking to tour the Wine Country. Many of these tours also allow time for discovering the area and not just biking all day.
What Type of Bike Is For You?
There are so many different types of bikes, and you might be wondering what kind is right for you. Here are a few of the more common bikes to help you out.
Road/Street

Fast
Thin tires
Usually has gears

Mountain

Fat or wide tires
It can be used on rugged off-road trails.
I used a mountain bike also for regular street riding, but it is slower than a road/street bike.
Slower than street bikes
Has gears

Cruiser

Upright riding position
Mostly single or 3 speeds
Coaster brakes
Use on flat surfaces

Hybrid

A combination of a street/road bike and a mountain bike.
Not as efficient as a street bike.
It can be used on dirt trails but not rough, rugged off-road trails.

Recumbent

Full seat with backrest.
Legs are more out in front of your torso than a "regular" bike.
You're setting lower to the road than a "regular" bike.
You should use a flag so drivers can see you easier.
It can be difficult to pedal uphill.

Adult

Trike

Has 3 wheels
Suitable for people that have difficulty with balance.
For a review of the adult tricycles, an article I wrote is, "Adult Tricycle Review/Comparison."

Folding

Lightweight
It can be folded for transporting or for storage.

Stationary

For use inside.
They come in both recumbent and upright styles.
Biking for Nearly Everyone
Once you learn how to ride a bike, you never forget. With so many choices to choose from, nearly everyone can find a bike that is right for them.
Yes, bicycles and seniors go together. Be sure to be safe and ride safely. From bike tours to riding in your neighborhood or sharing memories with your grandchildren-go out there and recapture the fun of childhood.
Tell me your favorite bike adventure or memory in the comment section below.