Walking is a great way to get exercise. It has been shown that walking can help with weight loss, improve cardiovascular health, and even decrease the risk of some cancers. These are all great reasons to walk, but you want to take care of your feet while reaping these benefits. Having the right walking shoes for women is a big part of this. The 5 Best Women's Walking Shoes – Buying Guide explores the features and pros and cons of walking shoes made by: Ryka, Saucony, New Balance, Merrell Siren, and Skechers.
Best Women's Walking Shoes At A Glance
| # | Preview | Product | Rating |
| --- | --- | --- | --- |
| 1 | | Ryka Women's Devotion Plus 3 Walking Shoe | Best Arch Support |
| 2 | | Saucony Women's Echelon Walker 3 | Best Lightweight |
| 3 | | New Balance 928v3 | Most Widths Available |
| 4 | | Merrell Siren Traveller 3  | Best For Trails |
| 5 | | Skechers Women's Go Walk Joy-15641 | Best Slip-Ons |
Why You Should Get Walking Shoes
Buying a pair of comfortable and supportive walking shoes is the first step to ensuring you enjoy your time out. Today walking shoes can offer much more than just walking comfort; Walking shoes also provide stability, support, motion control, and heat and moisture management. Having the proper footwear while walking can align your body, add cushion to every step, and help prevent injury.
What to Look for When Buying Walking Shoes
Everyone has different preferences on what is important or not when deciding on walking shoes, but I want to offer my opinion on the most important things that walking shoes should have.
Fit
You want your walking shoes to fit well. A walking shoe that is too narrow will cause pain in your feet, especially on the sides where your pinkie toe is. One that is too wide will not provide the stability you need to maintain your walking stride. If your walking shoes are too tight you risk getting blisters.
Comfort
Walking shoes typically come in various designs and styles, but how they feel on your feet matters most. Nothing can ruin a walk like having uncomfortable shoes. When walking, you use the front of your foot to push off. You then roll onto your toe as it reaches its peak and propels you forward with each step. A comfortable walking shoe allows you to do this without any discomfort.
To add to your comfort, walking shoes come in a wide range of widths to accommodate common foot issues such as bunions and hammertoes, so if you have either of those issues, you probably want to look for a shoe that has a wider toe box.
Support
Walking shoe features that can support walking motion are stability, flexibility, traction, arch support, cushioning, and the walking surface of the walking shoe. When walking, you're putting pressure on your foot muscles and bones. If you do not have good walking shoes with good support for walking, your feet will eventually ache after walking long distances.
Shock Absorption and Impact Protection
A walking shoe with good shock absorption and impact protection can ease the effort required to walk on uneven walking surfaces such as gravel, sand, and mud. Shock absorption in walking shoes absorbs impact and prohibits it from reaching the soles of the feet, thereby protecting your knees and hips.
Women's Walking Shoes Product Reviews
Features:
Sizes 5-12 Depending on Color
Medium and Wide Widths
Rubber sole
Responsive Re-Zorb Cushioning
Lightweight
Anatomical Insole With Extra Arch and Heel Support
Pros
Various Sizes and Widths
Lightweight
Arch Support
Cons
Toe Box Can Be Large For Some People
Review
Ryka Devotion Plus 3 walking shoe is a great choice for those looking for a comfortable and stylish everyday sneaker.
With Re-Zorb cushioning that provides impact protection and shock absorption, you will feel the difference as soon as you put them on.
The anatomical Precise-Return insole provides extra arch and heel support, keeping your feet more comfortable throughout your day.
Available in women's sizes 5-11, this versatile sneaker is perfect for doing your errands or hitting the gym.
---
Saucony Women's Echelon Walker 3
Best Lightweight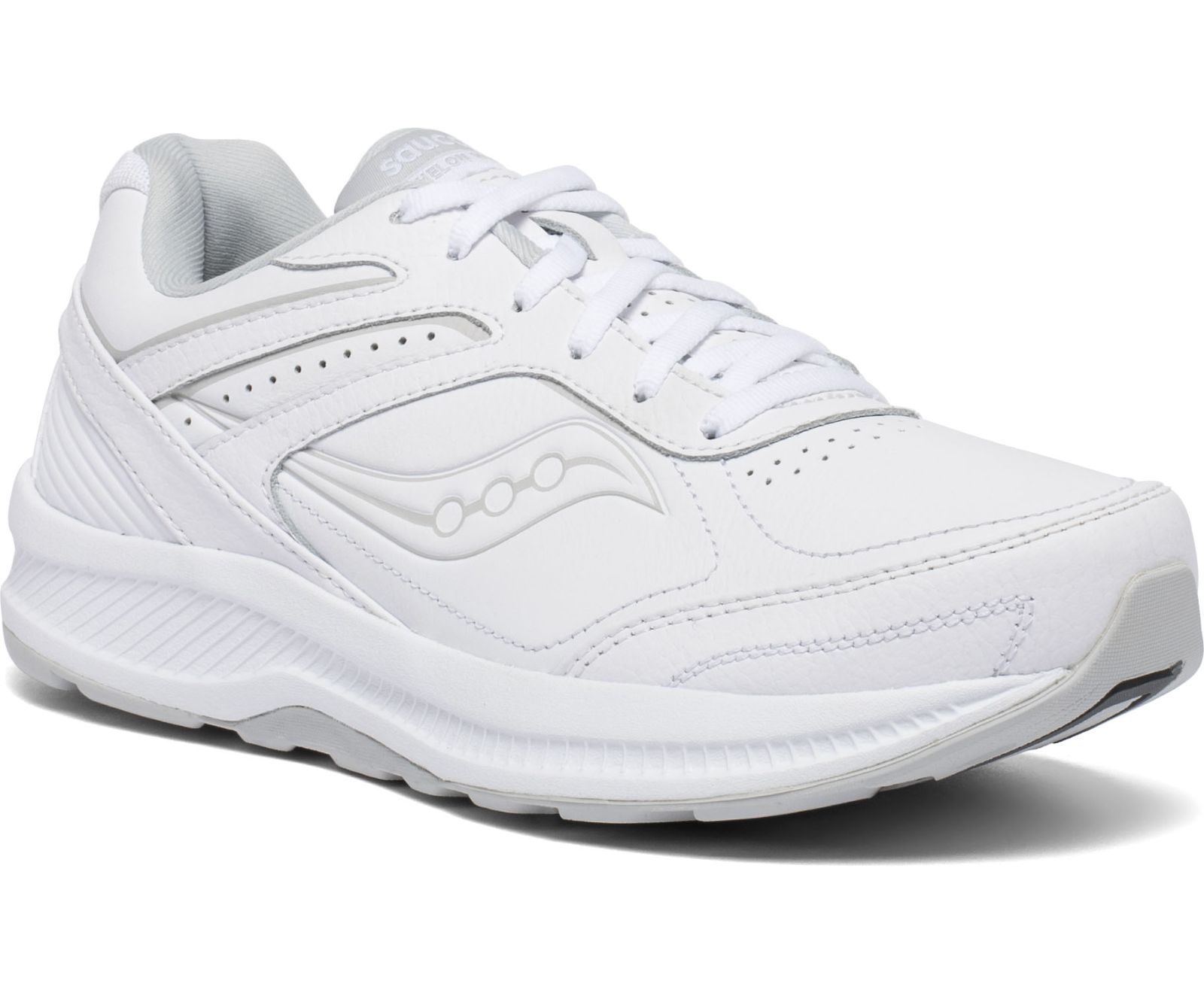 Features
Sizes 5-11, 12
Weight – 12.5oz
Medium and Wide Widths
Synthetic-and-mesh
Durable Upper with full-grain leather
Rubber sole
Removable Insole
Pwrrun midsole for amazing cushioning
Non-slip outsole for confidence on all surfaces
Pros
Non-slip Outsole
Pwrrun Midsole
Removable Insole
Cons
Lack of Colors
Short Laces
Review
Saucony's Echelon Walker 3 is designed for women who want a comfortable, supportive shoe that can handle everyday wear.
With its breathable mesh upper and removable insole, the lightweight Echelon Walker 3 provides all-day comfort.
The midsole offers amazing cushioning with every step you take, while the durable rubber outsole provides traction on any surface.
Available in sizes 5-11, 12 Medium and Wide Widths.
---
Features
Sizes 5- 13
Narrow, Standard, Wide, X Wide, XX Wide Widths
Leather upper
ABZORB cushioning
Removable polyurethane footbeds
Rubber outsole
Pros
Stability
ABZORB Cushioning
Variety of Widths
Review
The New Balance 928 V3 is a great choice for people who are looking for a comfortable, stylish walking shoe that is perfect for everyday wear.
The removable polyurethane footbeds in this women's walking shoe provide excellent cushioning and shock absorption, while the leather upper ensures long-lasting comfort.
For added stability and support, this lace-up walking shoe features a ROLLBAR stability post system that helps control rear-foot movement giving support.
Also, the "walking strike path" outsole technology helps guide your foot throughout the entire walking gait cycle, which enhances motion control and stability. 
---
Features
Sizes 5-11.5
Width Standard
Smooth Leather
Rubber sole
Full grain leather upper
Traditional lace closure
Bellows tongue keeps out debris
Breathable mesh lining
Kinetic Fit BASE removable contoured insole for flexible support.Vibram TC5+ rubber sole
Pros
Bellows Tongue
Breathable
Removable Insole
Review
The Merrell Siren Traveller 3 is a women's leather shoe that features a mesh lining, full-grain leather upper, and Vibram TC5+ rubber sole. These shoes are great for an avid hiker who will be spending a lot of time walking on the trail.
The smooth leather upper of this women's hiking shoe provides a sleek look and feel while the bellows tongue keeps out debris.
The lace-up closure allows for an adjustable fit. The removable Kinetic Fit BASE contoured insole provides flexible support, while the breathable mesh lining helps keep your feet cool and dry during long treks.
The air cushion in the heel provides stability and helps absorb shock during movement.
The Vibram TC5+ outsole is made with five individual pods for flexibility and helps absorb impact on your feet, knees, and hips while also providing excellent grip on wet or dry surfaces.
---
Features
Sizes 5-11, 13
Standard and Wide Width
100% Synthetic
Rubber sole
Lightweight, responsive 5Gen cushioning
Skechers Air Cooled Goga Mat insole energizes every step
Breathable mesh upper
Soft fabric lining
Pros
Breathable
Lightweight
Rubber Sole
Review
The Skechers Women's Go Walk Joy-15641 Sneaker is a great sneaker for casual wear. It features a breathable mesh upper and soft fabric lining to keep your feet cool and comfortable.
The lightweight, responsive 5Gen cushioning will energize every step, while the Goga Mat insole provides underfoot support.
A rubber sole provides traction and durability, so you can wear this sneaker with confidence.
---
FAQ's for Women's Walking Shoes
Here are some commonly asked questions about Walking Shoes
How Do You Clean Walking Shoes?
Depending on the walking shoe, it can be made up of many different materials that require different cleaning techniques, so it's important to clean walking shoes according to their material and the manufacturer's recommendations.
In General: 
Mesh walking shoes can be machine washed to clean them or cleaned using a damp cloth; this will prevent the walking shoe's material from being stretched. For walking shoes with more sturdy uppers, if it is not recommended that you machine wash them, then stick to using a damp cloth.
Leather walking shoes can be cleaned using a leather care product, preventing dirt from building up and damaging the walking shoes.
Suede walking shoes can be cleaned using a suede brush to remove dirt and with a suede cleaning product; this will help stop water damage and refresh the walking shoe. Please do not use a stiff-bristled brush, as it may cause permanent scuffs on your walking shoe's upper material.
Can you wear walking shoes for other activities other than walking?
Walking shoes generally work best for walking activities as they provide adequate cushioning and traction for walking on smooth surfaces. They are not intended to be used as running shoes or for hiking.
How often should you replace walking shoes?
This is a common question that many people ask themselves. Unfortunately, there's no straightforward answer. It all depends on your walking habits and what type of shoes you use. If you walk at least three times a week, the general rule of thumb is that you should replace your walking shoes every six months or 500 miles.
How much room should be in the toe of a walking shoe?
The toes should be able to wiggle and bend at the knuckles. There should be about a thumb's width between the longest toe and the end of the tox box. If there is too much space and you might experience discomfort and shifting.
---
Popular Posts
---
Conclusion
So that concludes our list of some of the best women's walking shoes on the market today. When it comes to walking shoes, your health is the most important part of the equation. A good pair of walking shoes can increase comfort and reduce injury, so you have more time to enjoy life outside in nature or on a hiking trail.
With the choices explored in The 5 Best Women's Walking Shoes – Buying Guide, I hope you found one that is an excellent fit for your needs. With all products, features can change, so be sure the features that attracted you to the product are still the same before purchasing.
Do you have a pair of walking shoes you find amazing? Please comment below.