5 Best Over-Bed Tables with Wheels – Buying Guide explores the features, pros and cons, as well as the differences of five of these products; Vive, TigerDad, Carex, Acrobat, and Joy. Knowing this information will make you a more informed consumer. You will also be able to weigh the differences in making a purchasing decision.
Are you bedridden or recovering from an illness or injury?  Do you enjoy working and eating from bed?  Do you need a place to put your meals or laptop computer while in the comfort of your bed?  Have you thought of getting one for your recliner chair or something to have to work on your crafts in the family room? Then an over-bed table with wheels is a product you will find beneficial.  They even have over-bed desks.
There is a side-by-side comparison table at the bottom of this post to give you a quick visual overview of the over-bed tables discussed.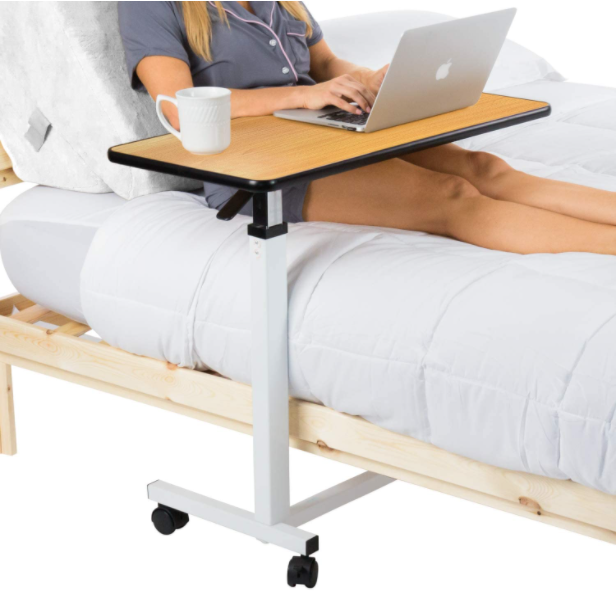 Features
Height
Table Top Dimensions
Frame
Top
Supports Up to 50 lbs
Locking Wheels
Swivel Casters
Additional Information
Assembly Required
Item Weight
Lifetime Guarantee
Manufacturer: Vive Health
ASIN: B01577US8Y
Pros
Price Point
Locking Wheels
Swivel Wheels
Cons
Doesn't Tilt
Hard To Raise and Lower
Lip is Small So Items Can Fall Off 
The Vive is a budget-friendly over-the-bed table. Being so, it does not have a lot of bells and whistles; however, it may be all you need.
The Vive is adjustable in height and has swivel wheels for more effortless movement. The wheels also lock, which is important when you don't want it to move, for example, while eating.
The height adjustment can be difficult for some, so if you have arthritic hands, this probably isn't the over-the-bed table for you.
---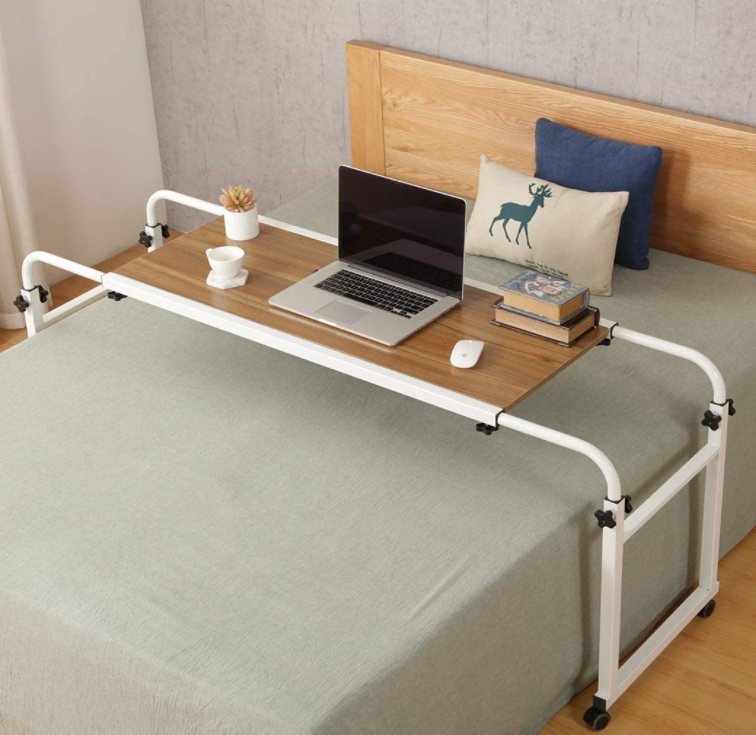 Features
Height
Table Dimensions
Component Length
Frame
Top
Supports up to 350 lbs
Additional Information
Assembly Required
Item Weight
Manufacturer: Changzhou Tiger Dad Furniture Co., LTD
ASIN: B07Q3SGWN2
Pros
Adjustable Length
Easy To Assemble
Cons
Hard to Adjust
Hard to Move on Carpet
No Ledge
The TigerDad over-bed table with wheels is unique in this review in that you can adjust the height and length. If you want to use it as a stand-alone piece other than over your bed, the smaller size might fit the room better.
The manufacturer states the table can support up to 350 lbs, but that is without the legs being extended. There is no ledge to prevent items from falling off but not being a tilt table that should be too much of an issue but something to be aware of.
---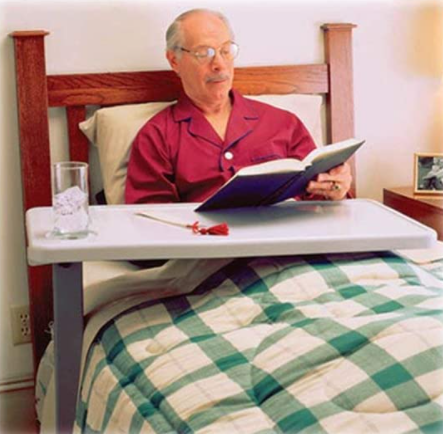 Features
Height
Table Top Dimensions

Inside Portion – 26″ x 15″
Total – 33″ x 16″

Frame
Top
Supports Up to 50 lbs
Swivel Caster Wheels
Additional Information
Assembly Required
Item Weight
Manufacturer: Carex Health Brands
ASIN: B000AEGCVM
Pros
Adjustable Height
Adjusts for Right Or Left-Handed Use
Cons
Table Top Small
Wheels Don't Lock
Wobbles
For a little more in price, the Carex is a lightweight (2 lbs) table that can be used over the bed but also can be used with wheelchairs, sitting chairs, and couches. Being lightweight it can be wobbly at times.
There is an indentation on the tabletop to place your cup of water.
The height is adjusted with a lever and can go from 28″ to 34″.
For the price, the Carex over-bed table does have some useful features.
---
Features
Height
Table Top Dimensions

31.5″ x 15.5″ – Including Side Table
23.5″ x 15.5″ – Not Including Side Table

Frame
Top

Wood Grain Look
Available in 2 Colors

Tilts
Ledge
Folds Flat For Storage
Split Surface
Locking Wheels
Additional Information
Assembly Required
Item Weight
Manufacturer: Platinum Health
ASIN: B072M5NNBX
Pros
Folds Down For Storage
Split Surface
Two Colors Available
Cons
Can Tip
Doesn't Extend Far Over The Bed
Unclear Instructions
As we go up in price point, what do you get in the Acrobat from Prime Health that you wouldn't get in the previous three over-bed tables? The feature that I noticed right off was the split table. You can tilt part of it and use the stationary flat extension for your drink or anything you don't want to slide.
There are two colors available, which is nice for choosing the one that goes best with your furnishings.
Another feature I like you can collapse it down for easy storage.
The table is still small and doesn't extend far across the bed, and you will need to be near the edge of your bed to use it.
Another issue found is the ability to tip.
Though some will find the assembly instructions unclear, a video on youtube shows assembly if needed.
---
Features
Fits Double And Queen Size Beds
Height

Adjustable

4 Settings
40″ – 46″ in 2″ increments

Table Top Dimensions

Between Supports – 69.25″ x 15.75″

Backboard Attaches
Frame
Top
Available in Two Colors
Supports Up To 40 lbs
Locking Wheels – 2 lock
Additional Features
Assembly Required
Recommended Bed Height
Weight
Manufacturer: Stand Steady
ASIN: B08287SXXC
Pros
Easy to Assemble
Offers A Lot of Room
100% Satisfaction Guaranteed
Cons
Hard to Roll Over Carpet
Wobbly
Unscrew to Adjust Height
The Joy is a more expensive option than the other over-bed tables discussed above.
The Joy over-bed table goes entirely over the bed – so much room to put your laptop, crafts, reading material, or other uses. You need to be sure that it will fit yours before purchasing. A King size bed will be too large.
One drawback is the height adjustment; the screws need to come out and put back in, which is not as convenient as turning a knob. It will probably be easier to figure out what height you want and leave it at that. Though adjusting the height is not impossible.
The Joy tends to be hard to roll over the carpet but does well on hard floors.
---
Comparison Table
Features
Vive
TigerDad
Carex
Acrobat
Joy
Table Top Dimensions
30″ (L) x 15.5″ (W)
47.2″ (L) x 18.1″(W)
33″ (L) x 16″ (W)
23.5″ (L) x 15.5″ (W) – Not Including Extension Table
Table Extension 7.75″ (L) x 15.5 (W)
Total – 31.5″ (L) x 15.5″ (W)
69.25″ (L) x 5.75″ (W)
Height
Adjustable
28" to 39"
Adjustable
25.6″ to 37.4″
Adjustable
28″ to 34″
Adjustable
23.5″ to 38″
Adjustable
40″ – 46″ in 2″ increments
Frame
Steel
Metal
Polypropylene Base 
Steel
Metal
Table Top
Laminate
MDF
Plastic
Wood Grain Look
Laminate
Swivel Wheels
Yes
Casters
Yes
Yes
Yes
Wheels Lock
Yes
Yes
No
Yes
Yes 2 Lock
Tilt
No
No
No
Yes
No
Collapse For Storage
No
No
No
Yes
No
Supported Weight
50 lbs
350 lbs Without Legs Extended
50 lbs
Not Stated
40 lbs
Warranty/
Guarantee
Lifetime
Not Stated
Not Stated
Not Stated
100% Satisfaction Guaranteed
Price

Current Price

Current Price

Current Price

Current Price

Current Price
With all products, features can change, so before purchasing, be sure the features that attracted you to the product are still the same.
If you are looking to purchase an over-bed table due to recent surgery or injury, you might be interested in another post I wrote, Post Surgery Supplies – Welcome Home! – Now What?
Thank you for stopping by and taking a look at the 5 Best Over-Bed Tables with Wheels – Buying Guide. My one piece of final advice is to measure both the table and your bed to be sure it will fit. It would be so disappointing to receive the over-bed table and then realize it won't fit in the intended area after assembling.
If you have any stories or experience using or purchasing an over-bed table, I would love to hear. Please comment below.