3 Best Mobility Scooter Transport Racks – Buying Guide explores the features and pros and cons of 3 of the best mobility scooter transport racks; AA Products, MaxxHaul, and Goplus.
| # | Preview | Product | Rating |
| --- | --- | --- | --- |
| 1 | | AA Products Cargo Carrier | Best Overall |
| 2 | | Maxxhaul | Most Tie-Downs |
| 3 | | GoPlus | Best With High Rails |
What is a Scooter Transport Rack
Scooter carriers or transport racks allow you to securely transport your scooter from place to place using your own vehicle. Scooter carriers attach to the back of a vehicle usually with a class iii or iv trailer hitch. Once attached, scooter carriers allow you to load them up move your items to another location.
With many uses, a transport rack in addition to transporting scooters can also be used as a wheelchair carrier, a cargo carrier, or used to carry various types of equipment.
Why You Should Get a Mobility Scooter Transport Rack
You've purchased your electric mobility scooter and it's great for outings. Your electric scooter allows you to move about comfortably and confidently, maintaining a sense of independence, and go about your daily routine. But there are times when it is nice to travel even further. Maybe to a relative's home for a birthday celebration, perhaps to a museum, a mall, or even when traveling to your next vacation destination. For those times you'll want to look at purchasing a scooter carrier.
What to Look for When Buying Mobility Scooter Transport Racks
There will be some considerations you will want to take into account before purchasing a scooter carrier or transport rack.
Look For The Weight Capacity Of The Transport Rack
The weight capacity is how much the scooter carrier can withstand. To safely transport your scooter, you'll need to know what it weighs and make sure whatever rack you are using can handle it without any problems.
This is true no matter what you are using the rack for, be it for a mobility scooter, wheelchair, moving equipment around on-site with ease, or even just taking extra cargo along for road trips.
Look For The Correct Size Carrier For Your Vehicle
Will the scooter carrier fit your car, truck, or RV? What measurements does your vehicle need to be in order to accommodate the scooter carrier?
Vehicle Hauling Capacity
Make sure your car has enough capacity to pull the carrier as well as the scooter on top of it. This is especially important for safety reasons. Usually, the larger your car, the more loading capacity it has.  
What Size Trailer Hitches and Which Trailer Hitch Classes Are Compatible with the Carrier?
There are four classes of hitches: Class i, ii, iii, and iv. The smaller the number (1-4) on your hitch, the lighter the load you can pull. Attaching the transport rack to the Vehicle will require a trailer hitch. You will want to be sure that the two are compatible. Most scooter carriers, but not all, use a 2″ Class iii or Class iv hitch.
Look For A Transport Rack That Has A Ramp
Another feature that is important for scooter carriers is being sure it comes equipped with a mobility ramp that will allow for easier loading and unloading. After loading the device or cargo the ramp can then fold up in an L shape while transporting.
Look For A Transport Rack That Has The Ability to Fold
When considering scooter carriers there are some transport racks that fold up against the vehicle when not in use. This makes it easier to park.
Mobility Scooter Transport Racks Product Reviews
Let's get started by looking at 3 of the best mobility scooter transport racks available: the AA Products Cargo, the Maxxhaul, and the Goplus.
There is an easy-to-read side-by-side comparison table at the bottom of the post.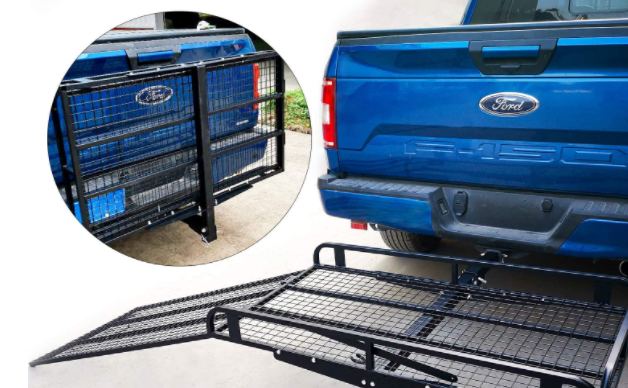 Our First Choice for the Best Overall Carrier is the AA Products Cargo Carrier.
The AA Products Cargo Carrier is a high-quality scooter carrier that will hold up to 500 lbs. The rack measures 50 ( L ) x 28.3 ( W ) x 49.2 ( ramp ) inches, which fits almost any mobility or wheelchair device.
This carrier is constructed of high strength and lightweight design steel with a black painted finish and has sides 5.1″ tall that have secure tying down spots.
One of the features the AA Product Carrier has that many other scooter carriers do not, is that it folds against your car when not in use, so parking isn't too tricky.
The folding loading ramp is 60″ long and can fold when not in use.
For 2″ Class iii or iv hitch receivers only.
The AA Products Cargo Carrier also comes with a hitch stabilizing plate that assists with anti-wobble movement and and noise.
Weighing 69.9 lbs, having two people available to assemble and attach makes for a more manageable project.
Overall, with the size and construction of the AA Products Cargo Carrier will be the perfect fit for just about any mobility scooter or when used as a wheelchair carrier or to move cargo.
The price point is mid-range and overall is a great choice.
ASIN: B08CRLQHR6
---
The MaxxHaul came in as our favorite transport rack with the most areas for tie-downs. The scooter carrier has a large bed and side rails that support up to 500 lbs, and it fits trailer hitches that have 2″ x 2″ Class iii or iv receivers–perfect for your mobility scooter needs.
The inside of the rack measures 47″ ( L ) x 27-3/4″ ( W ) x 7 1/2″ (Deep)–which will fit almost every mobility scooter on today's market. The overall dimensions are 50″ x 29. 5″ x 7. 5″.
The under-support and hitch shaft of the MaxxHaul have heavy-duty high-grade steel construction with a powder coat finish.
The high sides of the bed provide numerous spots to be able to tie-down and keep your cargo secure.
The one con for the MaxxHaul is unlike some scooter carriers, the MaxxHaul transport rack does not fold against the vehicle, so it can make parking more difficult. The carrier does have three positions: closed, open, and L-shape.
Overall, the size and construction of the MaxxHaul will be the perfect fit for almost any mobility scooter.
---
The Goplus scooter carrier is also one of the best wheelchair carriers and is a good buy for the budget-minded consumer. What makes this transport rack unique from others in its class? The high rails measure 9 inches!
The Goplus carrier is 50″ x 29.5″ and will accommodate most size mobility scooters in today's world. The total length of the ramp, when extended, is 41.5″ (L) X 27.5″ (W), which is shorter than our other picks.
Though not heavy duty steel construction the Goplus carrier is constructed with heavy-duty that allows for it being rust and corrosion-resistant. It can hold up to 500 lbs more than enough for most mobility scooters.
The rack comes with reflectors for enhanced safety when driving at night and includes tie-down locations.
The unit will fit most class iii or iv 2 inch trailer hitch receivers.
A Goplus transport rack is a great option for carrying heavy loads, but it has some drawbacks.
The first drawback of this product is unlike other scooter carriers is that you can't fold it up against your vehicle when not in use. This can make it more difficult to find a parking spot that allows for the extra width of the rack behind the vehicle. 2) there is a 45mph speed limitation, and 3) there is no mention of a warranty or guarantee.
Overall, the Goplus is a nice transport rack and may very well fit your needs in transporting your mobility scooter.    
ASIN B0881KVMNS
---

Comparison Table
| | | | |
| --- | --- | --- | --- |
| Features | AA Products Cargo Carrier | MaxxHaul | Goplus |
| | | | |
| Construction | Steel | Aluminum | Heavy-Duty Aluminum |
| Dimensions | 50 x 28.3 x 49.2 inches | 50 x 29. 5x 7. 5 inches | 50 x 29.5 x 9 inches |
| Weight Capacity | 500 lbs | 500 lbs | 500 lbs |
| Side Height | 5.1″ | 6″ | 9″ |
| Reflectors | Yes | Yes | Yes |
| Price | Price | Price | Price |
Helpful Articles
Before concluding this comparison guide, let me take a moment to bring to mind three posts that preceded this in a series of articles on mobility scooters. If you are still shopping around, Electric Scooters for Seniors – Buying Guide discusses the different options you will want to think about before purchasing an electric scooter and What is a Mobility Scooter gives a basic understanding of mobility scooters; Electric Scooters for Seniors – Product Comparison reviews/compares five types of scooters and finally, Best Mobility Scooter Accessories discusses some of the most popular accessories for your mobility scooter. 
You May Also Be Interested In: Challenger Mobility Scooter Trailer – Review
Conclusion
Whether you're driving five minutes down the road or embarking on month-long quests out of town, make your journey as hassle-free as possible with your scooter carrier.
Whether you use your transport rack as a scooter carrier or wheelchair carrier, you will gain the freedom to go where you want. Whether to the store, a vacation, or maybe the county fair, a mobility scooter transport rack will allow you to take most scooters with you and enjoy your time.
In reading the 3 Best Mobility Scooter Transport Racks – Buying Guide, I hope you were able to narrow down your choice of a scooter carrier and became a better-informed consumer. With all products, features can change, so be sure the qualities that attract you to the product are still the same before deciding which one will work best with YOUR needs.
Have you had an experience with mobility scooter transport racks?  Maybe purchasing one or using one?  I would love to hear your story. Please comment below.