In 4 Best Mattresses For Seniors – Buying Guide, we'll take a look at the best mattresses that fit with the senior lifestyle; Amerisleep, Layla Hybrid, Nolah Signature 12, and Plush Beds – The Botanical Bliss.
For anyone shopping for a mattress, there are options you'll want to consider. As a senior, some of these are how easy does the mattress make it to get out of bed; do you have medical issues where you want to raise and lower the head/foot of the mattress; do you suffer from certain aches and pains that a specific type of mattress could help? Do you run warm or suffer from night sweats and prefer the feel of a cool night's rest? In reading 4 Best Mattresses For Seniors (2021 Comparison Guide), you'll see how these four mattresses address those questions.
At the bottom of this post, there is a side-by-side comparison table that makes it easier to see how the mattresses compare to each other. With all products, features can change, so be sure the qualities that attracted you to the product are still the same before purchasing.
Top Choice for Back Pain Relief
As the years pass, many of us suffer from back pain. Do you know that a worn mattress can contribute to the pain? Amerishop's AS2 mattress is a top choice for back pain relief.
Even though they can't make medical claims, the reviews stand by their claims – over 2500 – 5 star ratings.
The AS2 is a medium firm memory foam mattress and lends itself to spinal alignment. It is perfect for both back and stomach sleepers.
The open-cell design of the AS2, in conjunction with being made with a plant-based Bio-Pur® material, allows for more airflow than found in other traditional memory foam mattresses. The benefit is a cooler sleep.
Certi-PUR-US
The Amerisleep AS2 mattress is certified as Certi-PUR-US. This means the mattress is:
Made without PBDEs, TDCPP, or TCEP ("Tris") flame retardants
Made without mercury, lead, and heavy metals
Made without formaldehyde
Made without phthalates regulated by the Consumer Product Safety Commission
Low VOC (Volatile Organic Compound) emissions for indoor air quality (less than 0.5 parts per million)
Being certified as Certi-PUR-US, the AS2 mattress is resistant to dust mites, mold, and mildew & made without harsh chemicals, and made without ozone depleters.
Measuring 12-inches in height, the Amerisleep AS2 is available in 7 sizes from twin to CA King and even a split King option. This is great if your partner, or yourself, is bothered by the other sleeper's movement. With these seven sizes, you are assured you will find the right size for your needs.  
Risk-Free Trial
Amerisleep allows for a 100 Night Risk-Free Trial. This means you have the mattress for 100 nights, and if you find that you don't like it you can call them and receive a full refund. They will also assist in scheduling a pick-up.
Warranty
The warranty is impressive – 20 years. The first ten years of the warranty will replace the memory foam mattress if defects are found. This includes sagging of more than .75″. From years 10-20, you are offered a pro-rated replacement.
Foundation
A solid or slatted mattress foundation best supports the Amerisleep AS2 mattress. The slats should have no more than 3 inches between them.
While compatible with many bed frames and foundations, including adjustable bed frames, it is not compatible with box springs.  
Free Shipping within the continental United States. 
Pros
CertiPUR-US
Cooling Mattress
Pressure Relief
100 Night Risk-Free Trial
Free Shipping
20-year Warranty
Cons
Cannot Use With Box Springs
---
Top Choice For Edge Support
Have you ever been lying in bed and rolled over to find yourself almost rolling out of bed? Do you find that while sitting on the edge of the bed, you soon find yourself sliding to the floor? Someone could get hurt at any age, but as a senior, these scenarios can be scary.
Having a mattress that has edge support can help with this. The Layla Hybrid mattress is a mattress that has Infinity Edge™ for that added edge support. This is accomplished with double coils around the perimeter for extra edge support. Now, of course, if there is a concern of falling out of bed, you still want to use further precautions.
The Layla mattress is constructed with spring coils for a more traditional feel and memory foam. With a 13″ height and seven sizes, there is something available for just about every room size.
Dual Firmness Levels
An unusual feature not found in many mattresses is the option of the degree of firmness depending on the side you place on top, also known as flippable firmness.
One side of the mattress has a softer plush feel, and if that is too soft for your liking, you can flip it to the other side which has a firmer, more supportive feel.
Video: Layla Sleep – Hybrid Mattress
Copper Infused
This mattress is copper infused that has the benefit of transferring body heat away from your body, resulting in a much cooler sleeping experience.
With copper being naturally anti-microbial, it resists odor-causing bacteria and keeps you sleeping fresh.
Another feature that comes with the Layla Hybrid is that it comes with a breathable, washable cover and handles for flipping.
Risk-Free Trial
A 120 Night Risk-Free Trial allows you to try the mattress, and if not satisfied, it can be returned for a full refund. Return shipping from HI, AK, and Canada is not refundable.
And yes, there is a warranty. The Layla hybrid comes with a 10- year Limited Warranty – Covers: (a) seams coming apart; (b) visible permanent compression of the mattress surface greater than 1″. (c) loss of mattress shape beyond 1".
However, a word of caution – there are limits to the warranty, and some uses can void the warranty, so be sure to read it and know what you will and won't be covered for. One of the limits is using a base made by Layla.
Free shipping within the continental United States but also ships with an added cost to Alaska, Hawaii, and Canada.
Pros
Edge Support
2-Sided Firmness
Washable Cover
Warranty
120 Night Risk-Free Trial
---
Top Choice for Hip Pain
Nolah Signature 12 comes with their technology, Nolah AirFoam™. Nolah AirFoam provides a cool sleep and, compared to memory foam of the past, is more durable and does an excellent job providing pressure relief.
An individual who is a side sleeper will benefit from the extra-deep pressure relief on the hips and shoulders. 
Dual Firmness Option 
The Nolah Signature 12 comes in two firmness choices, all in the same mattress.  One side is the feel of a medium soft mattress and the other is a medium firm mattress.
If you prefer a medium/soft firmness, you can find that on one side of the mattress. If you find that too soft, flip it over to the other side and enjoy the medium/firm support. 
Those individuals who sleep on their stomachs will probably find the mattress's soft side is too soft and may feel pressure applied to the back.  The medium/firm side will probably be more comfortable for stomach and back sleepers. 
Motion Isolation
When sleeping with another person their movement can be felt on your side of the bed; this is known as motion transfer. Nolah did really well in motion isolation. Motion isolation will make it less likely to feel the motion transfer of the other sleeper.
Available Sizes
Nolah Signature 12 is available in the most common six sizes and will hold a total body weight of 350-700 pounds, depending on the mattress's size.
The Twin, Twin XL, and Full sizes each have a total weight capacity of 350 pounds.
The King, and Cal King and Queen size have a total weight capacity of 700 pounds.
You can use just about any type of bed frame with the Nolah Mattress; box spring, platform, adjustable and slatted – if using a slatted base, be sure the slats are no more than 4 inches apart.
Risk-Free Trial
Nolah offers a 120 Risk-Free Trial. If you are not satisfied with the mattress, it can be returned for a full refund.
Do be aware that the return policy is from day 31 through day 120. It is suggested to give the mattress a few days to expand after unpacking. Because of this and that it can take some time to adjust to the mattress, returns are not accepted in the first 30 days.
I suggest that if, for any reason, after the 30th day, you are not happy with the mattress, contact customer service to see if they have any suggestions to make the mattress more to your liking, perhaps by flipping.
Between days 31 – 119, make your decision. This is usually enough time to know if the mattress is just something you will love or not.
Do keep in mind the mattress cannot be returned after day 120.
Warranty
The Signature 12 comes with a Limited Lifetime Warranty. This warranty covers defects but not normal wear and tear. Be sure to read the warranty to know what can void the warranty.
Defenders of Wildlife
As a side note, Nolah does donate a portion of the sale to Defenders of Wildlife. As of this post's writing, you can choose which endangered species the donation goes to during the check-out process.
Pros
2-Sided Firmness
Pressure Point Relief
120 Night Risk Free Trial
Free Shipping
Lifetime Warranty
---
Top Choice for Organic Mattress
Are you looking for an organic mattress? One that doesn't use toxic materials? One that is allergy-friendly? Then the Botanical Bliss made by Plush Beds is for you.
The Botanical Bliss has over 12 certifications that have some of the highest standards and most rigorous tests in the industry, assuring you this mattress lives up to its claim as one of the purest and healthiest organic mattresses on the market.
No toxins in this mattress – do you know that many mattresses have mercury, lead, heavy metals, cyanides, flame retardants, and the list goes on.
Though Plush Beds can't make medical recommendations, these are other toxins that are known to cause certain health issues in some people. Why add chemicals to your life when it's not necessary.
Allergens
Do you know that your mattress is one of the leading sources of dust mites contributing to indoor allergens? The Botanical Bliss is dust mite resistant. Also, the mattress is anti-microbial, mold, and mildew-proof. What does this do in laymen's terms – less sneezing and wheezing for allergy sufferers.
Compatible Foundations
The Botanical Bliss is compatible with many foundations, including adjustable, slat, platform, box springs, orthopedic, etc. – just as long as they are sturdy.
If you have a slat foundation, be sure the slats on no further apart than 2 1/2 inches.
Some Positive Features
Because of its buoyant feeling and gently cradling of the body's pressure points, which leads to help relieve aches and pains, chiropractors and orthopedic specialists have often recommended the Botanical Bliss.
With close to 4,000 – 5 star reviews, the Botanical Bliss comes with some great features. The first is having three height options – 9, 10, or 12 inches.
If you are a shorter person, this is a great option, so you can have your feet planted on the floor before getting up – making falls less likely to occur. The 9″ is also a good choice for lighter weighted individuals.
Available in six sizes plus three split side versions, it gives the buyer so many choices. If you sleep with someone who tosses and turns, you might want to look at one of the three split versions. If you sleep alone or your partner's movement isn't an issue, you can choose from one of the other six sizes.
Not only do you choose the size and height right for you, but you also can choose either medium or firm support. After you receive the mattress, you can adjust the firmness more to your liking by switching the order of the layers.
Risk-Free Trial
Plush Beds allows for a 100 Night Trial and will issue a full refund if you are not satisfied and want to return the mattress.
Warranty
Plush Beds offer an unheard-of 25-year limited manufacturer warranty and free shipping.
Pros
Organic Mattress
Multiple Height Options
100-Night Trial
25-year Warranty
---
Comparison Table
Features
Amerisleep
AS2
Layla
Hybrid

Nolah –
Signature 12
Plush Beds – Botanical Bliss
Type
Memory Foam
Memory Foam & Coil Springs – Copper Infused
Air Foam
Organic Latex
For
Stomach and Back Sleepers
Back, Side, and Stomach Sleepers
Side Sleepers
Back, Side and Stomach and Heavier Weight Individuals
Good For
Back Pain
Supported Edge
Shoulder, Hip, Lower Back
Allergy Sufferers
Profile Height
12 inches
13 inches
12 inches
9, 10 or 12 Inches
Sizes
7
7
6
9
Certi-PUR-US
Yes
No
Yes
Yes
Trial Period
100 Night
120 Night
120 Night
100 Night
Returns
Yes
Yes
Yes- only days 31-120
Yes
Shipping
Free within Continental US
Free within Continental US
Free within Continental US
Free within Continental US
Warranty
20-year
10-year
Lifetime
25-year
Financing Available
No
Yes
Yes
Yes
Price

Click Here for Price

Click Here for Price

Click Here for Price

Click Here for Price
Related Articles
Mattresses 101 – Buying Guide – All You Need To Know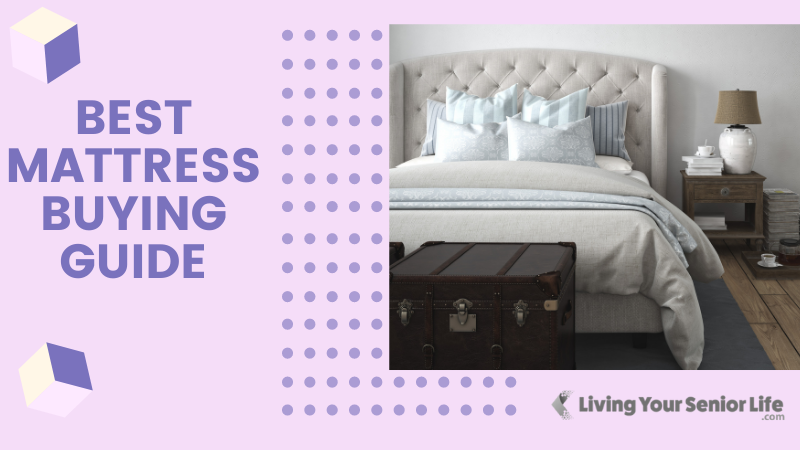 Explores Different Types Of Mattresses & Features To Consider When Buying A Mattress.
Adjustable Beds For Seniors – Buying Guide
Explores The Features, The Pros & Cons & The Differences Of 5 Of The Best Adjustable Beds.
Best Adjustable Bed Frames – Buying Guide
Explores The Features, Pros & Cons, And Differences of 5 Adjustable Bed Frames/Bases w/o Mattresses.
Closing Words
Thank you for stopping by and looking at the 4 Best Mattresses For Seniors – Buying Guide. I hope in reading this, you have become more informed in your decision to purchase a mattress.
With all products, features can change, so be sure the qualities that attracted you to the product are still the same before purchasing.
If you have any experience purchasing a mattress, being these or others, I would love to hear your story. Please comment below.