3 Best Club Car Floor Mats – Keeping It Clean explores 3 of the best floor mats that are Club Car Compatible.
From our top choice to our budget minded all 3 are great choices. By reading 3 Best Club Car Floor Mats – Comparison – Keeping it Clean, you will become a more informed consumer before purchasing the mat that are the best choice for you.
With all products, features can change, so before purchasing, be sure the features that attracted you to the product are still the same.
---
Features
Full Coverage
Colors Black With:

Black
Red Trim
Blue Trim
Grey Trim
Green Trim
Beige Trim

Laser Measured
8mm Thick
Rubber
Slip Resistant
Diamond Pattern

Channels Away Sand and Water
Specs
Fits Club Cars

Precedent (2004 – 2023)
Onward & Tempo (2017 – 2023)
Villager & V4L (2019-2023)

Weight
Manufacturer: Xtreme
Brand: Xtreme
Manufacturer's Part Number: GCM09
Pros
Covers Dash to Seats
Heavy Duty
Laser Measured
Review
High quality and a snug fit, the Xtreme Club Car Mats are the only ones at this time in the after-market industry that fit from the dash to the seat.
The mat is lasered measured, allowing for a snug fit around the accelerator and brake pedals and seat base.
Measuring 8mm, they are heavy-duty mats, and with the diamond design, water and sand are channeled away.
These Xtreme Mats are compatible and will only fit Club Cars Precedent (2004 – 2023), Onward & Tempo (2017 – 2023), and Villager & V4L (2019-2023)
For An In-Dept Review of the Extreme Full Coverage Floor Liner Mat
---
Features
Partial Coverage
Color
8mm Thick
Rubber
Channels Water To Eliminate Pooling
Specs
Compatible with Club Cars

Rhino Club Car Precedent
Tempo Golf Carts

Package Dimensions
Weight
Manufacturer: RHOX
Brand: RHOX
ASIN: B07NBLVXVX
Video: RHOX Rhino Mat
Pros
Easy To Clean
Easy To Install
Price
Cons
No Attachment
Partial Coverage – Floor Only
Review
The Rhox Brand Floor Mat is compatible with the Rhino Club Car Precedent and the Tempo Golf Cart.
This mat is for partial coverage and covers only the floor.
It is made of 8mm thick rubber making it durable. The design allows for the channeling of water, so it doesn't pool.
Being that it covers the floor, it is easy to install and clean.
An added attraction is the price point.
---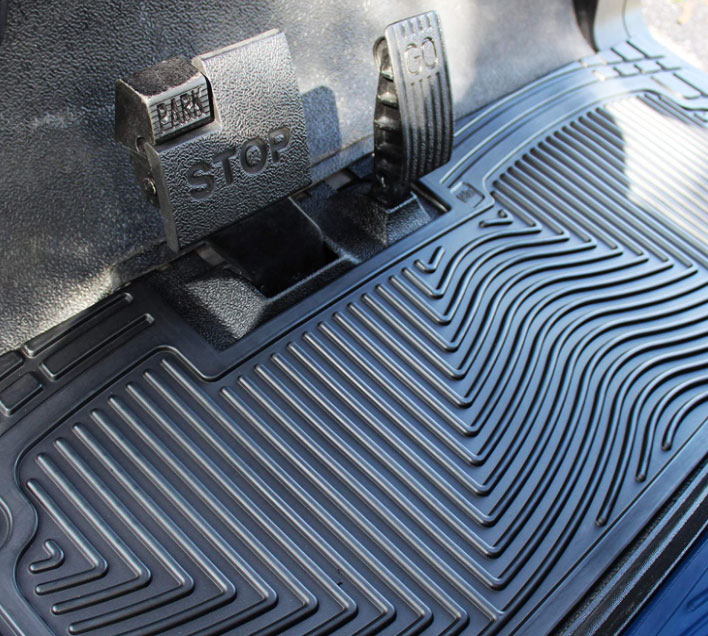 Features
Partial Coverage
Color
Channels

Helps Keep Liquids and Debris Away From Pedals and Floor Openings

8mm Thick
UV Protected
Specs
Compatible with:

Club Car Precedent
Onward
Bintelli

Package Dimensions:
Approximate Product Dimensions:
Weight:
Manufacturer: Club Clean
Brand: Club Clean
Model Number: RMccarPR
ASIN:B004V7VW2S
Video: Club Clean Cart Mats
Pros
Easy To Install
UV Protected
Price Point
Review
Though Club Clean is listed as our budget-minded choice, don't let the price fool you. This mat has gotten great reviews.
There were some complaints about the odor, but it does seem to dissipate with time. Also, there can be slippage though some have screwed the mat down, which takes care of that issue.
The mat having partial coverage of the floor only makes for easy installation.
A great price with great reviews makes this an excellent contender.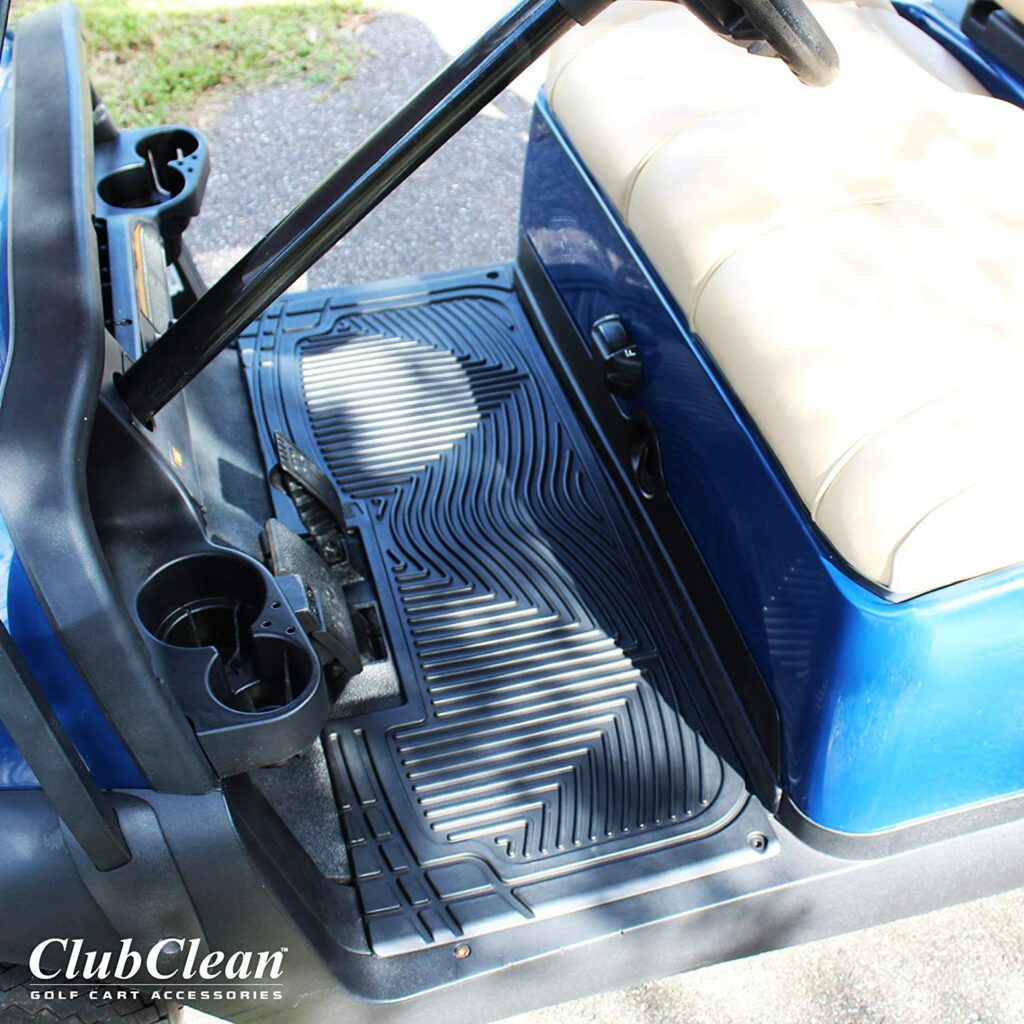 ---
Why Floor Mats

?

There are many reasons why you should get golf car floor mats for your vehicle. First of all, they will protect your flooring from dirt, debris, and other contaminants. This is important, especially if you have a nice flooring material that you don't want to get stained or ruined.

Another great reason to get Club  Car floor mats is that they will help keep your flooring cooler. This is because the floor mat will create a buffer between your hot tires and the flooring, which will help to dissipate the heat.

Finally, floor mats can also improve your safety. This is because they can help to keep your flooring clean and dry, which will make it less slippery. This is important when driving in wet or icy conditions.

So, if you are looking for ways to protect your flooring and improve your safety, then golf cart floor mats are a great option. 
What to Look for When Choosing Floor Mats
There are so many different types of car mats on the market these days that it can be hard to know which one to choose for your car club. Here are a few things to look for when making your decision:
Durability – The last thing you want is for your car mats to start falling apart after just a few months of use. Make sure to choose a material that is durable and will stand up to everyday wear and tear.
Material: Car mats come in a variety of materials, each with its own advantages and disadvantages. Vinyl is cheap and easy to clean, but it can be a little stiff and uncomfortable. Rubber is durable but can be a bit difficult to clean. Polyester is soft and plush but may not be as durable as other materials.
Size: Make sure to measure the floor of your car before you buy floor mats. You want to make sure that the mats will fit perfectly and snugly and won't move around or bunch up.
Style – Car mats come in all sorts of different shapes and sizes, so you should be able to find one that perfectly matches the style of your car club and your personal taste.
Price – Just like with anything else, you don't want to overspend on car mats. Make sure to shop around and find a set that fits your budget.
Purpose: What will you be using the floor mats for? If you're just looking for something to protect the original factory carpet from dirt and debris, then any generic floor mat will do. However, if you need a specific type of floor mat for a specific purpose (like wet weather protection or pet hair control), then you'll need to do some research to find the right one.
FAQs
Q: Why do I need a floor mat in my car?
A: Floor mats protect the car's floor from dirt, mud, and other debris. They also help to keep the car clean.
Q: What are the different types of floor mats?
A: There are several different types of floor mats, including rubber, vinyl, and carpet.
Q: Which type of floor mat is best for my car?
A: That depends on your needs and preferences. Rubber floor mats are durable and easy to clean, while vinyl floor mats are waterproof and can be easily wiped down. Carpet floor mats are soft and absorbent but can be more difficult to clean. 
Q: How do I install floor mats in my car?
A: Floor mats typically attach to the floor of your car with Velcro or straps. Refer to the instructions that come with your floor mats for more information. 
Q: How do I care for my floor mats?
A: Be sure to follow the manufacturers' instructions for cleaning. However, most floor mats can be cleaned with a damp cloth or vacuum. Be sure to dry them completely before storing or using them again. 
---
Related Articles
---
Conclusion
I hope in reading 3 Best Club Car Floor Mats – Keeping It Clean you came away with a clearer vision of the right mats for you. Remember, with all products, features can change, so before purchasing, be sure the features that attracted you to the product are still the same.
If you have any stories or experiences with Club Car Floor Mats I would love to hear about them. Please comment below.