Wouldn't it be great to splurge on a massage anytime you want – maybe but not practical for most of us. But what about a massage that you can use in the convenience of your home without putting money out for each massage. Have you thought about a back massager you use in a chair or on your couch? In the 7 Best Back Massagers for Chairs (2021 Comparison Guide), we'll explore the features, pros and cons of 7 of these types of massagers. In reading this post, you'll be able to gain some insight into the options each of these back massagers have and become a more informed consumer before making a purchase decision.
There is a side-by-side chart at the bottom of the post for a quick comparison of these seven back massagers.
Features
Vibration NOT Shiatsu
Massage Areas Include:

Upper Back
Mid-Back
Lower Back
Thighs

Modes

Pulsate

Vibration Increases and Decreases at Intervals

Tapping

Short Bursts of Vibration

Rolling

Moves From Upper Back to Thighs and Repeats

Kneading
Auto

Cycles Through Various Massages Patterns

Intensity
Heat
Timer
Cover
Auto Turn-Off
Non-Slip Bottom
Elastic Straps
Specs
Dimensions

Seat – 18.5″
Back and Seat Total – 42″

Product Weight
Material
Manufacturer: Snailex
ASIN: B0798LJDV3
Pros
Overheating Protection
Auto Shut-Off
Thoughts
If you're looking for a massager that kneads and has nodes that get into the muscles, this will not be the back massager you are looking for. Many people have described it as a vibrating heating pad. But if you are looking for something to help you relax after a hard day or find Shiatsu massage nodes painful, then this could be just the right product for you.
As an entry-level lower price back massager, there are some good features to the Snailax. It does have an auto shut-off, which is nice, so you don't accidentally leave it on for hours. Heat is available for both the back and the seat. There are five modes of massage but remember it is vibration only, so even with kneading, it may not be what you think of when you hear the word kneading – it is only vibration.
---
Features
Shiatsu

8 Flexible Rotation Nodes
Spot Massage
Massage Areas Include:

Vibration Mode

Seat
3 Levels of Intensity
Areas

Heat
Neck Pillow – Removable
Timer
Auto Shut-Off
Anti-Slip
Specs
Dimensions
Product Weight
Material

PU Leather and Breathable Mesh 

Manufacturer: Snailax
ASIN: B082D5S7GN
Pros
Auto Shut-Off
Removable Neck Pillow
Cons
Low Heat Level
Nodes Can be Uncomfortable
One Massage Mode
Short Timer
Some Thoughts
The Snailax Full Back Massager is different than its previous model above in that it has the shiatsu massage nodes. Now, if you're not familiar with shiatsu, you may be surprised by the intensity, and some people do find it painful, especially at first. Usually, not comfortable for a long time setting as the nodes are hard.
To help alleviate the nodes' discomfort, some people find that placing a rolled-up towel or throw behind them helps in lessening the intensity.
The heat level of the Snailax is low, and some might have a hard time feeling any heat at all. If heat is a priority for you, then this back massager might not be the best choice. Another drawback to this Snailax is it having only one massage mode.
A neck pillow is a nice addition, and it is removable. Be aware that this is not a neck massager, just a pillow.
---
Features
Shiatsu

Upper Back
Shoulders
Lower Back
Waist

Massage With and Without Heat
Heat Zones
Timer
Ergonomic Design
Height Accomation
Remote Holder
Specs
Package Dimensions
Product Weight
Color
Manufacturer: Naipo
ASIN: B08NDGF8ZZ
Pros
Neck Message
20 and 30 Minute Timer
Height Adjustment
Thoughts
As we go up in price point, you'll find the additional feature on the Naipo is the neck massager. Do your neck muscles tire after sitting at your computer or desk. If so, you might want to look into a back massager with a neck massager like the Naipo.
The Naipo does not come with different massage modalities. This may not be a dealer breaker for you if you are looking for a deep kneading massage.
---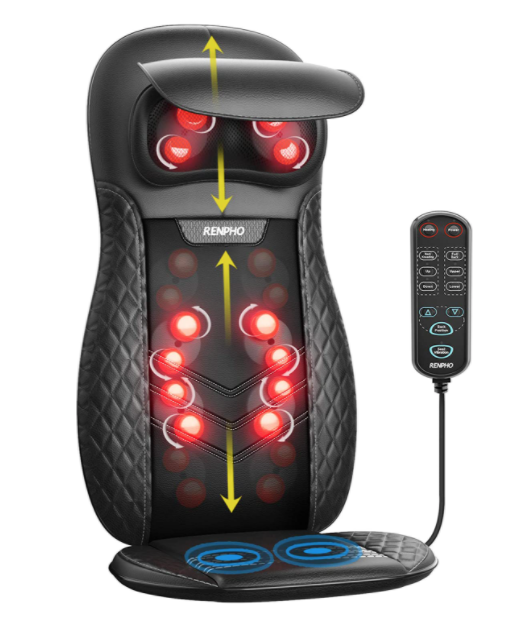 Features
Shiatsu
Neck Massage Pillow
Seat Vibration
Heat
Overheating Protection
Timer
Strapping System
Folds
Specs
Dimensions

Folded – 30.7(L) x 16.9 (W) x 7. 5(H) inch

Product Weight:
Material

Polyurethane Leather + Mesh Fabric

Color
Manufacturer: Renpho
ASIN: B07PNHGL87
Pros
Adjustable Neck Massage Pillow
A Couple of Thoughts
The Renpho Back Massager has an adjustable massage pillow that can accommodate different height people. However, some people have issues with it not adjusting high or low enough for their stature, but many find it perfect, allowing different height people in the household to use it.
Like all shiatsu massagers, the one issue is this type of massage can be painful. The nodes are hard, so you might not be comfortable having it as a permanent fixture on a chair you will be sitting on all day. However, it does fold, and it isn't too heavy where it can be moved when not in use.
---
Features
Shiatsu

4 Nodes
Two Rotation Directions

Modes

Kneading
Rolling
Spot Massage

Massage Areas Include:

Full Back
Lower Back
Upper Back

Seat
Adjustable Air Compression
Timer
Heat
Straps
Specs
Dimensions

30.7 x 17.4 x 16.5 inches

Product Weight
Color
Material
Warranty
Manufacturer: Comfier
ASIN: B081KVJRTP
Pros
Air Compression
Two Directional Rotations
Warranty
Cons
Slightly Noisy
May Not Be Suitable for Shorter People
No Programming
A couple of cons with the Comfier that may or may not be a deal-breaker – it is slightly noisy, so you might have issues if you are using it in a public place such a work. There is no programming; thus, when the time goes off, and you're not done using the massager, you have to start over and program the intensity levels, mode, etc.
The Comfier Back Massager comes with a couple of features that the previous models discussed above do not. This particular model has two directional rotations – clockwise and counterclockwise. Also, this Comfier model comes with air compression pillows and each side, which aid in relaxing muscles in the waist and thigh area. Coming with a 2-year limited warranty is also an added plus.
---
Features
Shiatsu

Neck and Shoulders
4 Nodes

Forward and Reverse Available
Back

4 Nodes
2 Rotating Speeds for Back

Modes
Massage Areas

Full Back
Upper Back
Lower Back

Seat

3 Vibration Levels
Thighs
Hips
Buttocks

Heat

Separate for Neck and Back
Over Heat Protection

Ergonomic S-Shape Curve
Auto Shut-Off
Specs
Dimensions
Product Weight
Color
Material
Warranty
Manufacturer: Zyllion
ASIN: B0881Y82NN
Pros
Adustable Neck Massager
Auto Shut-Off
Two Speeds for Back
The Zyllion Back and Neck Massager is equipped with two speeds for the back part of the massager. It also comes with an adjustable neck massager that can be adjusted up and down 8 1/2 inches. This makes it more useable for people of different heights. Being ergonomic s-shaped, the massager contours to the spine and body, making for a more comfortable experience. The 1-year warranty can be extended to two years with registration.
A drawback to this and most back massagers is that when it shuts off, everything needs to be reset to continue to use. Also, like other shiatsu massagers, the intensity can be too much for some people.
---
Features
Chair

Foldable
No Assembly Required
Back Adjusts

Shiatsu
Modes
Flexible Neck Massager
Massage Zones

Full Back
Upper Back
Lower Back
Heat
Seat
Small Pocket/Storage Bag
USB Port
Specs
Dimensions
Product Weight
Color
Weight Capacity
Warranty

30 Days Money-Back Warranty For Any Reason
90 Days Money Back Guarantee for Quality-Related Issues
2 years Warranty for Quality-Related Issues

Manufacturer – Comfier
ASIN: B08HN2WC1D
Pros
Chair
Back Adjusts
No Assembly Required
USB Port
Some Thoughts
How amazing is this – a Back Massager that comes as a chair. You don't have to worry about finding a chair that fits your massager. You can also take the chair massager to the room of your choice and even outside as long as you have a power connection. And even better, if you ask me, it comes fully assembled.
The back adjusts from 110˚ – 130˚ making it easier to find a comfortable position. Also, a feature this massage chair has that the other massagers don't is a USB port to charge your phone, iPad, etc. It is on the heavier side, so if you have limited lifting ability, it may be too heavy for you to move. The price point is higher with these added features than the other back/neck massagers discussed above.
---
Comparison Table
Features
Snailax – Vibration
Snailax – Shiatsu 
Naipo
Renpho
Comfier
Zyllion
Comfier – Chair
Type
Vibration Only
Shiatsu and Vibration Seat
Shiatsu
Shiatsu and Vibration Seat
Shiatsu and Vibration Seat
Shiatsu and Vibration Seat
Shiatsu and Vibration Seat
Nodes
6
8
4
8
8
4
8
Modes
5
2
1
1
4
3
2
Intensity Levels
4
1
Not Stated
1
1
2 speeds
1
Seat Vibration Intensity Levels
4
3
Not Stated
3
3
3
3
Neck Massager
No
No
Yes
Yes
Yes
Yes
Yes
Air Compression
No
No
No
No
Yes
No
No
Heat Zones
Back and Seat
Back and Seat
Neck and Back
Neck and Back
Neck and Back
Neck and Back
Neck and Back
Heat Levels
2
1
1
1
1
1
1
Overheat Protection
Yes
No
No
Yes
No
Yes
No
Auto Shut-Off
Yes
No
No
Yes
No
Yes
No
Timer
Yes
5, 10, 15 Minutes
20, 30 Minutes
15 Minutes
15 Minutes
15 minutes
No
USB Port
No
No
No
No
No
No
Yes
Color
Black
Black
Gray
Black
Gray
Black
Black
Material
Soft Polyester
PU Leather and Breathable Mesh 
Not stated
Polyurethane Leather + Mesh Fabric
Leather
Vegan Leather
PU Leather
Warranty
30-day Return
1-year warranty
30 day/90 day/2-year
Product Weight
2.3 lbs
8.8 lbs
17.7 lbs
10.91 lbs
23.1 lbs
10 lbs approx
40.55 lbs
Weight Capacity
—
—
—
—
—
—
250 lbs
Dimensions
Seat – 18.5″
Back and Seat Total – 42″
28.25″ x 17″ x 5.75″
29.8 x 17.4 x 7.6 inches
Folded – 30.7″ x 16.9″ x 7. 5″
32.91″ x 21.1″ x 8.43 "
33.25″ x 17.25″ x 15″
35.5″x 6.1″x 11.1″

Price

Price

Price

Price

Price

Price

Price

Price
Disclaimer: While we work to ensure that product information is correct, manufacturers may alter their ingredient lists. Actual product packaging and materials may contain more or different information than that shown on the Living Your Senior Life website. I recommend that you not solely rely on the information presented and always read labels, warnings, and directions before using or consuming a product.
CAUTION! DO NOT use on bare skin. DO NOT use on sensitive skin areas, areas of the body that are inflamed, areas with open sores or wounds, or areas of the body with poor circulation. Extensive use could lead to excessive heating. If the product becomes too warm, discontinue use and allow the unit to cool before operating.
If you are prone to heat sensitivity OR are insensitive to heat OR have limited temperature perception, use the heat function with extreme caution. Use a towel, blanket, or other fabric made from non-flammable materials between you and the device to reduce your body's exposure to heat, and take 15 to 20-minute breaks between sessions. Be aware that the friction of the rolling shiatsu massage combined with the heat function can intensify heat sensitivity. Wearing rough materials while using the massager may increase your risk for friction burns.
Consult with your doctor before using the massager if you have a serious medical condition such as heart disease, rheumatism, osteoporosis, high blood pressure, or various skin diseases OR if you may be pregnant if you have a pacemaker, artificial limb, or pins or screws inside any area of your body.
With all products, features can change, so before purchasing, be sure the features that attracted you to the product are still the same.
Thank you for stopping by. I hope you have gained some insight by reading the 7 Best Back Massagers for Chairs (2021 Comparison Guide). If you have any experience with or purchasing back massagers I would love to hear from you. Please comment below.